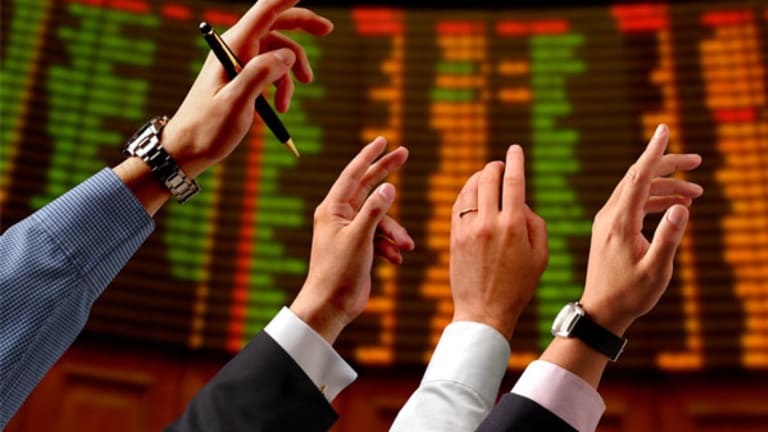 Cramer: Buy Some Yield Insurance
Given today's economic risks, yield is prudent.
NEW YORK (Real Money) -- Yield's been a real big issue with me. It's like insurance. You don't think you need it until something goes wrong. Today, many things went wrong, including slowness in China, weakness in Germany, the declaration of recession in Spain, and a Socialist most likely being elected in France.
There are firestorms in Europe (some would say arson) as the Germans remain committed to a punitive no-growth policy that is frustrating any improvement whatsoever on the Continent.
Just like when you buy a house and you need fire protection, you can buy a stock and get dividend protection. At the height of the selloff, with so many stocks being hit 2% and 3% declines, I hit up my usual higher-yielding suspects (
Con Ed
(ED) - Get Free Report
,
Bristol-Myers
(BMY) - Get Free Report
,
Verizon
(VZ) - Get Free Report
and
AT&T
(T) - Get Free Report
) and what did I find? How about stocks that were off $0.25 max, and most others much less?
These stocks have underperformed for the most part this year as the market had animal spirits driving it in the first quarter, though we are beginning to see fears of a repeat of last year's strong start coupled with a brutal European related selloff emerge.
There is no doubt in my mind that Europe is going to be more than a headwind this year. At the same time, if China regains strength -- as of last night's economic numbers it hasn't, but it's not collapsing, either -- and we get some employment growth to augment good earnings, we SHOULD do fine.
The issue is when you buy a house, you most likely will not have a fire. We have so many safeguards against fire, including tough fire codes, smoke alarms and well-equipped fire departments.
It does not matter, though. You can't possibly take delivery of a home without that insurance. So you can't possibly have a portfolio that is made up of all housing stocks -- they have been strong -- financials, low-yielding cyclicals, auto companies, high-growth health care, and retailers that do not have yield protection.
Where do you go for yield?
First, we know drug companies have it.
Pfizer
(PFE) - Get Free Report
, by selling its infant formula business today, assures you that the dividend can go higher, so even if the stock does nothing you are going to be a big winner in a tough market. Verizon reported a terrific number last week, but people just yawned. Verizon has no exposure to Europe while Pfizer has a lot, but Pfizer's European business has held up well.
And let's not forget
Duke
(DUK) - Get Free Report
, which yields 4.8% and is doing everything right to grow its business, including trying to merge with
Progress Energy
(PGN)
. If the government won't let it, Duke will still do fine.
Yield is insurance. You must have insurance. Or else on these days, when the world's on fire and you're fighting the conflagration with a fire hose that fails, it will take your portfolio down with it.
Action Alerts PLUS, which Cramer co-manages as a charitable trust, has no positions in the stocks mentioned.