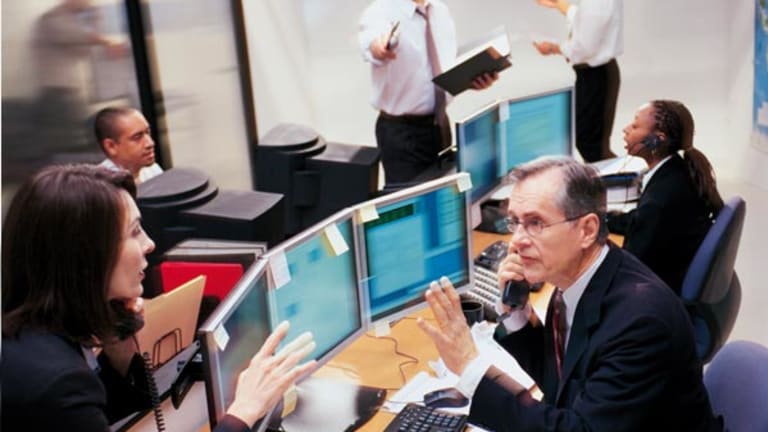 Cramer: Black Friday Trumps Euro, for a Day
A record Black Friday makes the markets more optimistic, but I think the gift from U.S. shoppers is to be short-lived: It's still about the euro.
Please enjoy this free sample of our premium content featuring Jim Cramer. To get all of Cramer's premium content free for a limited time, please register here.
NEW YORK (
) -- Today, for once,
Macy's
(M) - Get Report
trumps Italy. Today,
Target
(TGT) - Get Report
beats Belgium. Today,
Nordstrom
(JWN) - Get Report
takes on Spain and wins. Today, we get whiffs of something good in Europe, avoiding what looked like DEFCON 2 on the way to DEFCON 1, which is how we left Friday's tape.
And you can bet that very few people saw this one coming. First, the relentless downbeat analysts certainly pegged the Grinch to triumph over the weekend. How could it not? Job growth? Nil. Leadership? Shaky. Morale? Horrible.
Second, as much as we worry and fret about Europe, miraculously, every time the
CurrencyShares Euro Trust
(FXE) - Get Report
hits 131, the magic support level for the euro against the dollar, someone pipes up and gives us some happy talk in Europe. We had it in spades. Last night we heard that the IMF would come in big to save Italy. We heard that the Germans were talking about making the euro stronger, which is code for the strong euro swimmer to help the weak one.
That confluence of no one expecting anything good here in retail and no one expecting anything good in Europe produces this bountiful day.
I am calling it a save because if you go over the charts this weekend, pictographs that actually do measure the stress in the system, they were the worst that I can recall since we hit rock bottom, or what we hope is rock bottom, at the end of September when we were down 19% from the high, bordering on official bear country.
The save in the U.S. is stronger than in September, when we had to deal with the U.S. debt downgrade. The save in Europe is weaker. They have nothing concrete, not even from the IMF, which denied the weekend's positive rumors early Monday morning.
Where should you come out? We are at an odd moment for American equities. An end-of-the-month potential surge of stocks that might well be good for a couple of days, if only because we are oversold. I use the S&P oscillator, which came in at -5, a traditional level of support, except since 2007 and onward.
And then, in a couple of days, Black Friday will be a distant memory. We will have explained it away as a fluke or a discounted profitless Christmas. That's what we do in good times and bad. While we will have some horrid auction over there coupled with, now that we have pulled away from 131 on the FXE, a die down of the hopes for an ECB that prints money by the boatload, no more strong statements from the mercurial Merkel and an official announcement from some official in Europe that these countries have to fend for themselves.
In other words, believe in nothing. We are oversold enough that we can have a good day and even a good Tuesday. There's enough positives in America today to even carry Europe through. We can hope that the good feelings over there last until, perhaps, Wednesday? And then we can start the whole horrid process all over again, hopefully less long than you might be now.
Action Alerts PLUS, which Cramer co-manages as a charitable trust, has no positions in the stocks mentioned.