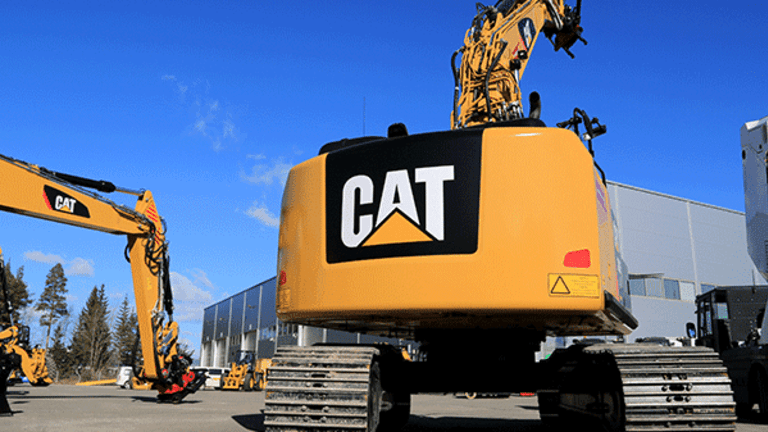 Cramer: Are You Paying Attention to These Boring Companies? You Should
We ought to open our eyes to what we don't care about, to what's still made here.
This article originally appeared at 15:45 ET on Real Money, our premium site for active traders, on April 10. Click here to get great columns like this from Jim Cramer when they are first published.
I'm sick of Amazon (AMZN) - Get Free Report . I am tired of Tesla (TSLA) - Get Free Report . I know they go up every day. I get that. But the market's bigger than those two and I think we have to start recognizing the massive number of stocks that are doing well or else investors will simply keep hiding in bonds as they have, and not peruse where some real opportunities are taking place even as they keep going higher.
First, let's talk about the industrials. These have been incredible stocks and they don't do much on bad days and they simply roar on the good ones.
I want to key on a couple that show you how powerful and broad this market is.
Let's start with Caterpillar (CAT) - Get Free Report . A year ago, the stock stood at $75 and it was regarded as a real dog. It disappointed quarter after quarter and it had become the whipping boy of so many short-sellers.
Now it is at $97. What happened? First, Donald Trump was elected president, which helped because he's pro-oil and gas drilling and pro-coal. Those are two huge business lines for CAT. Of course, Trump can't "save" coal, although he can slow the phase-out of utility plants and he can block foreign steel from coming in, forcing domestic companies to use our coking coal to make steel.
Then if Trump gets his way with a gigantic infrastructure bill and he restricts the buying of road-building equipment to U.S. companies, it would be huge for Caterpillar. Meanwhile, the company hasn't specified how many people it has laid off but they are substantial, while at the same time it has worked hard to get control of its dealer network, which means it no longer has chronic inventory, and therefore discounting problems.
Finally, the world has gotten better, particularly China, and that bodes well for all of CAT's lines of business as 54% of its business is international. When you consider that there is a big federal investigation of CAT's tax payments, it's a remarkable run for the big Peoria, Ill., manufacturer that's moving its headquarter to Chicago.
Then there's Cummins (CMI) - Get Free Report , the gigantic engine manufacturer with the cleaner engines that are considered the best in class for trucks. Forty-six percent of its business is overseas and that's the part that's strongest, especially China. (If you want an in-depth look at this stock's chart, we have a story from Bruce Kamich about how a pullback may become a buying opportunity)
For the longest time, we had presumed that Eaton (ETN) - Get Free Report , the electric power part distributor with aircraft and truck hydraulics and data center businesses, among many others, just couldn't get it together. We just figured it would miss. It doesn't miss anymore and now, at $75 and change, it is just four points from its all-time high. It's the 45% of business that's overseas that attracts me to the stock.
Parker Hannifin's (PH) - Get Free Report not sexy. It makes all sorts of flow control devices, seals, O-rings, hoses, electromagnetic components, just plain old basic industrial stuff with a fantastic aerospace business. The stock's up 15%, and it's been the gem of the group, beating earnings estimates by 52 cents a share. You don't find tech stocks doing that.
We all know Boeing (BA) - Get Free Report , Honeywell (HON) - Get Free Report and United Technologies (UTX) - Get Free Report are doing well. Their praises get sung all the time.
But how about advanced process control maker -- read robot -- Rockwell Collins (COL) , an aerospace parts maker that's had a huge run from $79 to $98 since the fall.
How about Ingersoll-Rand (IR) - Get Free Report with its heating, air conditioning and electric vehicle businesses that hit an all-time high today, going from $62 to $83 in one year's time.
Does anyone even care about these great American companies that stayed here, defied the foreign competition odds and make the best products around?
Nah, nah, it's Tesla. It's Amazon. It's Apple (AAPL) - Get Free Report . It's Netflix (NFLX) - Get Free Report . Great companies all, but how about the odds these companies have defied?
We don't think much of the medical equipment business. The devices cause a tremendous yawn. But should they? C.R. Bardundefined stood at $204 after the election, as who would want a steady-eddie company like this one? How about the 46 points it's put on since then?
Does anyone care about Becton Dickinson (BDX) - Get Free Report , which, effortlessly, just rallied from $156 to $183 in the last year. After Trump got elected, who would want a medical device company with fancy robotlike technology? 
But Intuitive Surgical (ISRG) - Get Free Report has roared from $621 to $768 during that period.
Does anyone care about adhesives? If you own Nordson (NDSN) - Get Free Report you do, the sleepy company with a stock that's gone from $77 to $122. (In fact, here Kamich believes it's time to nail down some profits)
Who cares about chemical stocks, even though we now have the lowest feed stock in the world? Perhaps you should. Huntsman Chemical (HUN) - Get Free Report , a commodity purveyor, has run from $14 to $24 in the last year and is up almost 30% this year.
Not much that is special about caustic soda and chlorine except Olin (OLN) - Get Free Report , the biggest maker of these, which has seen its stock roar from $19 to $31 in the last year.
Basic polymers bore the heck out of you? Then you probably missed Westlake's (WLKP) - Get Free Report run from $45 to $67 in the last year including 20% since the year began.
How about that sleepy Philly chemical company FMC (FMC) - Get Free Report , with an emphasis on chemicals that protect crops? I guess $39 to $75's not all that attractive a pickup in the last year.
DuPont's (DD) - Get Free Report been no slouch, but how about its sleepy spinoff, Chemours (CC) - Get Free Report ? Here's a company that's a principal maker of whitener, the ultimate commodity, as well as other resins. Would $6 to $37 interest you?
I know plywood's not all that entertaining like a Google (GOOGL) - Get Free Report or a Facebook (FB) - Get Free Report . But Louisiana Pacific (LPX) - Get Free Report , which makes plywood among other wood products, has soared 37% since the year began.
Potlatch (PCH) - Get Free Report , the forest and wood products company, has zoomed from $32 to $47 in the last year. (Apple, Google and Facebook are part of TheStreet's Action Alerts PLUS portfolio.) 
For every one of these I mentioned, there are probably four or five doing the same thing, just percolating up on better-than-expected numbers and some hope that the Trump administration will deliver a better business environment. I would emphasize, though, that it's the former that's the real driver and despite all the handwringing about how we don't have a manufacturing base or that we can't make precision instruments or imprecise instruments like wood and plastic, it's really a bunch of nonsense.
We spend a huge amount of time talking about exciting drug companies that might help 30,000 people with an orphan drug. We dwell on a network that might lose a star host. We want to know everything about whether Procter's (PG) - Get Free Report made at Google or Clorox (CLX) - Get Free Report isn't getting enough out of Facebook. Pizzas and burgers, video games and binge watching. We want to catch that next instant wealth that a Kraft Heinz (KHC) - Get Free Report might give us with an exciting bid for Colgate (CL) - Get Free Report or Mondelez (MDLZ) - Get Free Report . But to me, these unsung companies that stayed here and just ground it out, simply doing what they do best, offering the finest products both here and abroad, are where a lot of the money's been made.
To us, they are sleepy. To them, they are humming. To us, they are nothing versus trying to catch the two or three points that might come from an activist stake in Whole Foods (WFM) , or a takeover rumor at Harley-Davidson (HOG) - Get Free Report .
I think we ought to open our eyes to what we don't care about, to what's still made here, because perhaps that's where some real, non-controversial performance can be gained, all of this before we get anything substantive out of Congress or deregulation really strikes home. I guess you could say these companies had me at O-rings, and hoses at polyvinyl and orient strand board. And I'm proud those points are made here even if they aren't done in Silicon Valley, on Wall Street or in Hollywood.
(What will move markets this quarter and how should investors position themselves ahead of time? Jim Cramer sat down with four of TheStreet's top columnists recently to get their views. Click here to listen to his latest Trading Strategies roundtable with them and read their advice for stocks, bonds, forex and gold.)
Action Alerts PLUS, which Cramer co-manages as a charitable trust, is long AAPL, GOOGL and FB.