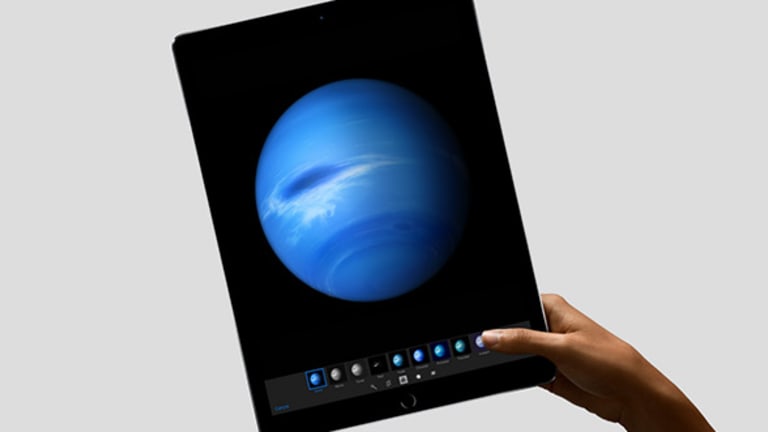 Cramer: Apple Delivers Another Killer Quarter, With the Promise of More
Apple beat on earnings Tuesday, and its ability to execute and draw new switchers to the iPhone shows that the company's dominance will likely continue.
The following commentary was originally sent to Action Alerts PLUSsubscribers on Oct. 27, 2015, at 5:44 p.m. ET.
Apple (AAPL) - Get Apple Inc. Report reported a top- and bottom-line beat after the close Tuesday, with revenues of $51.5 billion (up 22.3% year over year), coming in roughly $400 million above consensus, and earnings per share of $1.96 (up 38% year over year), besting consensus of $1.88.
Importantly, gross margins of 39.9% were an improvement of 190 basis points over the prior year. The company also provided guidance for its fiscal first quarter 2016 (the December calendar quarter) and expects revenues of $75.5 billion to $77.5 billion vs. consensus of $77.14 billion, which represents roughly an 8% to 11% growth in constant currency. As for the full fiscal year, total revenues of $234 billion were a 28% gain over the prior fiscal year, prompting CEO Tim Cook to claim this as the company's most successful year ever.
In terms of specific product segments within the quarter, Apple reported iPhone sales of 48.1 million units, which was roughly in line with consensus estimates, and beat sales of 39.3 million units in last year's fiscal fourth quarter. Revenue from iPhones for the quarter was up 36% year over year.
iPads came in at 9.8 million units, slightly below consensus of 10.1 million, and an expected decline compared to last year. Positively, sales of Macs were actually up for the year, as 5.7 million units sold beat consensus of 5.6 million and last year's figure of 5.5 million in the quarter.
Interestingly, the Other Products segment (Apple Watch, Apple TV, Beats products, etc.) showed revenue of $3.05 billion for the year vs. $1.9 billion in the same quarter last year. While this segment does little to move the needle, the improvement indicates relative strength for some of the company's newer products and Cook mentioned that sales of the watch were up sequentially and better than the company had expected for the quarter. He also mentioned that initial readings on demand for the new Apple TV are positive. We expect analysts to poke around for information on the watch, Apple TV, and Apple music on the call.
Apple posted revenues of $12.52 billion in China, a whopping 99% growth rate year over year. iPhone shipments were reportedly up 87% in China, confirming Cook's prior commentary that the company's brand remains strong with the Asian consumer and dispelling concerns regarding sustained growth in the region. Importantly, the company also posted year-over-year revenue growth in all other regions in which it operates.
As for capital allocation, the company returned $17 billion to investors during the quarter through share repurchases and dividends, in total completing over $143 billion of its $200 billion capital return program.
We continue to be impressed by Apple's first-class execution and ability to continually strengthen its brand through innovation. iPhone sales remained strong for the quarter and should only get stronger as we head into the holiday season with the new 6s and 6s Plus models and additional selling days in the quarter. Even better, the company is experiencing the highest rate of switches from Android to iPhone, demonstrating the increasing reach the company is garnering as it expands its ecosystem of products. That being said, only about 70% of the installed base is reportedly operating on an iPhone 5s or earlier model, leaving a lot of additional room for upgrades.
Aside from the iPhone, we are also encouraged by the company's prospects of penetrating the enterprise market, through its partnership with Cisco (CSCO) - Get Cisco Systems Inc. Report and its reimagined iPad Pro product, opening new doors for the company, which already dominates the consumer smartphone market.
All in, this was a great quarter from the company that continues to impress quarter after quarter.
At the time of publication, Jim Cramer's charitable trust Action Alerts PLUS was long AAPL and CSCO.