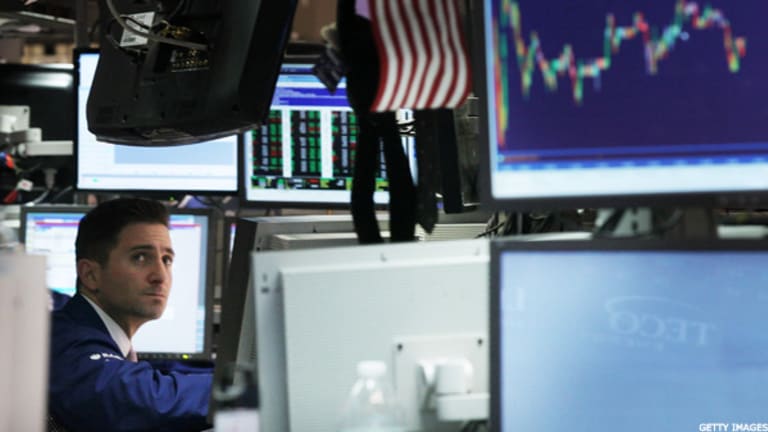 Cramer: An Impending Flood of Profits
Looks like Radian stands to give you the most bang for your buck at this stage of the housing cycle.
Editor's Note: This article was originally published at 7:02 a.m. EDT on Real Money on Aug. 29. To see Jim Cramer's latest commentary as it's published, sign up for a free trial of Real Money.
NEW YORK (
) -- Early innings? Seventh-inning stretch? Double-header? Twilight double-header? Extra Innings? Walk-off home run?
Yep, I have heard the housing cycle batted around like this now for months, ever since the first interest-rate shock. Richard Smith -- the CEO of
Realogy
(RLGY) - Get Anywhere Real Estate Inc Com Report
, the largest real estate broker in the country, with 26% of all transactions -- believes we are still in the early innings for
existing
homes.
Smith said as much Wednesday night on my "Mad Money," show, pointing out that there hasn't been too much pushback from existing-home buyers, because they can lock in rates. The pent-up demand is too great, and the credit is starting to flow in better fashion now than it had done when I'd spoken to him earlier in the year. If rates do go a great deal above 5%, then the calculus will change. Until then, the current quarter is going to be a strong one, and the fourth quarter should be, too. 
But here's what I thought was a more interesting takeaway from Smith's comments: New-home construction will not do as well due to the difficulty of getting a lock-in for rates for an expanded period of time. In other words, the new-home market, and specifically the builders, are in the penalty zone because of the rapid changes in rates, so they can't do as well as you would like if you wanted to play the housing cycle.
Now, I know many critics of Realogy think the business has peaked and that transactions are going to decline and that the best salespeople are taking too much commission away from the parent.
Others who know this cycle well, including hedge fund manager John Paulson, think there's a lot more to the story.
But if you believe existing­-home sales will continue increasing as rates settle down or go up more gradually, and if you don't want exposure to a real estate brokerage company, I think you should come down on the side of
Radian
(RDN) - Get Radian Group Inc. Report
. This is the real estate mortgage insurer that's just now coming out of the difficulties it has had, and it is about to explode into profitability. My colleague Doug Kass has been writing about this one for a while, and he's been dead right about housing.
Radian's got decreasing competition -- the Federal Housing Administration is pulling out -- as well as a much better balance sheet to write more insurance, and an improving default rate.
So if Smith is right, Radian -- not the homebuilders, and not Realogy -- may be the most bang for the buck that you can get at this stage of the cycle.
At the time of publication, Action Alerts PLUS, which Cramer co-manages as a charitable trust, had no positions in the securities mentioned.