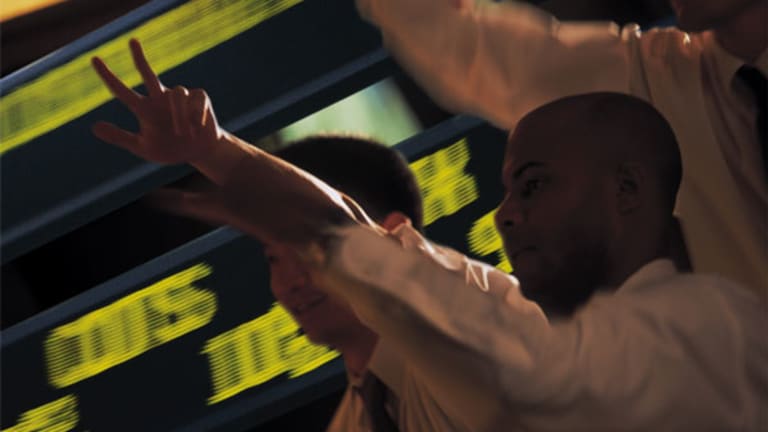 Cramer: An Exercise in Stupidity
Remember, taking our cues from the futures didn't work at 12,000, 13,000, 14,000 or 15,000.
Editor's Note: This article was originally published at 7:15 a.m. ET on Real Money on May 31. To see Jim Cramer's latest commentary as it's published, sign up for a free trial of Real Money.
NEW YORK (
) -- We've all come to the point where it becomes an exercise in stupidity to sell U.S. markets down on "same old same old" -- yet we still take our cues from the futures that are precisely that.
Think about it. What happened last night that really affected the U.S. equity markets? Italian car registrations? Eurozone-area jobless rate? So that's why we are going to sell our stocks down 0.5%?
But we accept it as gospel that the futures are right. Let me ask you: Were they right when we came in here every day trapped by the
CurrencyShares Euro Trust
(FXE) - Get Report
? Or oil? Or copper? Or some other world indicator?
The truth is somewhere else these days. Europe's got no growth. It might be bottoming, but there's no growth -- no "spark," as
Citigroup
(C) - Get Report
CEO Michael Corbat said the other day.
China growth is decelerating from 10% to, what, let's call it 5%? Anything less than that might be bullish? They are finding that it's not easy to go from an export-driven market to one driven by consumption.
Brazil, the star of Latin America, wants to stay above 2% growth if it is lucky.
As for the U.S.? We are trying to go from 2% to 2.5% in gross domestic product growth. That's not enough for anyone to get excited about, and
not enough
to cause a tightening, but certainly better than anyone else.
The economy that's better than everyone else's doesn't have its terms dictated by the others, especially when everyone acknowledges that it isn't as bad as it used to be. That is a real good summary of the moment.
Now, this is all regarded as radical. When the U.S. indices hit their highs Tuesday -- some of it, I admit, thanks to month-end markups -- I was disgusted to hear the same old bears making the same old arguments without any shame or recognition. As usual, the bulls had to apologize for their bullishness. As usual, when a pretty simple
USA Today
headline the next day acknowledged that there had been a bull market going on for, say, 9,000
Dow
points, this somehow constituted a red flag.
I guess we should just rave that it's a bear market and play it safe? I mean, didn't
ADT
(ADT) - Get Report
go down yesterday? Didn't
Linn Energy
(LINE)
, as well? That's bear-market behavior, right?
It's the same thing with the futures. Of course they are down, so of course the bull run is over, a victim of the same things that have kept it down for a year now -- except oops, sorry, it's been up!
So when you sell because the futures tell you to sell and because of the lemuring -- which is the same as the tapering -- just remind yourself: That didn't work at 12,000, 13,000, 14,000 or 15,000.
But you never know. This time could be different!
Action Alerts PLUS, which Cramer co-manages as a charitable trust, is long ADT and LINE.