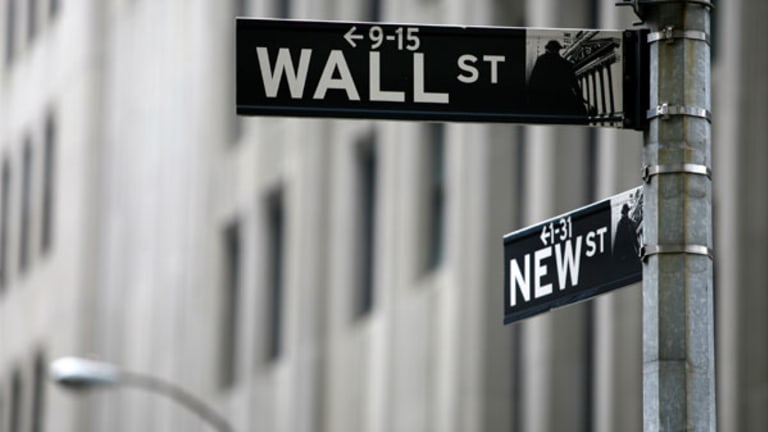 Cramer: A Turn Could Be Around the Corner
We have seen a huge correction, and we now need to look for signs that it is ending.
NEW YORK (Real Money) -- The rolling correction continues. We have seen some really powerful downward moves in some of the major industrials of late. They remind me of something that Byron Wien -- senior adviser at Blackstone, and by far my favorite market commentator -- said at the beginning of the year. He remarked that the S&P 500 would initially drop 10% in a worst-of-times situation, and then in a best-of-times situation it could rally 20%, heading perhaps to 2300 at the end of the year.
I point this out because Wien put out his monthly note Tuesday night, and it is very positive on the market -- but, in it, he does not directly address that he thought stocks would have that initial decline.
Yet, as I look over so many of the big industrials and many of the technology stocks, I see the market did have a pretty large correction already. Stocks such as General Electric (GE) - Get General Electric Company Report and Boeing (BA) - Get Boeing Company Report and United Technologies (UTX) - Get n.a. Report are down huge from their highs. The cloud-computing stocks, despite their nascent rallies, are down much more than 10%.
Many of the drug stocks have been rocked.
In fact, the advance has become narrower and narrower.
So, in this void, perhaps it is worth interpreting Wien thus: We have seen a huge correction within the market, and you now need to look for signs that it is ending.
On Tuesday I talked about the weakness in so many cycles: aerospace, farm, housing, transports, trucking, insurance. I could add retail and restaurants, excepting special situations, too.
The question I have is: Have the stocks in those cycles already adjusted to the weakness?
Let's take agriculture: last night I had Agco (AGCO) - Get AGCO Corporation Report on "Mad Money." That's the third-largest agricultural-equipment maker. We all know that prices are down huge for grains. But Agco shares are down 16%. Isn't it right to ask whether the stock has factored that in?
Or take Boeing. This stock has had a relentless decline: It has lost 10% for the year and now has a price-to-earnings ratio of 15. Isn't that enough of a pasting?
Housing has cooled. But isn't that why Toll Brothers (TOL) - Get Toll Brothers, Inc. Report is down 15% for the year?
Owens Corning (OC) - Get Owens Corning Report has been a huge part of the housing industry's rebound. But it is now down 14% for the year. Is that enough of a correction? How about Armstrong (AWI) - Get Armstrong World Industries, Inc. Report losing 31%?
Sure, autos might be weakening, but General Motors (GM) - Get General Motors Company Report is down 15%, and it has a 3.48% dividend yield. Yes it was a "bad" quarter -- but that bad? Yes, there are real issues regarding reparations, but they aren't going to put this company's dividend in jeopardy.
Yes, there's been weakness in some shipping stocks of late, but UPS (UPS) - Get United Parcel Service, Inc. Class B Report is down more than 5%. Does it have to be down 10%?
The consumer has been troubled. But isn't that why Walmart (WMT) - Get Walmart Inc. Report and Target (TGT) - Get Target Corporation Report are down about 4% on average?
I understand that big pharma has been challenged by patent expirations and the like. That's why it makes sense, though, that Bristol-Myers Squibb (BMY) - Get Bristol-Myers Squibb Company Report and Pfizer (PFE) - Get Pfizer Inc. Report are down 4% and 3%, respectively.
Trucking weaker? Cummins (CMI) - Get Cummins Inc. Report just fell from $161 to $143 to reflect that weakness.
The consumer's not going out as much now as she's done in the past, so Panera (PNRA) is down 17% and Darden (DRI) - Get Darden Restaurants, Inc. Report is off 14%.
The cloud stocks are all roughly flat to down, but they are still off huge from their highs and experienced more than a Wien-like correction from where they had started -- much more.
I could go on and on. My point is that, in many parts of this market, we have been seeing some serious ongoing corrections of the level that Wien talked about when he made his predictions.
When we talk about weakness in cycles, moreover, we have seen the concomitant weakness in stocks.
My point? There are major players in each of the cycles that are turning down, and their stocks are reflecting that weakness. Others are still strong and haven't been hammered. But, at the same time, just as I pointed out Tuesday, so many cycles have peaked and rolled over that we now have to ask what happens to all of these stocks if the rollover is finished.
What if the cycles turn up?
That's what's now worth watching.
At the time of publication, Action Alerts PLUS, which Cramer co-manages as a charitable trust, was long GE, BA, UTX and GM.
This article was originally published on Real Money at 7:38 a.m. on July 30.