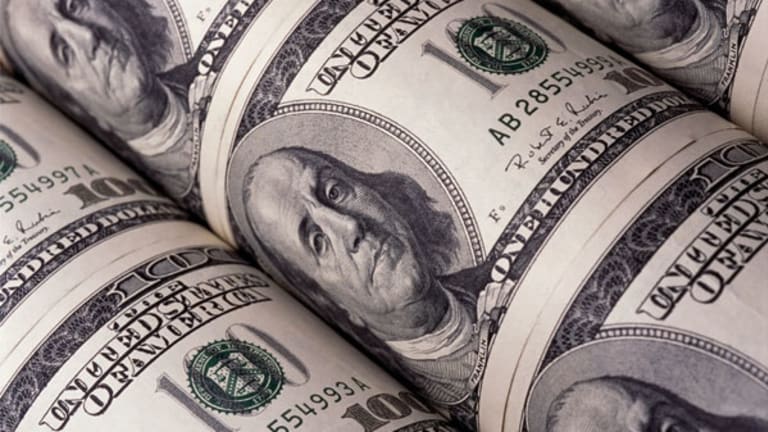 Publish date:
Cramer: A Pipe Dream No Longer
Thanks to natural gas, the U.S. is a lot closer to energy independence than we might think.
Thanks to natural gas, the U.S. is a lot closer to energy independence than we might think.
Editor's Note: This article was originally published at 7:56 a.m. EDT on Real Money on Sept. 10. To see Jim Cramer's latest commentary as it's published, sign up for a free trial of Real Money.
NEW YORK (
) -- When will people truly realize how important the domestic oil and gas finds in the U.S. really are? When will there be an understanding that the Eagle Ford, the Niobrara, the Permian and the Bakken shales may have enough oil to make a real dent on imports and change the way we think about which U.S. companies truly have the potential to be major independent companies? When will people recognize the U.S. is a lot closer to energy independence than we think?
It drives me crazy how little-noticed the changes really are. Take Monday. Did you know that the California Energy Commission released numbers showing that 743,000 barrels of oil were shipped by rail last quarter to California refineries? That's up from 215,000 barrels last year at this time. I almost fell of my chair when I read a newswire report about it. Most of it came from North Dakota and Colorado. Although the latter's always been a solid producer of oil, the big increase comes from
Noble Energy
(NBL) - Get Noble Energy, Inc. (NBL) Report
. The company has said it will triple oil production in the next five years from shale in the Niobrara field, which is just about Denver. Overall, Colorado produced 49.3 million barrels of oil last year, a 26% jump from the year before. That's monumental.
It's nothing, though, compared with the Bakken field flowing out of North Dakota, which sent 317,000 barrels by rail to California in the first quarter. California's not even the biggest destination for oil from that monster play, which will produce almost a 900,000 barrels a day this year -- up from slightly less than 400,000 two years ago. Independents
Whiting Petroleum
(WLL) - Get Whiting Petroleum Corporation Report
and
Continental Resources
(CLR) - Get Continental Resources, Inc. Report
lead the Bakken: Each produced about 65,000 barrels a day in 2012, and I bet those numbers will go up substantially this year.
The once-moribund Permian Basin produced 600,000 barrels a day in 2012, up about 10% more than the year before and up 25% from seven years ago. Given that drilling permits have doubled since 2005, I expect much more coming from that once-given-up-for-growth field.
Occidental
(OXY) - Get Occidental Petroleum Corporation Report
is the biggest producer in the Permian, followed by
Pioneer Natural Resources
(PXD) - Get Pioneer Natural Resources Company Report
,
Apache
(APA) - Get Apache Corporation Report
and
Kinder Morgan Energy Partners
(KMP)
following it -- although the last three generate about half of what Occidental produces every day.
But
EOG Resources
(EOG) - Get EOG Resources, Inc. (EOG) Report
has been making noises that its Delaware Basin portion of the Permian could be its third big find after Eagle Ford and Bakken. That means there's much more than currently meets the eye, or the refineries.
Cimarex
(XEC) - Get Cimarex Energy Co. Report
has, of late, also been mentioned as one of the best Permian plays with a substantial year-over-year gain. Same goes for
Concho Resources
(CXO) - Get Concho Resources Inc. Report
.
It's the Eagle Ford in Texas, however, that's the most impressive field yet. That field produces 600,000 barrels a day, up 58% from just a year ago! Just one company alone, EOG, is producing about one-fourth of that. No wonder that stock has been such a horse.
Others performing well in the Eagle Ford?
ConocoPhillips
(COP) - Get ConocoPhillips Report
has got good acreage, as does
Murphy Oil
(MUR) - Get Murphy Oil Corporation Report
. Do not forget
Sanchez Energy
(SN) - Get Sanchez Energy Corporation Report
, either -- it just put together a bunch of parcels in the Eagle Ford and is doing an 8-million-share offering right now in order to pay for them.
Finally, let's include a natural gas company.
Cabot Oil & Gas
(COG) - Get Cabot Oil & Gas Corporation Report
is building a pipeline now to take natural gas to heat homes in the nat-gas-starved New England area, replacing foreign oil in a move that will further cut back imports.
All of these incredibly important plays seem to mean very little when taken separately. However, together they paint a picture of continental energy independence that could be a dream realized in 2018, which is not that far from now.
Further, consider the possibility of nat-gas-fed trucks taking over from diesel, the last bastion of imports, responsible for 25% of oil that comes from overseas. If that happens, it'll be possible to think the U.S. could -- with continued conservation and better mileage cars -- actually be energy-independent as a country.
It's no longer a pipe dream. If it were a mission in Washington, it would be a game-changer for jobs, for the balance of trade and for domestic security. It's a reality. It's just that people, including major politicians, aren't talking about it. That's shocking to me, and it should be to you, too. However, If we can't make it a mission, let's at least make money off it by buying shares in EOG, Noble, Sanchez, Continental, Whiting, Cimarex and so many others now that it is indeed happening right before our eyes.
At the time of publication,
, which Cramer co-manages as a charitable trust, was long OXY.