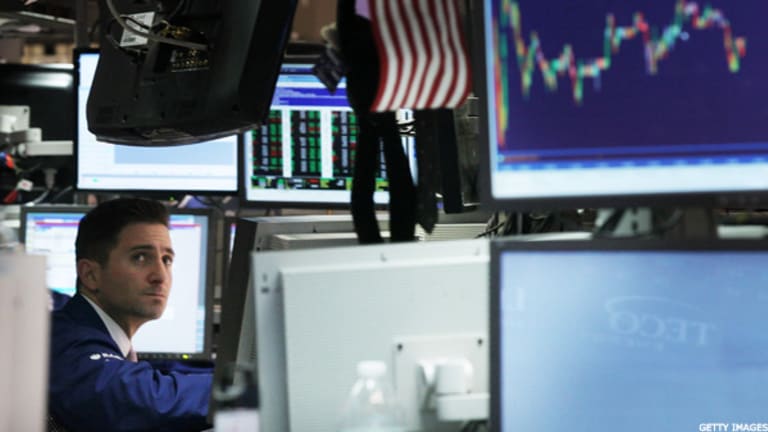 Cramer: A Market Too Stupid for Words
It is pretty incredible that identical news can trigger completely different reactions.
It is pretty incredible that identical news can trigger completely different reactions.
NEW YORK (Real Money) -- Where have all the sellers gone, short-time passing?
I mean, really, where have the sellers gone? Last night we got a quarter from Workday (WDAY) - Get Report that gave us the identical combination of what so many companies have reported during this period -- a beat and a raise, all encompassed in losses that are ever so slightly lower than some thought would be the case.
This had been a prescription for an instant rally until the denouement played out amid rampant insider selling among so many companies, as well as endless initial public offerings and the disaster that was the stock -- not the company, but the stock -- of Salesforce.com (CRM) - Get Report.
Then, last week, we saw our first positive IPO of a company with many of those same characteristics, JD.com (JD) - Get Report. We also saw a positive reaction to Salesforce.com's quarter, which was only slightly better than the one that had decked this stock previously, and the shares rallied.
Between then and now, fortunes were lost as the world turned against these kinds of companies. Now, I admit that Workday stock is well off its high. But it was never about stock price as much as it was about group supply, lack of new dollars coming into the sector and the terrible psychology of the moment. Sure, there were thoughts that a name such as IBM (IBM) - Get Report or SAP (SAP) - Get Report or Oracle (ORCL) - Get Report could eviscerate some of these, but if that's happening, Workday sure didn't show it last night. That's for certain. 
It wasn't just software-as-a-service plays. I have been saying over and over again that the Markman patent hearing would not disturb the Revlimid patent for Celgene (CELG) - Get Report. But the stock has been a one-way ticket down. Today we got a jumbled ruling from the court concerning the patent -- a ruling that, again, probably would have sent the stock down a few weeks ago. Instead, the stock flew up and will probably go up more today.
As I also have been saying for months now, the stock market is decidedly stupid. It takes identical data and reaches different conclusions.
Now we will see many stocks rally, be it Tableau (DATA) - Get Report or ServiceNow (NOW) - Get Report or Splunk (SPLK) - Get Report or FireEye (FEYE) - Get Report or Seattle Genetics (SGEN) - Get Report and Isis (ISIS) or Concur (CNQR) and Cornerstone (CSOD) - Get Report. They will all go up because the algorithms say that, if Workday goes up, they will go up. They will be worth playing until the next round of IPOs and the next binge of insider selling.
Of course, this would be a good moment not to read Twitter, because much of Twitter is all about people who never or rarely watch Mad Money, and who will say, "You told us to sell Workday." In fact, all I said was that we were waiting for the turn, and that when it happened it would be vicious. I even pegged it to the Salesforce.com bookend.
No matter. You know what was said. You will not pull it out of context. You know what happened. The sellers dried up. The buyers now have no supply.
I think it will be much rougher sledding this time, because the IPOs will come right back, as will the insider selling. The difference is that the excruciating pain won't be going away.
Still, it is pretty incredible that the same news doesn't triggers buys as well as sells. No wonder execs come on Mad Money and say, "We don't pay attention to the stock -- we just run our business." They shouldn't. It's not worth it to do so, because it is too stupid for words.
At the time of publication, Action Alerts PLUS, which Cramer co-manages as a charitable trust, was long CELG.
Editor's Note: This article was originally published at 7:05 a.m. EST on Real Money on May 28.
>>Read More: Equity Pullback in the Cards, but Outlook Will Brighten Later This Year
>>Read More: Jim Cramer: Tim Geithner Deserves Better