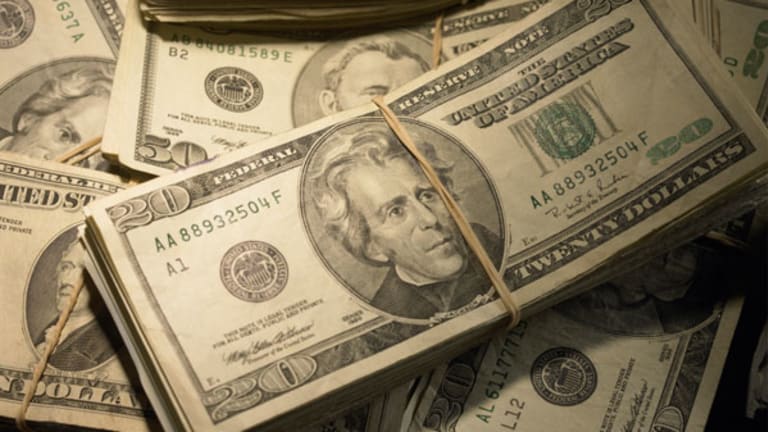 Cramer: A Jarring Wake-Up Call
DR Horton's unsettling earnings call should make it clear why the flock has dispersed on homebuilders.
DR Horton's unsettling earnings call should make it clear why the flock has dispersed on homebuilders.
Editor's Note: This article was originally published at 6:30 a.m. EDT on Real Money on July 29. To see Jim Cramer's latest commentary as it's published, sign up for a free trial of Real Money.
NEW YORK (
) -- Have we been had by the homebuilders? I want to say "no." I want to portray them merely as an over-optimistic lot. But if you've gone over the
D.R. Horton
(DHI) - Get Report
conference call, you have to be in shock about the endless denials the execs in this industry have issued about the sharp jump in rates. To put it simply, it pretty much stopped housing sales in their tracks, at least for Horton.
I don't think people have noticed how hard this company has been hit unless they've read through the conference call minutia and heard morsels like this: "We experienced some moderation in our net sales pace in the back of the quarter after mortgage rates began to increase sharply," said William Wheat, the chief financial officer. He continued: "While each individual home buyer responds differently to changes in mortgage rates, we typically see some short-term moderation in buyer activity during periods of mortgage rate volatility as potential buyers adjust to the changing rate environment."
In other words, folks got real sticker shock and decided to put their buys on hold. Or they canceled -- cancellations jumped from 19% last quarter to 24% this quarter. Who knows what the linearity of the quarter was or how badly the cancellations spiked in the last month?
Throughout the call was a grudging recognition that the spike mattered. That was even after management's repeated attempts to buck up the analysts with stories about affordability and great balance sheets of the homebuilders themselves -- as if we care about balance sheets when it comes to momentum stocks. That, by the way, is exactly what homebuilders are.
Typical was this interchange between an analyst, Adam Rudiger from Wells Fargo, and Donald Tomnitz, the CEO of Horton. "Don, this question falls under the category of trying to interpret your body language over the phone. You don't sound as quite as enthusiastic as you did last quarter. I didn't hear a lot of commentary as to your outlook."
Tomnitz responds with: "If I don't sound optimistic enough for you, I guess I didn't drink my Red Bull this morning." Then he proceeds to talk about how the company is and remains the largest builder and how its land position has never been stronger.
I am absolutely sure that's the case. But, later in the call, an analyst asks a question about how the quarter went on month to month, with the obvious intervention of the higher rates -- and the CFO's answer is important: "I think our traffic count is slower post the interest rate changes. And frankly, we've got good demand in all of our communities. It's just a slower demand, and it's also coupled with the fact that clearly this is a slow time of the year for the homebuilders in terms of being in -- starting in June. Typically sales start the slow down until Super Bowl Sunday."
Huh -- what? We are in week two of training camp. We have to wait until Super Bowl Sunday? Oh my. That's how long it is going to take?
You see, that's what matters in this market. Nobody's going to hold on to these momentum stocks through Super Bowl Sunday. I suspect, given that the average homebuilder stock is down 30% for the year, many of these so-called owners of shares -- but actually renters -- will be out by opening day.
Now, though, I hope it all makes sense to you why the flock's dispersed, even despite the endless entreaties to stick with the builders. It's too long to wait. It's also too dangerous to do so considering that, if anything, rates are going higher, not lower, between now and Super Bowl Sunday -- which is  very far away.
At the time of publication,
, which Cramer co-manages as a charitable trust, had no positions in the securities mentioned.