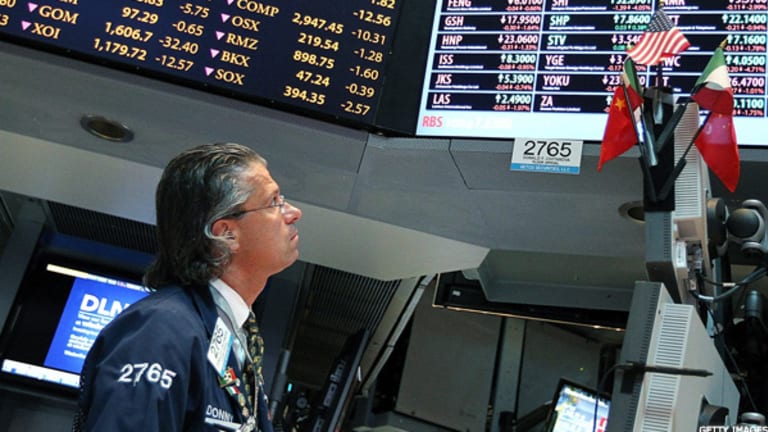 Cramer: A Colossal Market Hiccup Is Coming
Once every short is out of the market, I think the hammer descends on stocks. Don't let it catch you by surprise.
Please enjoy this free sample of our premium content featuring Jim Cramer. To get all of Cramer's premium content free for a limited time, please register here.
NEW YORK (
) --You can see what's happening in this rally. This is one of those upswings we have seen periodically in 2011. It is a vicious swing, some would say bear swing, where every single short seller has to be taken out and shot before the market can come down dramatically.
Here's how it will play out.
VIDEO
:
Cramer's Best Industrial Trade
We could have several days of major movements up. Everyone who is not in will look like an idiot. Everyone who is short will give back what's left of their year.
Then, when every short is cleaned out, when there are no shorts left, we will get a colossal hiccup from an overbought position that will take supposedly everyone by surprise and the hammering will be vicious.
This is ordained. It is what is going to happen. No one can really do anything about it. The rallies are so severe because of the double and triple ETFs and the shorts so huge, encompassing everything from the
SPDR Financial
(XLF) - Get Financial Select Sector SPDR Fund Report
and the
Retail HOLDRs ETF
(RTH) - Get VanEck Vectors Retail ETF Report
to
Green Mountain Coffee Roasters
(GMCR)
and
Netflix
(NFLX) - Get Netflix, Inc. (NFLX) Report
, that the last part of the ride could be parabolic.
VIDEO
:
Cramer Ranks Cloud Stocks
When we get there, everyone will recognize that at that point it is total performance chasing. But it will be too late and the fall will be steep because no one will be there to break the fall.
That's the selloff that puts
Caterpillar
(CAT) - Get Caterpillar Inc. Report
down ten and
Bank of America
(BAC) - Get Bank of America Corp Report
back to $5 from the $7 it probably gets to. It knocks
Intuitive Surgical
(ISRG) - Get Intuitive Surgical, Inc. (ISRG) Report
and
Priceline
(PCLN)
back and cleans out the longs in
Google
(GOOG) - Get Alphabet Inc. Class C Report
and
Apple
(AAPL) - Get Apple Inc. (AAPL) Report
.
But we have to get there first and we are not there.
What are the signs that this is happening? OK, here is a classic one. The S&P saber rattles about everything that we most feared, especially France's sainted AAA rating. The shorts go nuts both after the close and early this morning placing bets and then it doesn't work. Europe doesn't plummet. That means that the U.S. doesn't go down.
The pain can't be taken, so the shorts cover. They tend to cover at the opening because they are so undisciplined and then they try again and then again get their heads handed to them.
We saw this yesterday where we saw covering in
Open Table
(OPEN)
and Netflix and Green Mountain. These are wide open, everyone-knows-they-are-shorts positions, but they got crowded and the smart money didn't want to be greedy and brought them in. Meanwhile, the wacky
Success Factors
(SFSF)
deal made the cloud plays, which had been free-fire-zone shorts, into classic longs. Here I mean
Tibco
(TIBX)
,
Citrix
(CTXS) - Get Citrix Systems, Inc. Report
,
Salesforce.com
(CRM) - Get salesforce.com, inc. Report
and then silly little stocks like
Kenexa
(KNXA)
, a Success Factors analogue that I am sure someone was diligently shorting until yesterday.
Meanwhile, the pressure is so on to find beaten-down names that could rally -- that's the financials because they are shorted -- where short busters come in and take them up.
And, of course, the easy retail names that were supposed to do poorly after
Tiffany
(TIF) - Get Tiffany & Co. Report
-- think
Ralph Lauren
(RL) - Get Ralph Lauren Corporation Class A Report
and
PVH
-- don't come in at all and Tiffany is revealed as a false tell.
Don't forget the oils, which are now viewed as being indestructible because China is coming back online vs. two weeks ago, where you could push it down with a feather.
All of these forces are coalescing to take apart the shorts, which have to scramble until there are none left.
This is such a time-honored pattern in this market that I am surprised there isn't a short-busters triple ETF by now, an amalgam of a high-energy, highly-toxic market of bad stocks -- not just risk on but crummy risk on -- that can be used just to bash the shorts until they are no more.
VIDEO
:
Cramer: Gold Is the Best Europe Trade
So, be prepared. You saw it last night when the S&P 500 was comfortably down, courtesy Europe, particularly Germany, and then rallied. And then the FXE moves sharply higher, the best tell of all, Germany turned around and another day where the shorts can't keep it together begins.
Do not forget that the market is thin enough, and the double and triple ETFs powerful enough, that without a raid on a particular European bank (very hard now that Bernanke's in there) and if the averages are up at 3:15 pm, they will double what they are up at 3:50. Of course, with the fee-hungry creators of ETFs arguing that they have nothing to do with it, because, alas, why not? Why argue that they do?
So, get ready for every last short to be carried out and shot.
It's that time again.
Action Alerts PLUS, which Cramer co-manages as a charitable trust, is long CAT, BAC and AAPL.