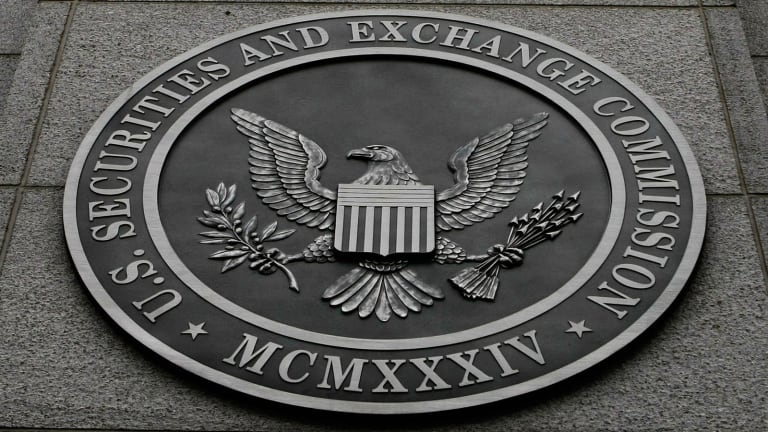 Crackdown on Triple-X ETFs Draws Ire of Bond-Fund Managers
The Securities and Exchange Commission's attempt to rein in risky exchange-traded funds through derivative restrictions has money managers complaining they too will be drawn in.
A regulatory crackdown on risky exchange-traded funds' use of derivatives to triple investor returns is rankling big U.S. money managers like Oppenheimer (OPY) - Get Oppenheimer Holdings Inc. Class A (DE) Report and John Hancock Investments who say they routinely use the instruments as ostensibly harmless substitutes for bonds.
Oppenheimer, which oversees about $200 billion, said Monday in a filing that the proposed Securities and Exchange Commission rules would "impede legitimate and effective use of derivatives," potentially forcing some funds to "dramatically alter" their strategies or even liquidate. Derivatives are often easier to trade than traditional securities, according to Oppenheimer.
The SEC announced the new rules in December, under a plan to curb so-called leveraged and inverse ETFs like Direxion's $75 million Daily FTSE China Bear 3x ETF (YANG) - Get Direxion Daily FTSE China Bear 3X Shares Report , which promises gains when Chinese stocks fall, at triple the rate. While such vehicles can bring big gains, they also have the potential to exacerbate market volatility and prove too risky for retail investors who don't understand them, according to the agency. 
This year's market swings have only enhanced the funds' growing popularity, with leveraged or inverse products accounting for 19 of the 20 top-performing U.S. ETFs in January. Under the SEC's rulemaking process, comments on the proposal weren't due until Monday, which gave retail investors more time to trade the ETFs before the new requirements take effect.
The proposed rules aren't tailored specifically to ETFs but written so they would apply to all registered investment companies. Derivatives are trading contracts whose prices rise and fall based on changes in such things as interest rates, commodities, currencies and stocks. 
According to the Investment Company Institute, a trade group of U.S. money managers, about 471 funds with $613 billion in assets under management would exceed the SEC's proposed limit of 1.5-times leverage obtained through derivatives. 
"We were surprised to see the effect on bond funds," Ken Fang, assistant general counsel for the ICI, said in an interview. 
Aspect Capital, a U.K. firm that oversees $6.6 billion, said in a filing that fixed-income derivatives are "typically not very volatile and therefore present a relatively low risk."
For example, a $1 million bet on short-term interest rates using Chicago Mercantile Exchange futures contracts would require only $300 to $700 down, according to Aspect. The low level of the initial payment -- it's a multiple of at least 1,400 times -- should be seen as an indicator of how low the risk is perceived to be, according to the fund.
John Hancock, which oversees $195 billion, said in its own comment letter to the SEC that credit-default swaps, a type of derivative whose prices rise and fall based on a company's creditworthiness, can be easier and more liquid to trade than corporate bonds that are essentially equivalent. 
"In our experience, derivatives are commonly used to obtain investment exposure that is no more speculative, and in fact subjects fund shareholders to fewer risks, than an equivalent securities position," Phil Fontana, the firm's head of product development, wrote.