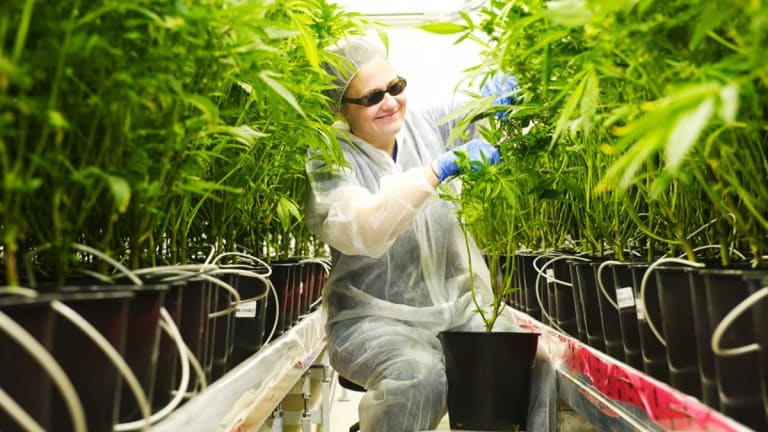 Cowen's Cannabis Analyst Raises 2030 U.S. Market Forecast to $80 Billion
That forecast is based on the hypothesis that cannabis receives full federal legalization by 2030.
The U.S. market for cannabis has a lot of room to run over the next decade with sales expected to reach $80 billion by 2030 if the drug receives fully legal status at the federal level, according to Cowen analyst Vivien Azer.
That number is a slight increase from Azer's previous estimate of $75 billion. 
"Our increased confidence reflects the bigger than expected increases that we continue to see for reported cannabis incidence among adults," Azer wrote in a note Tuesday.
This means that cannabis users of the past are returning to the drug in greater numbers as the social stigma and legal hurdles dissipate. 
With that in mind, the firm maintained "outperform" ratings for all three of the publicly traded cannabis stocks that it covers: Tilray Inc. (TLRY) - Get Free Report , Canopy Growth Corp. (CGC) - Get Free Report and KushCo Holdings Inc. (KSHB) . 
KushCo has delivered triple-digit revenue group for four years straight and Azer expects the company to continue that trend in 2019. KushCo shares are up 0.83%.
Meanwhile Azer estimates that Canopy Growth has about an 18% market share in Canada, making it the market leader in the country. Canopy Growth is up 1.11%.
"In calendar 2019 we expect that TLRY will also be a beneficiary of a more sizable adult use market in Canada and expect revenues to trip to $120 mm. Operating losses should narrow as gross margins improve," Azer wrote. Tilray is up 12%.