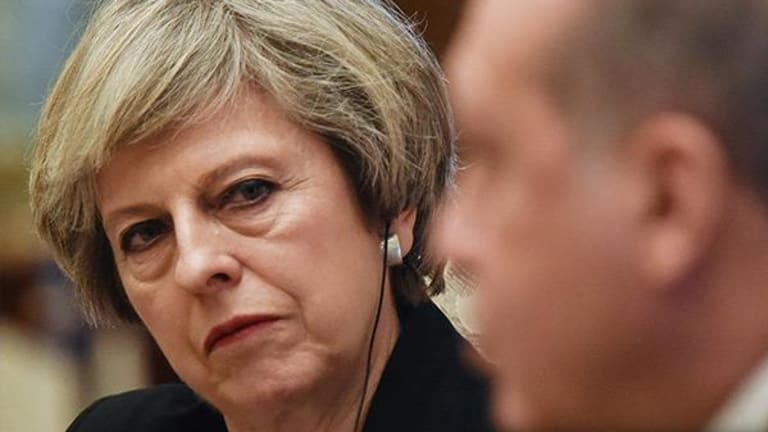 Counting the Ways Brexit Could Bite Investors
Brexit and the volatility it could leave in its wake get closer just as investors are in the mood for risky assets.
This column originally appeared at 8 ET on Real Money, our premium site for active traders. Click here to get great columns like this from Jim Cramer and other writers even earlier in the trading day.
By now, the word "Brexit" probably sparks little more than a yawn for most investors. The issue has been debated so much that everything that can be said on the issue seems like old news.
And yet, the real risks for investors only are starting. U.K. Prime Minister Theresa May announced that she will send the notification that Britain wants to leave the European Union on March 29. The market reaction to this coming event has been muted; since June 24 last year, the markets have had time to price in the fact that the U.K. is leaving.
But this ho-hum response is partly the problem, as complacency seems to have set in. Indeed, a recent survey by the Frankfurt-based Sentix institute among more than 1,000 retail and institutional investors in Europe showed that their appetite for risk has reached dangerous levels.
The survey was carried out from March 16 to March 18, before the U.K. government's announcement was made. The index for risk appetite, which is calculated as a composite of investors' preferences for asset class and investment style, reached levels comparable with risk appetite in the summer of 2007 and at the beginning of 2011.
"In both cases, the Sentix indicator was a warning signal for coming trouble in equity markets," Julien Mueller, analyst at Sentix, said.
Until recently, investors preferred value-oriented investment strategies, but now they favor more aggressive growth-oriented strategies. In addition, they are more focused on small-cap stocks rather than on their safer counterparts, the survey revealed.
On one hand, the announcement of a time frame for Brexit takes some of the uncertainty off: After all, we now know roughly when the U.K. actually will leave the EU. It will be around April 2019. On the other, another type of uncertainty begins: What can the British government realistically get out of the EU in less than two years?
Triggering Article 50 may have deprived the U.K. government of its most important element of surprise in negotiations -- namely, time -- and has tilted the power toward the EU. But this doesn't mean uncertainty only will hit the U.K.
Three big EU members that could be sucked into a bitter vortex of back-and-forth negotiations are Germany, France and Spain. For all three countries, the financial and auto sectors, which make big contributions to their economies, have important ties with the U.K. Trying to create new relationships will involve negotiations that could last far longer than the 18 months that the U.K. and EU have at their disposal, because national parliaments also must ratify the outcomes of these negotiations.
Over the short term, therefore, investors should expect volatility to increase in these countries' markets and possibly in these sectors. Tension will rise and harsh words will be spoken, as elections loom in France and Germany.
But investors looking at the long term should embrace this volatility: it can provide entry points for what could turn out to be good investments. One thing that is repeatedly overlooked about Europe is that, no matter how bad things look, politicians manage to muddle through in the end.
Employees of TheStreet are restricted from trading individual securities.