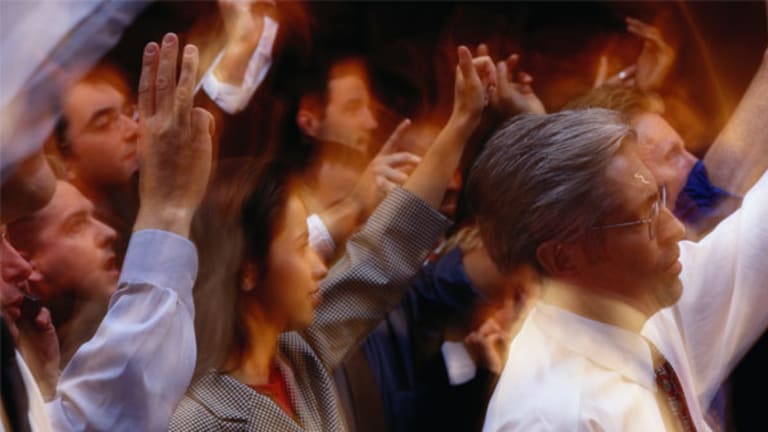 Count Your Blessings; Bet on the Banks: Jim Cramer's Best Blog
Jim Cramer ponders how it's OK again to like stocks (count your blessings), and points out that with Icahn advising Trump, banks are the way to bet.
Jim Cramer fills his blog on RealMoney every day with his up-to-the-minute reactions to what's happening in the market and his legendary ahead-of-the-crowd ideas. This week he blogged on:
How it's OK to like stocks again, so count your blessings
How, with Icahn advising Trump, the banks are the way to bet
Click here for information on RealMoney, where you can see all the blogs, including Jim Cramer's--and reader comments--in real time.
Cramer: Count Your Blessings, It's OK to Like Stocks Again
Posted on Dec. 23 at 3:47 p.m. EDT
They are asking about individual stocks again.
I only take a handful of days off a year, something that one day has to change. When I do it is back to the old routine of hanging around town--Summit--and seeing my friends and checking in on the merchants and the stores for the holidays while going to my favorite sandwich shop for lunch.
I know it is all anecdotal but something happened this time that hasn't happened in years: People asked me about individual stocks. No I don't mean "how about a tip?" I get that as a joke pretty much all of the time and I am forever grateful that I remain part of the firmament.
But this time it's the kid at the sandwich shop who is proud he bought Disney (DIS) - Get Report at $106 and doesn't want to take the $13 profit. It's the woman at the mall who is asking for a blessing to buy Verizon (VZ) - Get Report . It's the guy who wants to be sure that he isn't missing the rally by buying laggard tech. I actually found myself discussing Western Digital (WDC) - Get Report with someone.
Western Didg for heaven's sake! That's something.
Now nobody's cocky. To a person, people are concerned that once Trump actually starts being president the mistakes will be made. But the fact is that people want knowledge and they want ideas and they want to own, not trade.
It's almost as if there's a national blessing to like stocks again.
I just thought I should pass it on.
Oh, and by the way, a la my pal Dougie Kass, I have been telling them to buy Action Alerts PLUS name Allergan (AGN) - Get Report . It's right even as it has been so wrong. There's been some brilliant acquisitions with real, plug-and-play drugs that are being totally underestimated. Good to see that Doug, agrees, too.
Random musings: Happy holidays to all and I am so gratified that so many have stuck with us or have now just started with TheStreet. Great to have you, as always!
Action Alerts PLUS, which Cramer co-manages as a charitable trust, is long AGN.
Cramer: With Icahn Advising Trump, Bet on the Banks
Posted on Dec. 22 at 3:30 p.m. EDT
Carl Icahn says he's concerned about the market short term. Makes sense. We have had a huge run.
Here's my problem. I can't remember when he wasn't. I can't remember when he said the market's a buy. I do remember the many times he said the market's a sell.
And that's my issue with the man who will soon be the regulatory czar for Donald Trump, or at least the regulatory advisor to Trump, or something like that.
What I find counterintuitive about Icahn's comments on the Halftime show with buddy pal friend Scott Wapner is that if Icahn is successful at his job, then you most certainly should like one of the largest sectors in the entire market: the banks. They are the ones that have had so many regulations put on them that their staffs are bloated with non-revenue producers who are there to try to stop as much business as they can.
Given the incredibly bad set of facts for the banks going into the Great Recession, I haven't really blamed the regulators or the legislators for their vigilance.
But a lot of what they wanted--including longer-term compensation to keep salespeople from jamming clients with bad merchandise and a buildup of capital to act as a cushion to miscreant and ill-fated behavior--has been done. They changed the culture. They changed the capital.
Now it is time to take advantage of the uber-solvency and let the banks do what they want provided they don't load up with leverage. If they do, they can be smacked right back down.
My issue is that the regulators should back down. The capital cushion is so high that banks have to be free to take more risk. They can't just loan to people who don't need loans, which is often the case.
If Trump-Icahn can get that to happen? Guess what: Short-term weakness for the banks is a buying opportunity.
I never mind caution. I don't like when someone cautions you endlessly and before a big run, and Icahn isn't alone in doing that. But given that this man is in a position to influence policy, my instincts are to be a buyer, not a seller, of select industries that he can directly benefit, ones that will see earnings come up because regulations can come down.
Otherwise, he should just admit that regulations aren't getting reduced and it turns out to be all just for show.
That's inconceivable. Nothing's just for show with Icahn.
Action Alerts PLUS, which Cramer co-manages as a charitable trust, has no positions in the stocks mentioned.
Cramer: Did You Think There Wouldn't Be Any More Down Days?
Posted on Dec. 22 at 2:18 p.m. EDT
Hey, what's the deal, isn't the market always supposed to go up? What's with this decline? How come stocks are breaking down instead of shooting higher?
Only in a bull market of these proportions would we even thinking of asking such questions. Selloffs are natural and if we didn't have them we wouldn't be fixated on Dow 20,000, we would be focused on Dow 200,000.
That doesn't mean there isn't a cause to the decline. It doesn't mean we can ignore it.
So let's go there. Let's explore what's precipitating the downside so we can figure out whether there's a new wrinkle at all to whether it's just the profit-taking we would have expected to have surfaced ages ago.
First, when dissecting any down tape, I like to ask myself which is the leadership group. Today it's simple: retail. The standout negative narrative? The nasty miss by Bed, Bath & Beyond (BBBY) - Get Report , a general merchandiser with a home emphasis that missed its quarter's projections by a mile, or, more specifically, reporting 85 cents a share when the Street was looking for 98 cents with negative 1.4% comparable store sales, when estimates were for a 0.5% sales gain.
Oddly, the company was pretty cold-blooded about the miss, saying sales were soft around the election but they did get better on Black Friday. But the fact is that Bed, Bath is again in a rebuilding year, this time building around One Kings Lane, a home-goods catalog, as well as Personalization Mall, which BBBY calls an industry-leading online retailer of personalized products.
Personally, I thought the quarterly shortfall fanciful given how much my wife spent this quarter and fiscal year on One Kings Lane products, but clearly even her buying wasn't enough to get Bed, Bath to the promised land of positive comps.
More important, the stock had been coming back with a bet that both housing-related items and retail in general might be doing better than we think. I don't know whether to extrapolate as easily as the Street did. But the miss was nasty, causing one of its biggest longtime supporters, analyst Budd Bugatch at Raymond James, to go from strong Buy to Hold with this missive: "We now will need to see even some scintilla of evidence of improvement before again sticking our collective neck out and recommend new purchases of BBBY."
Ouch.
The woes cascaded down the retail group, blasting everyone from Walmart (WMT) - Get Report and Target (TGT) - Get Report to Dollar Tree (DLTR) - Get Report and Dollar General (DG) - Get Report and pretty much everyone in between.
It certainly didn't help that most analysts were caught looking the other way with an expectation that the colder weather and the confluence of Hanukkah and Christmas at the same time would produce a spike in sales, not a decline.
Many were shocked yesterday that Finish Line (FINL) could report such hideous numbers in light of the fact that while Nike (NKE) - Get Report may not be doing as well domestically as it likes, Adidas (ADDYY) and Under Armour (UA) - Get Report were supposed to be taking part of a bigger, not a shrinking, pie. (Under Armour is part of TheStreet's Growth Seekerportfolio.)
In fact, other than Matthew Boss from JPMorgan, who told you Nordstrom (JWN) - Get Report thought mall traffic was the worst since 1972, there's been a lot of bullish commentary about retail post-election. It looks like this key group may have less going for it than we thought and the normally strong home-goods category might be going down with the ship along with the already weather-beaten apparel companies.
Oh, and it doesn't help that now we are hearing rumblings of a cross-border tax on imports, something Boss also flagged. Of course, our retailers import hundreds of billions of dollars' worth of items and that tax will have to be eaten by the retailers themselves as there is very little give these days among relentlessly sharp consumers.
Not even the proverbial lower taxes so many are expecting from a Trump regime can mitigate the kind of gross-margin decline a true tariff like that would accord.
The next disappointer? A company I have on Mad Money tonight, Red Hat (RHT) - Get Report . This is a company that produces software for cloud-based applications that is very much a consistent performer that has done quite well as businesses migrate from on-premises to the cloud. It's indispensable for many because if your enterprise goes to the cloud using open-source software, I could argue that Red Hat's the only game in town.
So if it's the only game in town and it is having problems closing deals, which happens to be the case, could there be a slowdown in information technology spending? If so, can we connect the dots? Workday (WDAY) - Get Report , the human capital and financial cloud company, had problems closing deals. Oracle (ORCL) - Get Report had strong cloud numbers but was weak on premise software numbers. Yesterday, Accenture (ACN) - Get Reportoffered tepid guidance, which I took to be boilerplate conservativism for that huge information technology consultant.
But Red Hat spins a new and negative story about tech spending in what was supposed to be the hottest area out there.
These days when we see a chink in the cloud, we get all queasy about everything in the FANG cohort and they get crushed so easily, reminding us that just as they were the bright light last year, they are an area of total vulnerability this year, even as most of them are doing well. So what? They are thought not to be Trump stocks because they do well regardless of whether the economy accelerates under the coming administration's pro-growth plans.
Now, before we get too gloomy about tech, can we please pay homage to Micron (MU) - Get Report , which reported a magnificent quarter, much better even than the one that was preannounced to the upside not that long ago. It was the kind of upside surprise you dream of, entirely created by not enough supply of DRAMs and flash memory to meet demand. That's incredibly bullish for others in the area, namely Cramer fave Western Digital (WDC) - Get Report with its flash products as well as Applied Materials (AMAT) - Get Report and Lam Research (LRCX) - Get Report , two giant semiconductor companies that will have to get new orders in order to sate all of that demand, which is driven, by the way, by chips for automobiles, data centers and even personal computers.
Yes, it is that good.
And here's one from left field: classic consumer packaged-goods company Conagra (CAG) - Get Report , trounced estimates. The maker of goods that we almost always find in our pantries, namely items like Swiss Miss, Reddi Wip, Orville Redenbacher's popcorn, Slim Jim's, Healthy Choice and Hunt's Tomato iterations, brands they identify as iconic and my kids identify as antediluvian, showed an impressive turn with better earnings and real margin improvement. This group's been shelled and had been thought to be uninvestable.
Not today.
Oh, and oil rallied, putting still one more bid under that group, but it fell on deaf ears for all but that cohort with no pin action whatsoever.
You know what I think? I think that after endless days of rallying, it makes sense that we cool off a bit. We don't want to come into 2017 so vulnerable that we can repeal lots of the gains. I don't think things are as negative as some of the retailers indicate. We just got good numbers the other day from Darden (DRI) - Get Report and Carnival (CCL) - Get Report , although neither is mall-based and they won't get hit by import taxes if we get them.
Also, this is a rally led by the financials, and there are still no flies on them.
I say we have to get used to having down days because you didn't get to Dow and 19,975 without them. And you won't get to Dow 21,000 or any other number without them either. Detours are acceptable, even logical along the way, and we have at last hit a real detour.
Action Alerts PLUS, which Cramer co-manages as a charitable trust, has no positions in the stocks mentioned.
Cramer: Here's Why the Monte dei Paschi Saga Doesn't Hurt Us
Posted on Dec. 22 at 6:46 a.m. EDT
Why don't the machinations surrounding the possible destruction of the world's oldest bank, Italy's Monte dei Paschi, play a larger, more negative role, in this week's trading?
How can the potential collapse of a bank with €169 billion ($177 billion) in assets, the third-largest in Italy, with more than €45 billion in debt, not create a far bigger ripple here, given what we have seen in the last decade out of Europe and its interrelation to U.S. banks?
Are we whistling past this graveyard of a storied bank that will wipe out the savings of the hundreds of thousands of pensioners who rely on its subordinated debt for income?
I've got a few theories that speak to the real issues behind the lack of linkage and what it really means for the market going forward.
First, Monte dei Paschi is a zombie bank and has been for years. It's got, by some accounts--it is all pretty murky--€50 billion in nonperforming loans, 38% of its loan book; an unfathomable amount, and one that would have led to a seizure years ago by even the most braindead of regulators in this country. Heck, a bank with 3.8% of its loans nonperforming is pretty much insolvent. But 38%? I mean, please. This one's been a dead duck since 2010, when we first realized the magnitude of the situation.
It's obviously in much worse shape than the second largest bank, Unicredit, which just completed a €13 billion rights offering, boosting capital while at the same time selling a huge book of bad loans to Fortress Investments and Pimco. The radical actions taken by Unicredit appear to have that bank on much firmer footing. But I don't think that the same thing could be done at Monte dei Paschi, because the loans seem to be more sour and the management less adept at dealing with its problems, to put it politely.
So, there's no surprise factor.
Second? I think that Italy itself has been written off as an important country in Europe even as it has the third-largest bond market in the world, because once the EU decided to protect the nation's sovereign bonds and the rates came down to the point where each issuance wouldn't break the budget, the whole affair became a yawner.
That's a rather staggering development, when you think that five years ago when Italian 10-year rates were at 7% the whole world was hanging on to each sovereign auction. Now, with a 10-year Treasury rate of 1.82%, nobody cares, even as its banks have a staggering €360 billion in bad debts, all told.
However, as long as the sovereign debt is basically insured, individual bank debt attached to those bad loans doesn't mean that much, including the €5.0 billion subordinated debt purchased mostly by Italians in the last few bailout attempts. It will be crunched, people will be hurt, but then recovery can begin. As we have seen elsewhere, though, it can't begin until the crunch occurs and the problems are at last dealt with.
Third, Italy's economy has been faltering for years and while we often hear it is because the country is uncompetitive as labor force and is shrinking demographically, I think the real issue is a total lack of a working banking system. It's just plain scary to do business there if you think that the bank you are dealing with is going under.
That's about to change, and I think that a state-run Monte dei Paschi would be a good thing for Italy except for all of the individuals who own the bank's debt. Those people are going to want Italy to leave the EU for certain in reaction to the bank's collapse, which, again, might force the German-controlled organization to start spending to grow Europe. That could be an important part of the reaction to Italian nationalism. Or in other words, Germany's going to have to start sharing the wealth it has taken out of the EU with lesser countries like Italy by having some fiscal spending to grow the continent, not just its country.
Finally, the linkage between our banks and their banks has broken off. Our banks are now so big, with so much capital, that the numbers being thrown around out of Europe's ailing bank sector, as large as they are, seem like a drop in the bucket. In short, none of the big banks in Europe, whether it be Monte or Deutsche (DB) - Get Report or Credit Suisse (CS) - Get Report , or any of the London banks seem big enough to hurt us anymore. That's what happens when responsible regulators demand better balance sheets, which is what happened here a long time ago and is just, at last, happening in Italy.
Action Alerts PLUS, which Cramer co-manages as a charitable trust, has no positions in the stocks mentioned.
Action Alerts PLUS, which Cramer co-manages as a charitable trust, is long AGN.