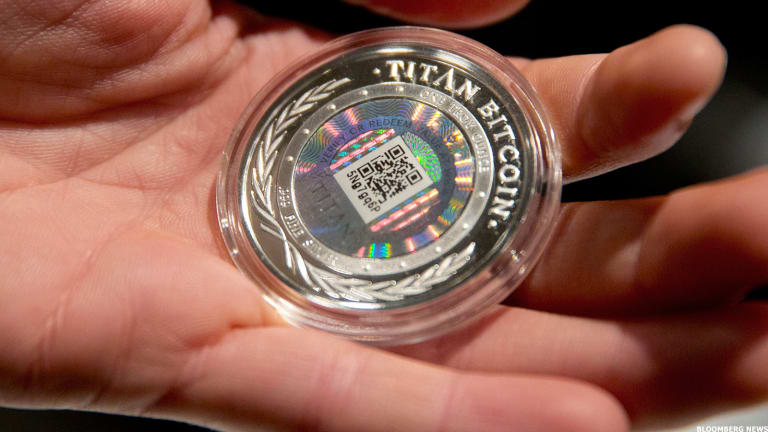 Bitcoin Bonanza: This Is Why the Initial Coin Offering Market Could Be the Next Bubble to Explode
There has been noise that the market for an initial coin offering (ICO) is at risk of becoming a bubble. Should you be wary of Bitcoin?
There has been noise that the market for an initial coin offering (ICO) is at risk of becoming a bubble. Coins are being sold rapidly and at prices for which there is no fundamental financial statement support. 
It is believed that many buyers have a speculative interest and will seek to resell securities quickly on a coin exchange. What are the risks? Why are ICOs being dubbed the next bubble?
Trace Schmeltz, a partner in the Chicago and Washington, D.C. offices of Barnes & Thornburg LLP, warns there are a number of risks to be aware of when considering the ICO market. 
Schmeltz explains: "Some of the basic risks are, 'Will this investment appreciate in value?' 'Is the enterprise a new cryptocurrency, for example, really worth anything at all?' 'Is the white paper describing the enterprise and its expected value-proposition worth the electronic paper on which it is printed?' 'Can the offeror or the exchange through which the offering is made be hacked?'"
Why Bitcoin Cash Prices Are Likely to Dive Again
The U.S. Securities and Exchange Commission (SEC) moved in on the "Wild West" world of ICOs by making them subject to federal securities laws. 
Schmeltz stresses that there is a fundamental regulatory risk that the SEC will deem the ICO to be an unregistered offering of securities and shut it down altogether. 
So are ICOs here for the longterm? Yes, Schmeltz says.
More of What's Trending on TheStreet:
"ICOs provide a valuable additional tool for anyone looking to raise capital," Schmeltz says. "But, as the SEC has made clear, anyone seeking to offer a profit-interest in their business through an ICO must ensure they follow rules for offering securities found in the Securities Act of 1933 and regulations relating to the 1933 Act."
The possibility of a bubble may well stem from the general dearth of information investors and company founders embarking upon an ICO have about the market.
"I think the main common characteristic between ICOs and 'bubbles' is the lack of clear understanding of the concepts and models of the companies selling tokens by some of the token buyers," said Eddy Travia, CEO of Coinsilium, a firm that finances and manages the development of early-stage blockchain technology companies. "Some token buyers may be following trends and disregard doing a proper due diligence on the companies issuing tokens. The past price performance of some tokens may encourage speculative purchasing but there are also very promising technologies and applications being built through ICOs and token price may only be one measure of their utility."
That hazy understanding contributes all the more to potential frothiness in the ICO market. 
"Tokens are usually generated by early-stage companies so there is a high risk associated to the capacity of these companies to succeed, and that risk may be reflected in the token price," Travia added. "However, there are many cryptocurrency holders who understand the market and the technology and want to support it -- they consciously wish to recycle cryptocurrency profits to help new blockchain companies to thrive. There are also several talented entrepreneurs who choose this method to fund their company as opposed to traditional VC funding which can come with strings attached."
Token buyers, of course, should do their homework and run a due diligence process before making ay token purchase decision.
(There are many websites out there which now track and evaluate ICO -- here is a list of websites with ICO resources.) 
Jerome Rousselot, of blockchain microfinance startup Jita Ltd., believes there seems to be no end to the growth of ICO. It appears ICOs are becoming the new way to raise capital. In that sense, the accusations of a bubble market may be overblown. That's not to say there are no risks.
So what else should we be aware of?
"ICOs are a new way to raise capital for projects and a new investment vehicles for individuals and businesses," Rousselot said. "It seems ICO is, as of now, the main use case for Ethereum and many Ethereum early investors are reinvesting their wealth into ICO." 
Rousselot explains anyone can setup an ICO and anyone can send funds to an ICO smart contract. "Recently Bitfinex, a major crypto exchange, launched a dedicated exchange for ERC20 ICO tokens: ethfinex.com," adds Rousselot. "The ERC20 standard facilitates the development of an ICO smart contract and make it easier to trade on a market." 
Last year, blockchain startups raised around $200 million in ICO, which is also considered a new form of crowdfunding based on cryptocurrency.
How do ICOs differ from crowdfunding?
Schmeltz explains that crowdfunding is regulated by, and must be done according to rules promulgated by, the SEC. Accordingly, anyone attempting to conduct an ICO as "crowdfunding" must carefully follow those rules - including offering coin through an SEC registered portal, ensuring that individuals do not invest more than allowed and limiting the overall fundraising to $1,000,000 in any calendar year.
"Compared to crowdfunding, ICOs are much more liquid," Rousselot said. "This attracts a highly speculative demand. Typically, early ICO investors, founders and team get better rates. Large investors and experienced blockchain traders can also "jump the queue" by paying high fees and get tokens first. This can make ICO unfair for small investors who enter the ICO at the last stage, or buy the token only after the ICO on exchanges."
Rousselot also adds that some ICOs definitely fund great teams with good projects. Some of them are very well managed from a legal point of view. Some others are only a few web pages, a whitepaper and an ethereum address, with no real product or prototype behind, and even less product market fit.
Sometimes some projects seem to raise too much money. Rousselot believes that maybe in the future we will see more capped projects, with a maximum amount to raise.
Watch: Which Cryptocurrency Will Last?
Are you investing in cryptocurrency? Don't miss TheStreet's coverage:

Why Bitcoin Cash Prices Are Likely to Dive Again
Bitcoin to Take Over Civilization
How Cryptocurrency Mining Works Explains Why AMD and Nvidia's Sales to Miners Might Soon Fall
Bitcoin Skyrockets to Record $3,525 as a Buying Binge Is Unleashed