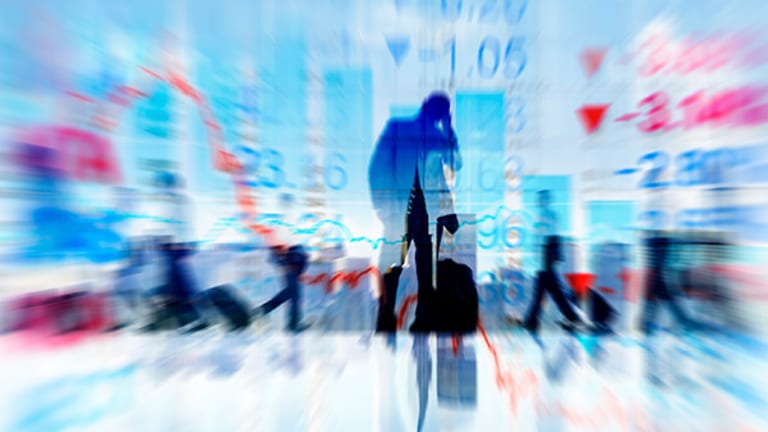 Could the Dow Jump Up Another 400 Points by Year-End?
Concerns that the market is overvalued continue to arise as the S&P 500 has increased by 7.6% during the past two weeks. But there may still be room for growth.
Concerns that the stock market is overvalued continue to arise as the S&P 500 has increased by nearly 8% during the past 10 trading days. 
The market could remain overvalued for awhile, because of the "easy money" from the central banks, said Matthew Tuttle, the portfolio manager of Tuttle Tactical Management U.S. Core ETF (TUTT). The Fed is acting as a punch bowl for the market by keeping interest rates low.
While the market had regained its losses after the U.K. voted to leave the European Union, the long-term consequences of the decision will not be unknown for several years. Factors such as when the Federal Reserve decides to raise interest rates will also impact market returns.
"This will be determined by how Brexit plays out and if other countries leave the EU along with what the Fed does and when," he said. "If the Fed stays on the sidelines for awhile and there is no further fallout from Brexit, then this rally could have another year and another 400 points on the S&P 500 to go until it finally peters out."
Since the market is always overvalued in some areas and undervalued in other places, figuring out whether there is more upside or downside by utilizing the price-to-earnings ratio or P/E is difficult, said Uri Gruenbaum, CEO of TipRanks.com, a tech company based in Tel Aviv, Israel that ranks stock analysts based on their recommendations.
"It's more of a tumultuous trend than a valuation trend following Brexit and falling oil prices," he said. "Warren Buffett's indicator of market valuation is the market cap divided by GDP -- [which] now stands above 110%, higher than it was in 2008, but shy of 1999 levels."
Instead, investors can examine the P/E ratio by sectors, which can give a more detailed picture of "which parts of the market are an investor's best bet at the moment," Gruenbaum said.
"A high P/E ratio fuels fears that a company is in fact overvalued, while a low P/E value means it is undervalued, often marking a good entry point for investors," he said.
The top analysts are currently the most bullish on the healthcare sector, including biotech companies, according to data from TipRanks. Out of those 400 stocks, the top analysts are bullish on over 300 companies and bearish on less than 10. One ETF with a relatively low P/E ratio is Health Care SPDR (XLV) - Get Health Care Select Sector SPDR Fund Report , with a ratio of 5.72, Gruenbaum said.
The health care sector displays the highest ratio of bullish-to-bearish ratings of any sector while analysts are least bullish on the utilities sector. The utilities sector has a P/E ratio of over 16, which some people will view as high and overvalued, he added.
The recent market highs are not a good gauge of determining a stock's value and is an "irrelevant" valuation metric, said Bill DeShurko, a portfolio manager on Covestor, an online investing company with offices in Boston and London and founder of 401 Advisor, a registered investment advisor in Centerville, Ohio. The P/E is a better determinant on a stock or index's fair value.
There are currently 48 stocks from the S&P 500 with a current P/E under 20, forward P/E under 15 and a hefty 3% dividend yield, he said. Investors who are "hungry" for yield can invest in quality stocks from this group, including financial companies such as BB&T (BBT) - Get BB&T Corporation Report and Wells Fargo (WFC) - Get Wells Fargo & Company Report ; health care companies like AbbVie (ABBV) - Get AbbVie, Inc. Report tech companies such as IBM (IBM) - Get International Business Machines Corporation Report , Cisco Systems (CSCO) - Get Cisco Systems, Inc. Report and Qualcomm (QCOM) - Get Qualcomm Inc Report ; and telecom ones such as Verizon (VZ) - Get Verizon Communications Inc. Report and AT&T (T) - Get AT&T Inc. Report .
"Throw in a REIT or two that should be valued on yield and free cash flow, not P/E, and an investor can still create a decent income portfolio," DeShurko said. "Perhaps add a high yield ETF or two like Wisdom Tree High Dividend Fund (DHS) - Get WisdomTree U.S. High Dividend Fund Report or iShares Select Dividend (DVY) - Get iShares Select Dividend ETF Report for diversification.
Evaluating undervalued investments can be achieved by screening for stocks selling for more than 20% below their 52-week high, he said.
"I use 20% as that is the official number used to determine bear markets," DeShurko said. "There is a broader list of 111 stocks out of the S&P 500 and some interesting were biotech stocks Celgene (CELG) - Get Celgene Corporation Report , Biogen (BIIB) - Get Biogen Inc. Report and Gilead Services (GILD) - Get Gilead Sciences, Inc. Report ."
Market Not Overvalued
Although the S&P 500 is dallying with record highs again in the aftermath of Brexit, since the forward P/E is only slightly above the 25-year average, this means the markets are not "necessarily in overheated territory," said Sean Cartin, a vice president at EP Wealth Advisors, a Torrance, Calif.-based financial planning firm.
Studies have indicated that the P/E does not statistically determine "near-term performance," so stocks can continue to become increasingly expensive or cheap, he said.
The long-term benefit of buying undervalued stocks such as ones in the emerging markets can increase returns.
"Although they have been a poor performer, it is always in the best interest of investors to have a portfolio which includes assets such as emerging markets because of their diversification benefits and current attractive valuations," Cartin said.
The utilities sector is overvalued, because investors are seeking yield in a low interest rate environment and when rates rise, it could impact the values of the underlying companies negatively, he said.
The market is fully valued for current earnings, and while it is not overestimated, it is not "cheap either," said Greg McBride, chief financial analyst for Bankrate, the North Palm Beach, Fla. based financial content company.
"For the market to sustainably move higher, corporate earnings growth will need to pick up," he said. "Stocks have been bid up as investors look for yield in a world with $13 trillion in negative yielding debt."
Many stocks have the potential for more upside as the relationship to the P/E ratio yields is "so blown out that a 50 or higher+ P/E is almost reasonable," said Patrick Morris, CEO of New York-based Hagin Investment Management.
"The market is not overvalued as the equity risk premium goes up as yields go down," he said. "At the current rates, anything other than equity risk is a guaranteed loss."
Even if the markets are at the upper end of their valuations, it is not an indicator on whether a correction will occur, said Peter Borish, chief strategist with Quad Group, a N.Y.-based financial firm.
"It should not be a big deal," he said. "What does that mean for investors?"
Stocks that are overvalued can also become even more overvalued, but that is not a sign that investors should sell the investment.
"The same is true for stocks which are undervalued: there is no reason to buy them either," Borish said.