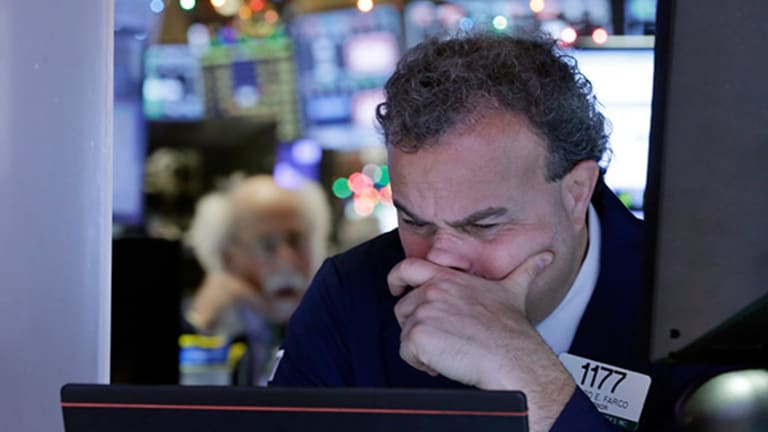 Could the Dow Hit 12,000?
Despite Thursday's mini rally, the market has been in shambles, including the rampant selling on Friday. But exactly how low can the Dow go?
Despite Thursday's mini rally, the market has been in shambles, including the rampant selling on Friday. But exactly how low can the Dow go?
Stocks took it on the chin Friday with the Dow Jones Industrial Average shedding 400 points, dipping below 16,000 for the first time since September. The tumultuous week could signify the beginning of a larger correction. Anticipation for a rebound in the stock market has all but evaporated as investors have waged another massive selloff amid deepening fears of a global economic slowdown while crude oil tests new lows again.
The international benchmark Brent crude plunged below $30 a barrel again on Wednesday, a level at which it is current buoyed. Stocks in the three major indexes are struggling with the Dow down 7.88% for the year, the S&P 500 down 7.75% and the Nasdaq composite index down 9.89%. Even the Russell 2000 index has plunged by over 20% from its high of last June.
This all prompts questions of whether this correction will continue and is headed for an even larger decline?
The panic selling by investors is driving the current correction and is not the outcome of actual stock market valuations and fundamentals failing, said Jon Ulin, a managing principal of Ulin & Co. Wealth Management in Boca Raton, Fla.
"While the markets may be rational over time, people are not," he said. "We are not in a recession, nor is there a current catalyst for one on the table in 2016. Whether or not the DJIA index goes down another 500 points should not concern you if you are a disciplined investor in a diversified portfolio with a long term mindset."
Dow To Stay in 15,000 Range
The Dow could trade between 15,370 and 18,351, said Carl Sera, a portfolio manager with Covestor, the online investing marketplace, and research director at Sera Capital Management, a registered investment advisor in Annapolis, Md. If the Dow dips below the August 2015 low of 15,370, the decline could force the index to plummet in a "measured move to 12,389, or a 32% drop from the May 2015 high," he said.
"It represents a level where value conscious investors would be buying," Sera added.
The extreme declines in the Dow include the 80% decline from 1929 to 1932 and the four drops in excess of 45% in 1937, 1973 to 1974, 2000 to 2002 and 2007 to 2009. The "run of the mill drops" of 7%, which have occurred in 2016, do not occur often but are not unheard of. There have been 36 of these since 1950, and nine of them resulted in drops of 20%, he said.
"That's the stock game," Sera said. "It's a game where buying the dip works like magic until it doesn't, and investors have no idea when the magic won't work."
The market is likely to test several levels, said Matthew Tuttle, the portfolio manager of Tuttle Tactical Management U.S. Core ETF (TUTT). The first level for the Dow is the October 15, 2014 low of 15,855. If the Dow does not remain at that level, then the August 2015 intraday low of 15,370 could occur, he said.
"If that doesn't hold, the last line in the sand is the February 2014 low of 15,340," he said. "That level has to hold for the bull market to stay intact. If it does, then we will probably rally to new highs before the bear market starts. If it doesn't hold, then watch out."

Dow Could Face Larger Declines
Troubling data points are pushing the markets down even more as the slowdown in China is "dramatic" while the emerging markets in Brazil and Russia are in "deep trouble," said Patrick Morris, CEO of New York-based HAGIN Investment Management. Oil prices will not rise in the near term because of the prolonged glut, while the tension between Iran and Saudi Arabia has not subsided, leaving the high yield market in "deep trouble" with crude prices nearly bottoming out.
"Take that and combine a rising rate environment with the end of free money and you have to ask how anyone could possibly guess where U.S. equities should bottom out," Morris said.
The Dow could wind up hitting a low of 12,300 to 13,300, which is the 2007 range, Morris predicts.
"It is highly probable in my opinion if there is no additional stimulus from the Fed," he said. "My guess is that we need to take the market down about 30% from peak to trough."
"The Dow will get beat up worse than most suspect," said Mike Chadwick, CEO of Chadwick Financial Advisors in Unionville, Conn. "Many indicators are pointing down and people's attitudes are just beginning to change. It's been 'buy the dip' for years, and once 'buy the dip' fails to work, people will get scared quickly."
The markets were rising for "too long" and instead of buying on the dip, investors should start to "sell the rip or short the rip," Chadwick said.
Whether or not the economy is headed into a recession remains unknown, but the commodity markets are "saying that we are in a recession and a pretty nasty one," Morris said. "I am not sure that the data really supports an economic recession, but there is certainly the possibility that inventories have increased to the point where negative earnings revisions will be the norm."
The current global issues point toward a "major market collapse," and the Dow could drop by 50%, said Steve Lewit, president of Wealth Financial Advisor in Buffalo Grove, Ill.
"It's a matter of 'when' it's going to happen," he said. "The question is will it be a fast or slow recovery since there is a strong possibility that this market may recover quite slower than recoveries of the past."

How To Protect Investments
Developing a diversified portfolio and maintaining a" strong Navy SEALs-type mind set" aids investors over time, Ulin said. "Making money does not happen in bull markets," he said. "It happens in how you manage your money and behavior in sideways markets and bear markets. If you cannot handle even a 5% loss you should not be investing."
Losses are incurred only when investors pull the plug and start selling their assets, said Edison Byzyka, vice president of investments for Hefty Wealth Partners in Auburn, Ind. Refraining from selling during extreme volatility and utilizing cash to buy stocks on a dip could "likely be the best approach to outpacing the markets," he said.
Ignoring the steep declines, even major corrections, will stem any massive losses, said Dave Louton, a finance professor at Bryant University in Smithfield, R.I.
"Once a major market adjustment is underway, it is difficult to get out without damage and then of course, you face the problem of when to get back in," he said. "There is a saying in the market that one should 'buy the dips and sell the rips', but if you end up letting panic affect your decision-making process, you will end up selling on declining prices and buying as prices rise."
Sitting out on the sidelines means the opportunity to gain during a rebound is also lost, said Shomari Hearn, a vice president of Scarsdale, N.Y.-based Palisades Hudson Financial Group.
"Long-term investors should view the recent market downturn as an opportunity to buy equities on sale," he said.