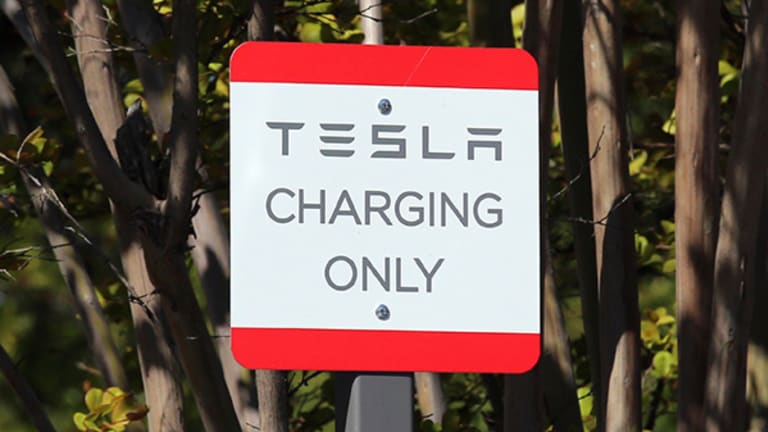 Could SolarCity Drag Tesla Down?
Tesla's billionaire CEO could be pushing a square-peg, round-hole combination with his proposed SolarCity buy.
Tesla's billionaire CEO could be pushing a square-peg, round-hole combination with his proposed SolarCity buy.
Editor's Note: This article was originally published on Real Money at 12:20 a.m. on June 28.
Elon Musk may be overlooking a conspicuous catch-22 in his ambitious plan to absorb SolarCity (SCTY) into his sprawling Tesla (TSLA) - Get Report business.
And that catch-22 is that U.S. households which have adopted solar energy have also learned how to capitalize on a strategy called "net metering," which pares away electricity bills by selling excess solar energy to public power grids.
So why would Americans scrap what essentially boils down to a self-sustaining free battery in favor of Tesla-manufactured in-house energy storage units?
That's the question that Axiom analysts Gordon Johnson and James Bardowski asked in a Tuesday report, which suggests that Tesla and SolarCity could be one another's "kryptonite," largely because Tesla's $2.8 billion offer to buy SolarCity would introduce new costs to the combined company than cut into synergies.
Tesla's cost of goods sold would rise by about 20% to 40% vs. the 20% to 40% savings that Tesla CEO Elon Musk is projecting, say the analysts, and conflicting objectives surrounding net metering undermine Musk's comments that the merger is a "no brainer," the analysts said.
Net metering is the "lifeblood" of SolarCity's industry, Johnson and Bardowski said in their Tuesday report, as evidenced by SolarCity's departure from Nevada operations once the state dropped its support of a plan that provides credits in return for excess solar power.
"Separately, among the many government incentives that SolarCity sees as vital to its survival, supportive net metering policies are paramount," the analysts said, remarking that the "fundamental problem" in combining the two companies is Tesla's resistance to the net-metering benefits, which undercut the advantages of owning a Tesla power-storage unit.
"Net metering is essentially a free battery ... you basically sell your power back to the utility, then you just buy it back at the same rate later. So it's hard to compete," Tesla's director of powertrain operations, Mateo Jaramillo, said at an industry conference last fall.
The analysts believe the deal is largely intended to help cure SolarCity's unsustainable "cash burn," as the company's cash has fallen 37% to $362 million for the first quarter, based on SolarCity's quarterly filing with the SEC.
Meanwhile, SolarCity's debt of $3.25 billion has climbed about 79% over the period.
According to the analysts, Musk faces "reputational risk" should SolarCity file for bankruptcy as a result of a liquidity event.
"Under such a scenario, TSLA wouldn't be able to raise the billions it needs to fund its business at a $29.2 billion valuation. Stated differently, the 69.7x forward P/E multiple that TSLA currently trades at would be at risk."
Real Money's Doug Kass also said in a Tuesday note that Musk's proposed merger has recently begun to face a significant amount of investor resistance.
"The proposed $2.8 billion merger of Tesla and SolarCity is in jeopardy, as many shareholders are pushing back against the plan in both private and not-so-private discussions," Kass said.
Shares of SolarCity are down 54% on the year, as of Tuesday, and Tesla stock is down 16%.