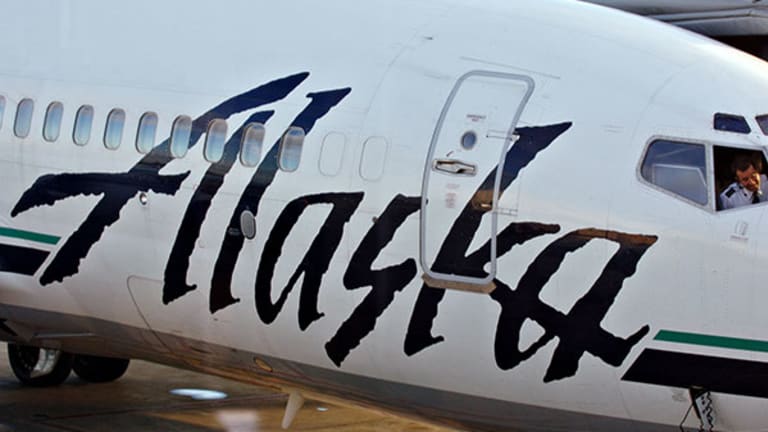 Could Alaska Air Escape the Share Price Doldrums That Are Holding Back the Airline Industry?
Like most airline shares, Alaska Air's share price performance trails the S&P 500. But some analysts like the carrier's movement on merger synergies, unit revenue and a pilot contract.
Share price performance by eight of the top nine airlines trails the S&P 500. In that context, perhaps Alaska Air Group Inc.'s (ALK) - Get Report paltry 2.6% share price gain this year should not be overly troubling.
Some analysts said that Alaska's unique circumstances, which include working to complete the 2016 merger with Virgin America and negotiating a pilot contract that will raise costs, represent an opportunity, even if the carrier is growing capacity at twice the industry rate.
"Alaska's shares have fallen out of favor this year as investors contemplate the dueling narratives of synergy realization against likely labor cost pressure and risks from accelerated growth," wrote Barclays analyst Brandon Oglenski in a recent report.
The share price gain may suffer by comparison with the S&P 500's 8.8% year-to-date gain, but Oglenski said he is not scared off: "Expected synergies from an improved operation and larger network should be enough to offset cost headwinds," he wrote. Management targets $195 million in synergies by 2019.
Alaska shares closed Thursday at $91.02, up 19 cents.
Oglenski has an overweight rating on Alaska and a $122 price target, while Cowen & Co. analyst Helane Becker has an outperform rating and a $103 price target. Stifel analyst Joseph DeNardi has a buy rating and a $145 price target, while Buckingham Research analyst Dan McKenzie has a buy rating and a $113 price target.
A recent catalyst was Alaska's May revenue per seat mile gain of 3.5%, which exceeded expectations. April RASM had increased 5.6%. "Both were better than we were expecting," DeNardi wrote. He boosted his second-, third- and fourth-quarter estimates. "The primary driver of the increase in estimates is a lower fuel price assumption," he wrote.
Becker said a pilot contract, with an estimated cost of $145 million, could be in place by year-end. Yes, that's a lot of money, but it would resolve lingering questions.
"When speaking with investors, the pending pilot contract negotiations is almost always brought up," Becker wrote. "A significant step-up in pay is expected given current industry dynamics. Management in recent weeks has suggested a deal could be achieved by year-end 2017 (reflected in our estimates)."
Alaska plans current-year available seat mile growth of 8.5%, about double the industry average. That implies second-half growth of 11.5%, given first-half growth of 5.5%, the carrier has said. "People don't love ASM growth," CEO Brad Tilden acknowledged at an investor presentation last month.
Oglenski said the relatively rapid growth "is creating concern that relative pricing outcomes could lag," but argued that the risk is mitigated most because it involves existing destinations rather than new ones. Lower fuel prices will help, he said.
This article is commentary by an independent contributor. At the time of publication, the author held no positions in the stocks mentioned.