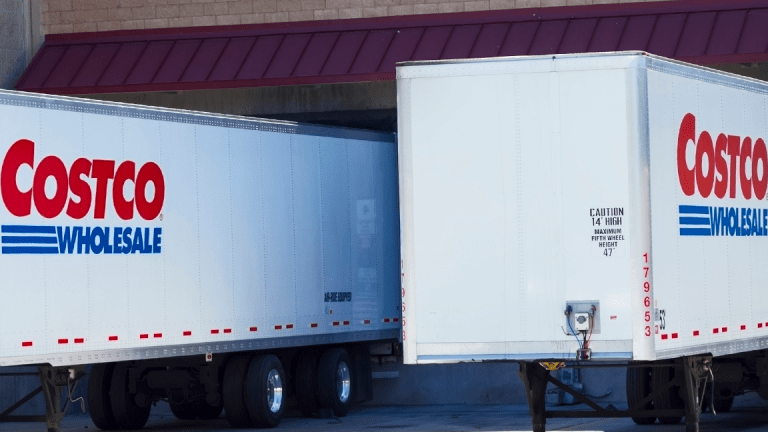 Costco Selloff Was an Overreaction - Why You Should Buy This Dip
Costco has upside of more than 5% in the next three months.
This would be the time to buy the dip Costco Wholesale Corp.  (COST) - Get Costco Wholesale Corporation Report .
The Costco selloff Friday, Oct. 5, wasn't about the company's less-than-ideal earnings report -- it was about the paragraph in the report that said the company was experiencing an IT problem that was affecting its financial reporting. The report said the company was experiencing "material weakness" in its internal controls, which "relates to general information technology controls in the areas of user access and program change-management over certain information technology systems that support the Company's financial reporting processes." The stock fell after the earnings were released on Thursday, Oct. 4, and fell 5.5% on Friday. 
It's certainly understandable why investors would want to de-risk and sell some of their positions in Costco. But it's a fixable problem, and the chances are slim that the financial reporting was so off-base that what we see on the financial statements will differ greatly. Maybe I'm naive. I know the company used the word "material," but it's obliged to disclose that info to the public and it doesn't want to downplay the issue. Hey, maybe the numbers are even incrementally better than we thought.
Either way, let's get back to the fundamentals. This is a fundamentally sound company. Costco is generally seen to have a premium value proposition, offering well below market prices, and a customer loyalty program that a JPMorgan analyst noted was growing at around 90% annually.
Start, and end, your trading day right with TheStreet's 'Daily Snapshot' on your favorite smart-speaker. Learn more about TheStreet's market coverage for your trusted smart-speaker here.
Costco saw sales growth for August of 8.3% year over year, beating the food retail market's rate of between 4% and 5%. A Goldman Sachs note pointed out Costco's consistency in beating the broader food retail market. Online sales grew at 26.2% in the fourth quarter. While that's below Walmart's (WMT) - Get Walmart Inc. Report40% online sales growth in its latest quarter, it's still a strong number.
6 Things You Didn't Know About Costco

While these are backward-looking figures, and markets are forward-looking, a few statements can easily be affirmed. Firstly, Costco is a solid company, point blank. Secondly, whether or not Costco continues accelerating its currently steep growth curve it won't decelerate. It will at least remain in its place as a premium value brand in the retail food industry. It will have sales growth at or above the industry. It will grow its online business at a nice clip. And if you're looking for a big growth driver, having both a strong digital presence and a strong loyalty program could accelerate the customer loyalty even more. If the Costco app and website are intelligent, it can create great accuracy for what each customer wants to buy, and keep them coming back more than they already do.
Now, let's take a scenario in which Costco's next earning report says the IT problem is fixed. The stock should at least be up 5.5% at that point from where it is now. I wouldn't be surprised if it rises more than that. Maybe the earnings report will be strong. Costco has beaten earnings expectations in seven out of its last nine quarters. The only risk? A price-to-earnings ratio of 32. But looking at the fundamentals, strong earnings ahead could justifiably keep that ratio high.
We do see Monday Oct. 8 the stock is coming back a bit, up almost 2%. 
What Are "Closed-End" Mutual Funds and How Do They Fit Into a Savvy Investors' Portfolios?Click here to register for a free online video in which TheStreet's retirement expert Robert Powell and an all-star panel run down all you need to know.