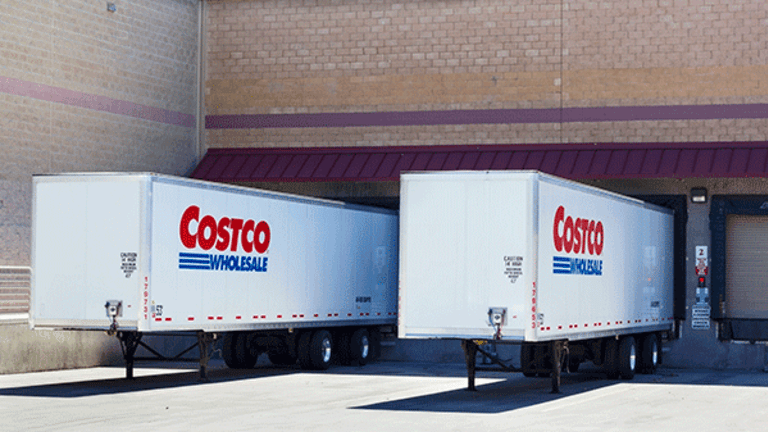 Costco Is Under Attack From Amazon and Just About Everyone Else -- Be Terrified, Costco Bulls
Time to reassess.
The more you look at the grocery store landscape, the more you have to be concerned about Costco (COST) - Get Report .
And it's more than just Amazon (AMZN) - Get Report possibly dominating the future of organic food via its deal for Whole Foods (WFM) . The transaction is likely to spur pressured food prices across the board, over time. This is the last thing Costco needs with its already razor-thin profit margins. Walmart (WMT) - Get Report is likely to ramp up its price-cutting efforts in response, as is Kroger (KR) - Get Report . After a while, there is an all-out food price war in the grocery aisles (sorry, General Mills (GIS) - Get Report ). Besides this, Amazon's Prime continues to become a dominant force in society, and now that the company is getting more into food people may question the need to have a Costco card. 
Top this off with millennials living in smaller houses than their parents, and one has to wonder how Costco will fit into their plans. 
Sorry to be the bearer of bad news, Costco bulls. Just keeping it real.
Costco's shares were up 0.6% to $160.17 by Wednesday's close.
(This article originally appeared on Real Money, our premium site for active traders. Click here to get great columns like this from Brian Sozzi, Jim Cramer and other writers even earlier in the trading day.)
What's Smoking Hot on TheStreet
Chobani is back at Whole Foods: It was a pleasure spending some time this week with Chobani's founder Hamdi Ulukaya -- one remarkable success story. One nugget from our interview below: Chobani is coming back to Whole Foods (WFM) . Ulukaya told me the deal was done before Amazon's (AMZN) - Get Report bid for the organic grocer.
The stock market may be overvalued: Now may be the time to pay extra attention to red-hot tech stocks such as Apple (AAPL) - Get Report and Facebook (FB) - Get Report . As TheStreet first reported Tuesday afternoon, asset valuations are somewhat "rich" by standard metrics, Federal Reserve Chair Janet Yellen said in London during a conversation about economic issues with British Academy President Lord Nicholas Stern. Yellen's comments on equity valuation and bank strength closely mirrored Fed Vice Chairman Stanley Fischer's from an IMF event held earlier in the day. 
The iPhone has changed how you make money: TheStreet's Scott Gamm is out with a piece that will really get you thinking. Apple's iPhone will turn 10 years old on Thursday. The device not only turned Apple into one of the world's most valuable companies, helping to boost its stock price more than 700%, it also changed the way we invest and trade stocks Gamm points out.
In fact, the original iPhone -- and the current versions -- have an internal stocks app, allowing users to check the broader market indices and individual stock prices. Having this in your pocket was a big deal 10 years ago.
"I think it's actually made the life for a typical investor much easier," Angelo Zino, an analyst with CFRA Research, told TheStreet. "I think they've been able to tap news flows much quicker."
This is a click every time: Apparently, NASCAR legend Dale Earnhardt Jr. owns a race car graveyard, reports Motor Authority. Enjoy the video below. 
How you can tell gas is cheap: Fiat Chrysler (FCAU) - Get Report continues to get the most out of its Dodge Challenger nameplate. The company just unveiled a new wide-body edition of the monster that is the 707 horsepower Hellcat. Hey, why not make the car wider and more apt to suck the gas -- gas prices have plunged in the wake of the crash in oil.
The new Hellcat widebody. #dodge#hellcat#hellcatwidebody Credit to photographer
A post shared by America's Classics (@americas_classics) on Jun 27, 2017 at 12:26pm PDT
Read More Trending Articles:
Walgreens Is Going to Lose Out on Rite Aid -- This Analyst Sees Something Else Playing Out
We Sent a Millennial to a Decaying Kmart Store and Couldn't Believe the Horrors She Discovered
When Walgreens Finally Acquires Rite Aid, It Will Be a Terrifying Drug Selling Monster
Employees of TheStreet are restricted from trading individual securities.