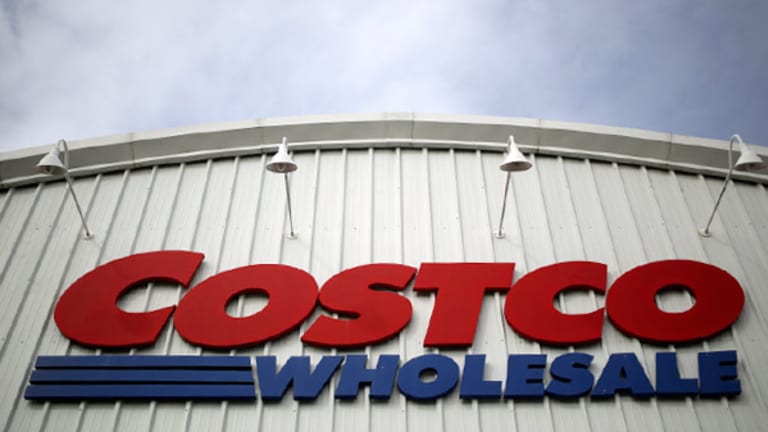 Costco Is a Good Company, Just Not at This Price
COST reported the firm's Q1 results on Thursday night.
COST reported the firm's Q1 results on Thursday night.
A simple pleasure. My wife probably doesn't realize this, but I like actually going to our local Costco (COST) - Get Report . I like moving in and around each aisle, seeking better prices than I might find elsewhere for both household and business purchases. I especially like buying a fully cooked rotisserie chicken to bring home for dinner for less than the cost of a whole chicken from the grocery that needs to be cooked. COST reported the firm's Q1 results on Thursday night. It would appear that at an adjusted comparable sales growth rate of 7.5% (8.3% in the U.S.), that I have plenty of company. It would so appear.
The numbers get confusing, but after excluding tax benefits of 19 cents, and a 7 cent charge, EPS came to $1.61, or a penny less than Wall Street was looking for. There were no whispers out there that I saw other than the consensus itself. Investors have been selling this name overnight. I might think that pressure here will extend to the firm's competitors, Walmart (WMT) - Get Report , and BJ's Wholesale Club (BJ) - Get Report . Revenue was strong enough at 10.7% year over year growth. In fact, this was a very decent quarter. E-commerce popped more than 26%, while net income ramped 19.8% sequentially. The only blight that I really see is in performance outside of the U.S., and that may very well be a dollar strength story in the rear view mirror, and of course a growth story to the front.
Does a trader buy this name on this morning's discount in what looks to be a broadly weaker opening for U.S. markets? Let's go there.
Sort of looks like a chart for the S&P 500 over the same time frame, except for one thing. While the S&P 500 has seemingly formed a triple top coinciding with a triple bottom, Costco has formed a triple bottom and a cascading series of lower highs to along with it. To me, admittedly I did not catch this before this morning, but someone really watching the name could have seen a selloff in the making. Both RSI, and the daily MACD really appear noncommittal. Money Flow has not been a problem.
This morning, the shares are trading around 220. If one really wants to own the name, I would think there is a strong likelihood that the investor gets a chance at 217. With a dividend yield of just 1%, I am not motivated to get long a $220 stock in this environment. That said, if you indeed are, I would advise an investor to inch his or her way in at 217. If that door should open, it's a short ride to 209. I think a take and hold of the 50 day SMA (currently 227) is the only way I get fired up. This is a good company. This, for me, just is not the price. On to the next thing.
At the time of publication, Stephen Guilfoyle had no position in the securities mentioned.