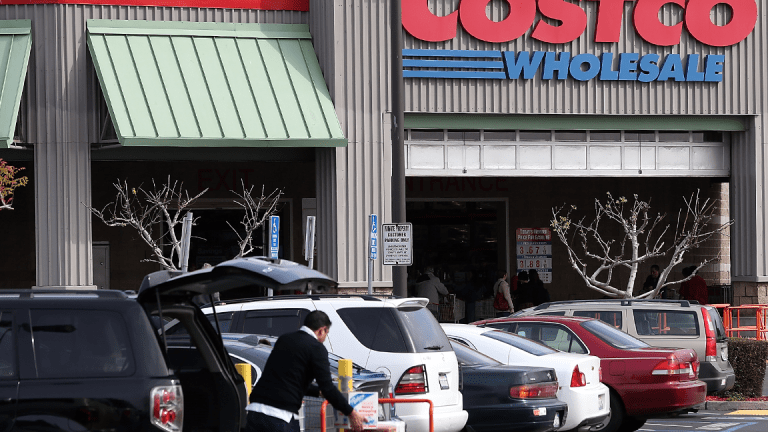 Costco Gets Bump From Same-Store Sales Beat
Costco's fiscal first-quarter sales top estimates.
Costco Wholesale Corp. (COST) - Get Report   said same-store sales in its fiscal first quarter rose 8.8%, beating analysts' consensus of 6.5%.
Comparable sales for U.S. stores grew 11% during the quarter, with e-commerce growing 32.3%. Comparable sales excluding changes in gasoline prices, foreign exchange and a previously disclosed accounting change in revenue recognition sent those figures down to 8.3% and 26.2%, respectively.
The warehouse club operator released sales figures ahead of the release of fiscal first-quarter results on Dec. 13.
For the fiscal first quarter ended Nov. 25, the company reported net sales of $34.31 billion, an increase of 10.3% from $31.12 billion during the similar period last year, but missed FactSet consensus of $34.52 billion.
The company said net sales for November were $12.77 billion, a 9.8% increase from $11.63 billion last year.
Same-store sales are a closely watched indicator for investors as they try to gauge the future performance of a company. Given recent macroeconomic changes in tariffs, new corporate tax laws and record consumer sentiment, Costco's comparable sales growth is a positive leading into earnings next week.
Costco beat consensus earnings estimates in the last two quarters. In the most recent quarter, Costco announced an earnings beat of 2 cents a share above estimates, reporting earnings of $2.36 a share. In the previous quarter, it also beat consensus by 2 cents, announcing earnings of $1.70 a share.
TheStreet previously reported Costco one of the best names of 2018 in its Trifecta Stocks report, a new stock selection service. Costco stock has risen more than 20% year-to-date even after losing more than 4% in the volatile previous three months.
Consensus has Costco a "buy" and is expecting EPS growth of $1.62 a share for the fiscal fist quarter endedin November, a year-over-year change of over 19.1%, according to Zacks Consensus Estimate.
Costco shares rose 2.8% on Thursday.