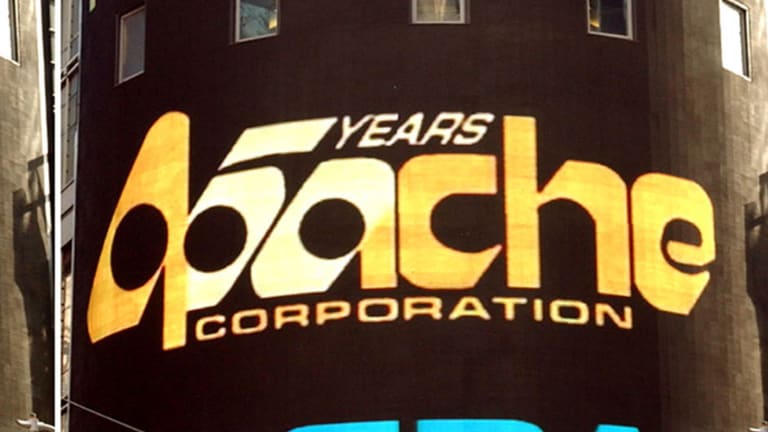 COST, AMZN, APA: Jim Cramer's Views
Jim Cramer shares his views on giving a company the benefit of the doubt. Costco, Amazon and Apache are among the stocks discussed.
Jim Cramer shares his views every day on RealMoney.Click here for a real-time look at his insights and musings.
Cramer: Keep Calm About Apache and Invest On
Posted at 11:45 a.m. EDT on Thursday, Sept. 8, 2016

Look, I have heard of giving a company the benefit of the doubt, but this ramp in Apache (APA) - Get APA Corp. Report has taken on proportions that show there is too much enthusiasm in the oil patch.
Now I totally get that, with oil running, people will throw cash at anything.
I also think there is a lot of oil in them thar hills, the hills of Davis, where this Alpine field is in Texas.
But all that said, it will be a year before we know anything and that means you will have to wait an awful long time before we really know how big this field is, and until then, we have to take Apache's word for it.
The good news is that Apache is a conservative company. The bad news is that this stock has soared as if this is the biggest find in recent history.
I have had Core Labs (CLB) - Get Core Laboratories NV Report on Mad Money multiple times, and I recognize that Core is the scientist of the patch, best able to analyze how good a reservoir is, and they have hinted that there could be a huge find out there.
Maybe this is that find. They can't reveal clients.
Without independent verification of this find, though, I believe Apache will soon be too high.
If you do own some because you think the field is gigantic, sell some. It's just had too big a move and has had the wind at its back because of the climb in oil, one that may not last, because in the end, despite the drawdown, we have a ton of oil all over the place and this morning's figure can only take us so far.
Action Alerts PLUS, which Cramer co-manages as a charitable trust, has no positions in the stocks mentioned.
Cramer: Former Consumer Goods Darlings Have Become Treacherous
Posted at 6:34 a.m. EDT on Thursday, Sept. 8, 2016

Wow, safety costs an awful lot. That's all I could think about as I heard the big guide-down delivered Wednesday by the chief operating officer of General Mills (GIS) - Get General Mills, Inc. Report at the annual Barclays Global Consumer Staples Conference.
It was only a matter of time that they got to all the food stocks, when you consider the startling decline in the stock of Campbell's Soup (CPB) - Get Campbell Soup Company Report after that last, subpar quarter. That stock has now lost 10 points in two months; 10 points is a huge hit to a food stock off of one quarter's weakness, especially because it had been among the best performers in the group for ages.
Just a chilling series of words about a missed quarter which, a month ago, looked like it was in the bag.
It's not often that you see a stock like Mills drop three points or 4% in one day's session. This is a company of the highest quality, which usually has a very good hand on its own destiny. It's been a steady-as-she-goes rally machine for ages.
But it sure wasn't this time, as it took down August guidance because of the competition to a crucial initiative of the company: expanding yogurt sales. It's a reminder of just how dog-eat-dog anything sold in the supermarket is right now; natural, organic, packaged or fresh or anything else in that crucial aisle battleground.
Who's disrupting things? No names were discussed by Jeff Harmening, but it looks like Danone (DANOY) in there, taking share and taking names, but taking no prisoners. And it could only get worse now that the French powerhouse has purchased WhiteWave Foods (WWAV) , a natural and organic maker of yogurt that's been gaining in shelf space in the dairy aisle for several years now.
I was wondering when the pressures on the earnings of all supermarkets would get to these consumer packaged goods stocks, because in the end the packaged goods companies have moved so much in the last few years that their yields are now meager. These bond equivalents have been flying as the Fed keeps rates down, even as their customers, the supermarkets, keep getting trashed. Witness Wednesday's thrashing dealt to Sprouts Farmers Market (SFM) - Get Sprouts Farmers Markets, Inc. Report , one that spilled over to Whole Foods (WFM) and Kroger (KR) - Get Kroger Co. Report , all with hideous declines to their stocks during the session.
It's telling that the stock usually had been protected by a bountiful dividend, but it had run so much that the yield's still puny and hardly the trampoline that it once served as. Campbell's, to be sure, wasn't just the equivalent of a bond. It has also rallied on takeover talk and a false belief that its business was more immune to price cutting than any other in the space.
It's not like either Campbell's or General Mills are slug companies. Both have moved to do much more in the natural and organic space, which had been where the growth was. But, guess what, so the private label guys, notably Tree House, have moved in aggressively too, with cheaper, store-branded, merchandise.
You can bet that when the accounting mystery of Hain (HAIN) - Get Hain Celestial Group, Inc. Report is cleared up, you are going to see that it, too, has been hurt by private label because it hasn't spent enough money defending its brands. Too much inventory, too little shelf space at the ultimate distributor.
How bad is it out there? This quarter they got to J.M. Smucker (SJM) - Get J.M. Smucker Company Report , which had been the most reliable in the cohort, because of a price war in what had been one of the strongest aisles in the supermarket: pet food. That was a sucker punch quarter, for certain.
In the end the consumer's gotten even more frugal, while the supermarkets are trying to make as much as they can by pitting everyone against each other and there's been unprecedented food price deflation. Think of the companies battling on price for the consumer's business: Target's (TGT) - Get Target Corporation Report hurting and it doesn't want to lose share to Walmart (WMT) - Get Walmart Inc. Report , while the dollar stores are trying to underbid Walmart on all things food these days, including freezer space.
Costco's (COST) - Get Costco Wholesale Corporation Report caught in the same vice, despite its lucrative club program. Oh, and of course, Amazon's (AMZN) - Get Amazon.com, Inc. Report in there, beating everyone to death in the non-produce category and wants, desperately, to move into the same-day produce delivery business.
And, yes, the deflation in food is a dark hole that that all investors are just waking up to.
If you are in any of these stocks, whether it be Kellogg's (K) - Get Kellogg Company Report or ConAgra (CAG) - Get Conagra Brands, Inc. Report or Church & Dwight (CHD) - Get Church & Dwight Co., Inc. Report or even Kimberly Clark (KMB) - Get Kimberly-Clark Corporation Report or Clorox (CLX) - Get Clorox Company Report , you have to have one finger on the trigger. We even sold one of my faves, Kraft Heinz (KHC) - Get Kraft Heinz Company Report for ActionAlertsPlus.com after a nice gain, because we didn't see the growth case going forward.
This safety group may prove to be the most vulnerable out there at the moment, until the yields get to be more supported and the takeover chatter ends.
Only then is it safe to be overweight in what's become a very treacherous segment of the supermarket and the market as a whole.
Action Alerts PLUS, which Cramer co-manages as a charitable trust, is long COST.
At the time of publication, Jim Cramer's charitable trust Action Alerts PLUS was long COST.