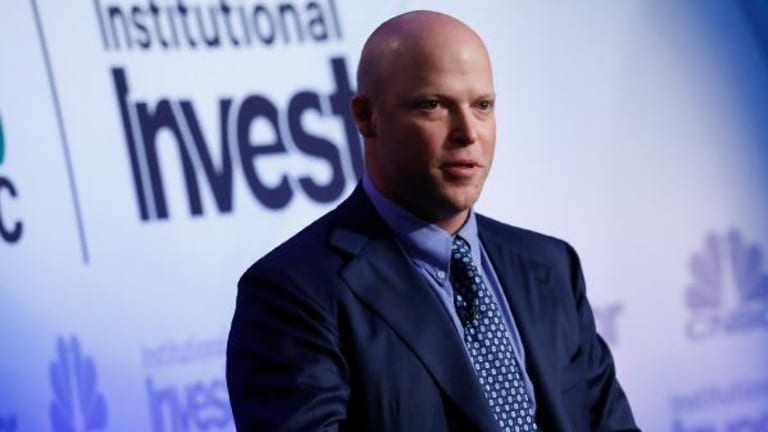 Corvex to Energen: The '70s Are So Over
Investor Keith Meister escalated his campaign to have the oil and gas company consider selling itself.
Carl Icahn protege Keith Meister, an activist investor, on Wednesday escalated an ongoing campaign to have Energen Corp. (EGN)  consider strategic alternatives such as a sale with a letter arguing that the oil and gas company's board has refused to meet with him or some other shareholders despite multiple requests.
"The days of 1970's-style governance are over, and a board should not make decisions in a vacuum and without consultation with its shareholders," said Meister in the letter that was attached to a securities filing.
Meister, who founded Corvex Management LP, has been agitating publicly at Energen since May. His latest letter seeks to portray Energen as a company that is being run in a manner akin to the way corporations operated in the 1970s, when corporate boards communicated less with shareholders.
Energen hasn't been responsive, at least not in the way Meister had been hoping. On June 19, the oil and gas company reported that it had completed a strategic review of alternatives, with advice from JPMorgan Chase & Co. (JPM) - Get Report  and another bank, and concluded that it will maintain its existing business plan.
Energen chairman and CEO James McManus subsequently told the JPMorgan Energy Equity Conference in New York on June 26 that the company decided to maintain its current strategy because of its improved performance from wells completed with a new frac design and as a result of the overarching macroeconomic background.
In other words, Birmingham, Ala.-based Energen feels it's producing oil more efficiently than previously anticipated and making a deal to sell the business in a world where oil is trading hands at just over $43 a barrel could undercut the true value of the company. In addition, a person familiar with the situation suggested that it may be tough to sell the business in this macro-economic situation. Energen's market capitalization on Wednesday stood just shy of $4.7 billion with the stock down roughly 15% year to date.
However, Meister isn't taking no for an answer. In his letter, he complained that even though Energen hired financial advisers to review strategic alternatives no actual alternatives were proposed. At this stage, Meister is proposing that the board should engage with shareholders, independent of management, to get their assessment of the future direction of the company. The comment suggest that discussions could involve a review of whether shareholders and the non-executive board believes that Energen's C-Suite is doing the best job possible—or should be changed. 
"After receiving the perspective of your shareholders, re-examine your conclusions as to the best direction for Energen," Meister said. "Maybe it changes, maybe it remains the same."
The activist fund has continuing accumulating shares, recently hiking his stake to 7.6%. However, at this stage it is unlikely that Energen's board and management will make any major changes. That will leave Meister with only one major option to effect change—a director election proxy contest. Meister has launched director election contests in the past in efforts to drive M&A and other changes at targeted companies. A director battle would likely be the only way Meister could drive a sale of the oil and gas company now that it has concluded that staying independent is what its board and management wants to do. One would need to be launched by Feb. 2 to be considered at Energen's 2018 annual meeting.
In addition, it is possible that other oil and gas companies would like to buy Energen. In his May 31 securities filing, Meister said that he expects to continue to have conversations with third parties "including both domestic and international oil and gas companies" as well as shareholders.
This suggests that the activist fund is talking to other investors about whether they would support a sale as well as potential oil and gas companies in the U.S. and abroad to gauge their interest in acquiring Energen.
"Energen's board of directors and management team, with assistance from two financial advisors, recently conducted an in-depth review of the company's business plan and a range of strategic alternatives, including M&A opportunities," the company said in a statement. "Energen took into consideration input from shareholders representing a variety of views, and analyzed Energen's top-tier assets, improving execution, and the broader macroeconomic and commodity price environment."
The statement added, "Following this review, Energen's board unanimously concluded that the best way to enhance shareholder value is through continued execution of the company's business plan. Energen has recently spoken to many of the company's top shareholders and met with them and others in one-on-one settings and at industry conferences, and the company will continue this robust engagement while ensuring the Board continues to be fully aware of shareholder viewpoints. Energen's Board and management team are focused on enhancing value for all shareholders, and we are confident the actions we have taken and will continue to take will enable us to achieve this objective. We continue to remain open to value creation opportunities, now and in the future."
—Tom Terrarosa contributed to this report