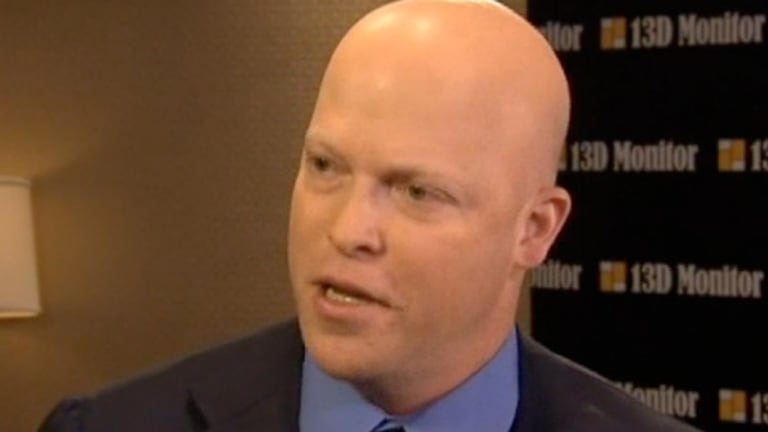 Corvex's Meister Eyes CEO Shakeup at CenturyLink-Level 3
Meister, an activist investor who previously worked for billionaire Carl Icahn, tells the 2017 Sohn conference that Level 3's CEO needs an executive role at the combined company.
Activist investor Keith Meister of Corvex Management on Monday, May 8, launched a campaign urging CenturyLink (CTL) - Get CenturyLink, Inc. Report and Level 3 Communications (LVLT) to bring the top executives of both companies on board to run the combined company after they complete an ongoing $34 billion merger.
"The deal will be much more valuable with both players on the field. We are shining a light because we want all stakeholders to help us make this happen," Meister told the Sohn Investment conference in New York. "The most important part of this deal now is getting the integration process correct,"
At issue is the structure of the C-Suite in the combined company. After CenturyLink and Level 3 complete their combination, expected in September, the CenturyLink CEO, Glen Post is scheduled to become the CEO. Meanwhile, Level 3's president and CEO, Jeff Storey is slated to become a director.
However, Meister would like to see Post become chief executive for a year, after which he would become chairman and Storey becomes CEO. After a year, Storey transitions out of the CEO slot and becomes chairman of the board.
Meister argues that Post brings four decades of knowledge to the combined company. However, he also noted that "execution" has been less good at CenturyLink than at Level 3 for many years. As a result, he thinks Storey, who he contends has "operational expertise and a track record of shareholder value" improvement should has an executive position.
"We need both men to be executives of the combined company. We need both to be on the field at the same time," Meister said. 
Meister's background working for corporate raider turned activist Carl Icahn and his own track record at Corvex all suggest a director-election contest down the road is a serious possibility if the combined company doesn't make the C-Suite changes. According to FactSet Research, Meister has launched 13 activist campaigns and four proxy fights prior to Pandora as part of his effort to drive change at targeted companies.
Meister did not discuss another campaign he has underway at Pandora Media (P) .
Corvex Management, the hedge fund Meister founded in 2010, reported owning a 10% stake, which included common shares and derivatives. Meister touted Pandora, noting it has a "great product." However, Pandora has been postponing its deadline for director elections under pressure from Corvex, suggesting that Meister is seriously thinking about pulling the trigger on a director election contest if Pandora doesn't sell itself first. The most recent deadline is Monday May 8. The deadline has been pushed back over the past few weeks and had initially been set for March 3.