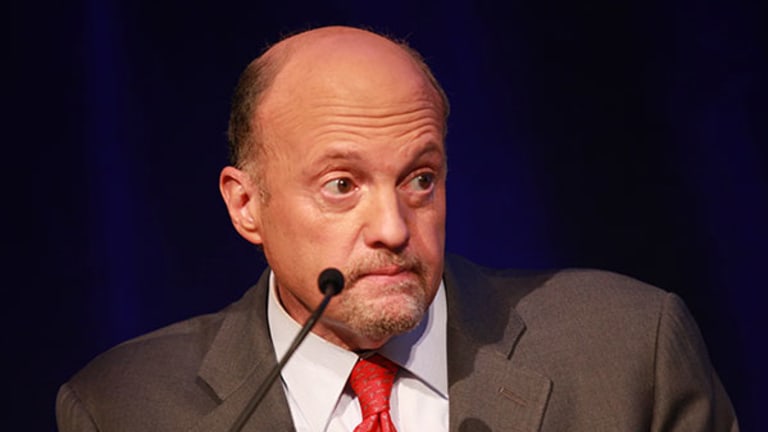 Coping With Wall Street's Fickle Nature; Yellow Flag for the IPO Hoopla: Jim Cramer's Best Blogs
Catch up on Jim Cramer's thinking over the past week on dealing with Wall Street reversals and understanding the IPOs of the moment.
NEW YORK (TheStreet) -- Jim Cramer fills his blog on RealMoney every day with his up-to-the-minute reactions to what's happening in the market and his legendary ahead-of-the-crowd ideas. This week he blogged on:
how to cope with reversal after reversal on Wall Street, and
what the IPOs of the moment mean now and in the long run.
Click here for information on RealMoney, where you can see all the blogs, including Jim Cramer's -- and reader comments -- in real time.
Coping With Wall Street's Fickle Nature

Posted at 2:13 p.m. EST on Tuesday, April 1, 2014

Did someone just flip a switch? Did everything that was bad last month just get better? Could the market really be this stupid and forgetful?
You bet it can. Because the market is made up of money managers who all have their own motivations, and they can be as mercurial as all get-out. Something that seems valueless at the end of the quarter can become valuable overnight, because the buyers don't mind returning to the shunned, now that a discrete grading period is over and a new one has begun.
[Read: Here's Why the Fed Isn't Hiking Rates Anytime Soon]
I always want to keep in front of you the rules of the game, the way money managers think, because if you know why they think that way, you can make more money when they pull their shenanigans. One of the key principles of most managers who show their holdings to investors is that they never want to be out of step with the times. As I have said over and over again, the previous quarter amounted to a rotation out of the hottest leaders of 2013 -- the biotechs and the high-valued technology companies -- and into the old-time pharmas, the soft goods, the industrials and lower, value-added tech.
So we saw a slaughter of many a market leader during this period, despite excellent quarters and lots of good news. At the same time, there was an endless progression higher in industrial stocks, as the group-think about the turn in the economic cycle worldwide allowed the endless buying in companies such as Caterpillar (CAT) - Get Caterpillar Inc. Report, Ingersoll-Rand (IR) - Get Ingersoll Rand Inc. Report and Alcoa (AA) - Get Alcoa Corporation Report, among others that simply became loved.
We saw the same with value tech, such as Intel (INTC) - Get Intel Corporation Report, Microsoft (MSFT) - Get Microsoft Corporation Report, Oracle (ORCL) - Get Oracle Corporation Report, Seagate (STX) - Get Seagate Technology Holdings PLC Report and Western Digital (WDC) - Get Western Digital Corporation Report, just old-fashioned yesteryear tech that got dusted off because it had become too cheap compared with the newer, hotter stocks that had been leaders, chiefly those that celebrated mobile, social and the cloud. Salesforce.com (CRM) - Get salesforce.com, inc. Report had become a whipping boy, as had Google (GOOG) - Get Alphabet Inc. Class C Report and Facebook (FB) - Get Meta Platforms Inc. Class A Report. You could barely look at these, and if you did, you were rubber-necking wrecks on the market highway. 
In the meantime, stocks such as Eli Lilly (LLY) - Get Eli Lilly and Company Report and Merck (MRK) - Get Merck & Co., Inc. Report, companies thought to be left for dead in the pharma space, roared higher, and Celgene (CELG) - Get Celgene Corporation Report and Gilead (GILD) - Get Gilead Sciences, Inc. Report, thought to be of the highest quality in the land, languished or were slaughtered.
[Read: Google Slumps After Founders Issue Non-Voting Shares]
Of course, it didn't help the highly valued techs or biotechs that we got new underwritings in their spaces pretty much every day in the last month, and lots of left-for-dead -- deservedly so -- biotechs came back to life in a speculative frenzy.
You have to understand that in that environment, you simply didn't want to show that you owned anything that had gone out of fashion in the Wall Street fashion show. You can only imagine someone saying, "You mean you held on to Yelp (YELP) - Get Yelp Inc Report and rode it all the way down from $100 to $79? What kind of idiot are you?" Or, "You kept Facebook after that moronically stupid WhatsApp buy and then the dumb-as-all-get-out virtual-reality joke of a waste of $2 billion? Did you go to college to get stupid?"
But now it is a new quarter, and those funds that are drawn to growth and don't need to show their positions can revert to their favorite names. Not only that, but even better, these stocks have now come down to levels that actually might make sense to buy, as opposed to the slower growth stocks that they've been loading up on.
Let me give you a classic example. I believe that Facebook can earn as much as $2.50 a share in 2016. That means this stock is selling at 24x earnings. Twenty-four times earnings, while the average stock sells at 17.25x earnings and has a growth rate that's a fraction of Facebook's? How can that be? That's just ludicrous, but Facebook has indeed come down that much.
[Read: 14 Indices Tell the Stock Market Story]
You really want something odd, though? Consider two of my Four Horsemen of the Big Pharma apocalypse that I spell out in Get Rich Carefully, Celgene and Gilead. Not that long ago, Celgene had some sort of setback in the U.K. for one of its key drugs. That helped cause the stock to drop from $174 to $138 within the framework of this quarter past. Meanwhile, all that has happened is that the estimates have gone higher. I now believe that Celgene can earn $15 a share in 2016. That makes this amazingly fast-growing biotech cheaper than Merck and Pfizer (PFE) - Get Pfizer Inc. Report. Gilead's new pill to combat hepatitis C has had some bad research about it of late, but the real numbers are huge, and the company could earn $7 a share two years from now. Two days ago in the spring cleaning that threw out everything high, growth managers sold it down to $68. Less than 10x earnings. Meanwhile, lumbering old pharma just kept going higher this past quarter. The disparity became ridiculous.
Now I am not saying that the grand selloff can't return with the flurry of initial public offerings that are in the works. However, if Wall Street is true to form, the analyst backers of the old-fashioned cloud and biotechs, who have been in their bunkers in the last month, should begin to emerge, now that the first-quarter shelling is over. We saw that today when an excellent firm, R.W. Baird, added Celgene to its focus list. It wouldn't surprise me if tomorrow Goldman Sachs, which had in retrospect a terrific call taking Celgene off the buy list much higher, one I thought would be wrong, comes out and reverses that call. Those analysts who liked Gilead and haven't spoken up in defense of it of late should also be squawking.
Needless to say, the Facebook claque, which has been remarkably silent after the pickup of the virtual mask company, will most likely be emboldened to praise the company too. It's only natural that those who like Yelp and Workday (WDAY) - Get Workday, Inc. Class A Report and Concur (CNQR) and Salesforce.com will come out from under their desks and say good things, too.
Does any of this make sense? Not at all if you are managing your own money. But remember, no one sees what you are up to. You have the ability to control your money without worry that someone will take it away from you for sticking with that bonehead Facebook. Unfortunately, professional money managers lack that ability. Which is why I always say that you can beat them at your own game, as long as you have conviction and do your homework. You can play by your own rational rules to get rich carefully. They have to play by rules that allow them to gather assets aggressively, and at times, those two missions just simply aren't aligned, and at the end of a quarter they could not be more at odds. 
[Read: GrubHub Goes Public, Shares Gain in Healthy IPO]
Yellow Flag for the IPO Hoopla

Posted at 11:39 a.m. EST on Friday, April 4, 2014

Today, when I found my arms wrapped around a slice of pepperoni pizza and a piece of salmon on the Floor of the New York Stock Exchange, I said to myself, "If this isn't what a top looks like, then I don't know what does."
Yep, today we got an initial public offering for GrubHub (GRUB) - Get Grubhub, Inc. Report, a well-loved food-delivery service, and, as it went to a scorching premium that was well above the range of the initial price talk, I was just plain worried.
You see, I vowed in 2000 that if we ever again saw a parade of endless IPOs, I would speak up and say this is all too much and we can't have this much supply of this many companies and expect the market won't get hammered.
I write that because I lived through it. I helped bring TheStreet.com public back in 1999 and, like GrubHub, the IPO, which was priced at $19, opened up at $63 and went to $67 and then ultimately fell to $1 not that long after. I console myself by saying at least it didn't disappear like 300 deals that came through that period, the vast majority of which looked just like TheStreet, with no earnings and no prospects for earnings in the near future because the opportunity was too great to make a profit.
Or at least that was the rationale the bankers gave for what was transpiring back then.
I vowed that I would speak up because, unlike, say, high-frequency trading, which causes people to lose pennies per share, the seemingly infinite supply of companies devoted to using the Internet to make businesses and services better could cause people to lose dollars per share that could be meaningful to their life savings.
We have had not one, but two serious assaults on the stock market this millennium. The second, the near-collapse of the financial system itself, should have been stopped by the clueless regulators well before it got out of hand. But the first was just about greed. Companies took advantage of the fervor for dot-coms that, in retrospect, was totally a bubble of insane dimensions, and I want to try to prick that bubble this time around as best as I can.
[Read: Hackers are Draining Every Bit of Cash from Bank ATMs]
Now, fortunately for investors there are flaws in both the analogy and the logic of the comparison of the two eras of 2000 and now. The analogy doesn't hold up to close scrutiny because, unlike 2000, many of these companies, including GrubHub, are real. In fact, GrubHub's immensely profitable and is in rapid-growth mode. It's just that in the $30s, where it opened, it is wildly expensive, selling at 60x 2015 earnings, which I find to be a fanciful valuation for a take-out food delivery company, even one that's growing at 30%, processed $1.3 billion in gross sales and has a 60% share of the electronic ordering market, according to Renaissance Capital, the IPO research company. Still, that's very different from 2000.
Second, there are whole other parts of the non-IPO market, including the Nasdaq, that are very cheap on 2015 earnings. That sure wasn't the case in 2000, where all of tech was inflated.
Now, for every GrubHub or IMS Health (IMS) , another very profitable company that came public today, there are companies like Opower (OPWR) or Five9 (FIVN) - Get Five9, Inc. Report that also IPO'd and are, to me at least, more emblematic of the moment. The first is an unprofitable company that provides software to the utility industry. The latter is money-losing cloud-based call center.
That's per se worrisome.
Plus, the hoopla around all of these deals, including a dancing chicken Caesar wrap that I bumped into on the floor, unavoidably raises eyebrows, especially after King Digital (KING) , another company with dressed-up characters that came public last week, laid an egg.
So, I am simply doing my duty, reminding people of what happened 14 years ago, while apprising you of the current environment's similarities, just as I always swore I would do if I saw a potential repeat of a bygone era that lost people trillions of dollars in life savings and wrecked the stock market as a source of wealth for tens of millions of people. Let's say it's a yellow flag, but one that, like the street lights, inevitably turns red unless the market wisely pulls the plug on the whole IPO love affair.
At the time of publication, Action Alerts PLUS, which Cramer co-manages as a charitable trust, was long CELG, FB and GOOG.