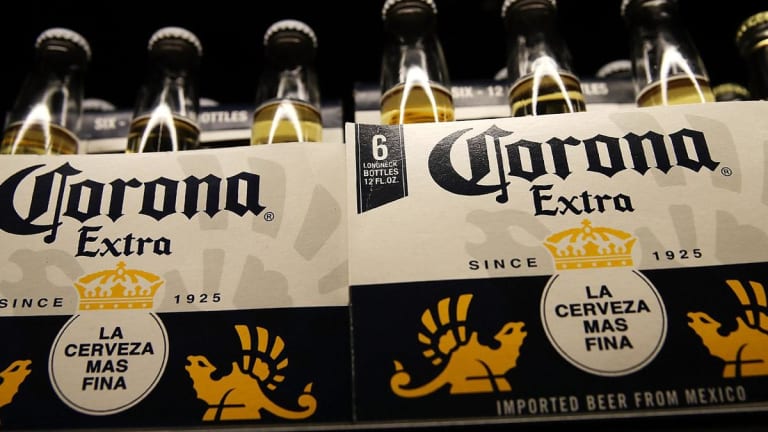 Constellation Brands, Beverage Stocks Go Flat on Proposed Tariffs on Mexico
Shares of Constellation Brands and other beverage companies take a hit from the threatened tariffs on Mexican goods.
Benjamin Franklin once said that "beer is proof that God loves us and wants us to be happy," but several beverage companies weren't feeling the love Friday as their stocks wilted in the face of proposed tariffs on Mexican goods.
Constellation Brands (STZ) , maker and marketer of Corona and other beers and drinks, was among those companies caught up in the trade war's new front after President Donald Trump threatened to impose the tariffs.
The Victor, New York-based beverage company shares fell 6.1% to $175.85 on Friday.
The new tariffs will begin at a rate of 5% starting June 10. Tariffs would then rise to 10% on July 1, 15% on Aug. 1, 20% on September 1 and 25% on Oct. 1 if Mexico doesn't take sufficient actions to stem what Trump has described as a wave of illegal immigration from Central America.
Markets reeled when Trump announced the proposed tariffs. Analysts at J.P. Morgan Securities said that roughly 73% of Constellation's revenue comes from Mexican imports. In addition, analysts at Bernstein said the 5% tariffs on Mexican imports could cut into Constellation's imported beer profits by 7%. 
Mexican President Andres Manuel Lopez Obrador said in a press conference Friday that "these measures aren't beneficial for Mexicans or Americans."
"Intertwining difficult trade, tariff and immigration issues creates a Molotov cocktail of policy, and America's manufacturing workers should not be forced to suffer because of the failure to fix our immigration system," Jay Timmons, president and CEO of the National Association of Manufacturers, said in a statement.
The Mexican exchange fund iShares MSCI Mexico ETF (EWW) also lost ground on Friday, dropping 3.8% to $42.87, as did the multinational beverage and retail company Fomento Económico Mexicano SAB (FMX) , whose shares fell 3.7% to $92.38.
Other beverage companies feeling the pain on Friday were Anheuser-Busch InBev (BUD) , down 1.2%, and Heineken (HEINY) , down 2.5%.