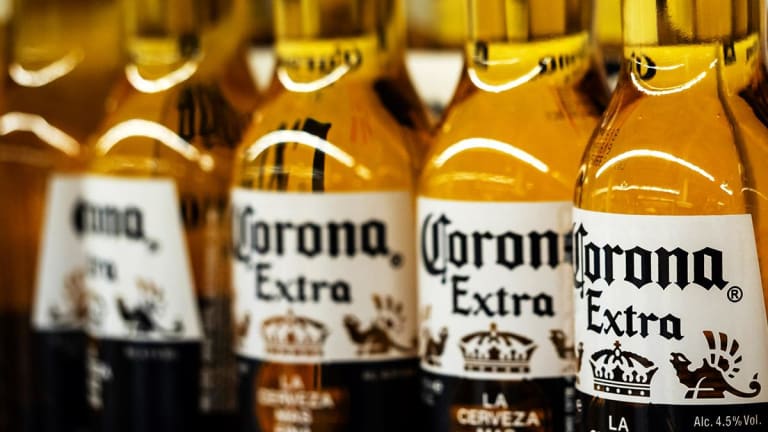 Constellation Brands and GM Would Be Stocks Exposed to Mexican Trade Tariffs
The ripples of Mexican tariffs will spread far and wide, through a multitude of economic sectors. Let's take a look at Constellation Brands and General Motors to see how the tariffs will impact them and how they are likely to react.
President Trump last week said that he would initiate an escalating series of tariffs on Mexico if that country doesn't tighten immigration enforcement on its side of the mutual border. The tariffs will start at 5% on June 10, and increase another 5% each month until they max out at 25% in October. Given his recent history on China trade policy, the president is widely expected to follow through on his threat.
The ripples of Mexican tariffs will spread far and wide, through a multitude of economic sectors. To give one example: Mexico is the world's largest beer exporter, with more 28% of the global total, and New York-based Constellation Brands (STZ) - Get Constellation Brands, Inc. Class A Report , owner of Mexico's Corona, Modelo, and Pacifico beers, is the largest beer importer in the United States. In the automotive industry, matters get more complicated as parts may be assembled in either country, shipped to the other for further assembly, and then shipped back. The process is frequently repeated several times, and new tariffs will impact every border crossing.
So, let's take a look at Constellation Brands and General Motors (GM) - Get General Motors Company (GM) Report to see how the tariffs will impact them and how they are likely to react.
Constellation Brands
Constellation took a major hit when the tariff news broke, losing 6% that day before bouncing back on June 4 and 5. At this writing, STZ shares stand just 29 cents below their May 30 closing price.
On the fear side, feeding concerns about Constellation, are worries noted by Jefferies analyst Kevin Grundy: Passing the tariff on to the public in the form of higher prices would simply force customers to switch to domestic beers. Grundy doesn't see this as likely, believing that Constellation will absorb the hit, at least at first. He said, "We would not expect Constellation to pass through the tariff with price [increases] as it would widen price gaps vs. domestic beers."
At the same time, Constellation can't take a laissez-faire policy too far. Beer imports make up the lion's share of the company's business profits and 80% of that comes from Corona, Modelo, and Pacifico. An increased tariff will strike the company directly in the pocketbook.
Chief Financial Officer David Klein, however, believes that the damage can be managed and is optimistic about the company's start to the summer season. He recently met with industry analysts in Boston, after which Bonnie Herzog of Wells Fargo said, "We remain confident in STZ's ability to achieve ~10% EPS growth over the next 3-5 yrs especially given favorable comments by beer distributors..." She based her comments as much on Klein's bullish stance as on distributors' optimism. Her price target of $235 suggests a 26% upside potential to STZ shares.
Overall, STZ gets a moderate buy rating from the analyst consensus, with eight buys and three holds. The stock sells for $187, so the average price target of $229 indicates room for a 22% upside.
General Motors 
Detroit's Big Three face a different sort of pressure from the possibility of Mexican tariffs. Where Constellation is simply moving product from Mexico to the U.S.,  the automakers are assembling parts on both sides of the border with transfers back and forth during the process. Further complicating matters, final assembly plants are located in both countries, as is the car-purchasing public. Cars, and automotive parts, make up the largest trade category from Mexico to the U.S., at $91 billion, and adding to the uncertainty is the sheer size of U.S.-Mexico trade at $350 billion.
General Motors is especially sensitive to this trade, as its vehicles have the highest proportion of Mexican-made components among major American car companies (Ford (F) - Get Ford Motor Company Report , GM and Fiat Chrysler (FCAU) - Get Fiat Chrysler Automobiles N.V. Report ), at 29%. At the same time, GM has the lowest proportion of assembled vehicles imported from Mexican plants, bringing in only 13% of its finished stock from south of the border. GM's exposure to the new tariffs can vary by vehicle model, too -of the company's popular Silverado heavy pickup truck, 41% are assembled at Mexican factories.
GM shares lost 4% immediately after Trump's tweet threatened tariffs with Mexico. Shares are back up, having closed on June 5 at $35.46, but industry watchers are uncertain if that will hold. A report from Deutsche Bank indicated that GM will take a $6.3 billion EBIT hit should the dispute with Mexico escalate and tariffs reach the threatened 25%, giving GM the highest exposure among the Big Three automakers.
Reflecting on the industry as a whole, five-star analyst Vijay Rakesh of Mizuho Securities said, "A tariff on goods imported from Mexico could hurt already weak U.S. auto sales. U.S. vehicle sales have declined ~3% y/y in 1Q19, and the added costs from tariffs could further weigh on sales."
Meanwhile, GM CEO Mary Barra said in an interview with Reuters that while the impact of tariffs on U.S.-Mexico trade will be significant, it is "hard to tell without understanding what the rules are going to be and the exclusions around it." She made her comments after meeting with members of Congress of June 5.
GM's analyst consensus, like Constellation's, is a moderate buy but the GM rating is based on one buy and two holds. The stock is trading at $35, so that $40 price target suggests a 15% upside.
offers exclusive insights for investors by focusing on the moves of experts: Analysts, Insiders, Bloggers, Hedge Fund Managers and more. See what the experts are saying about your stocks now at
. Author: Michael Marcus.