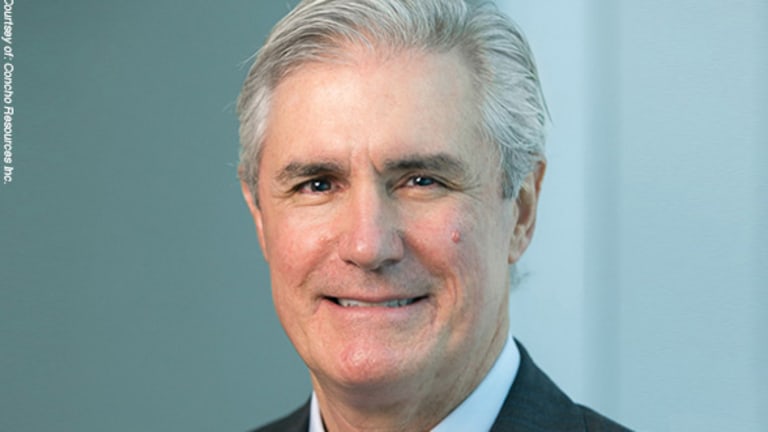 Concho Buys West Texas Properties From Reliance For $1.65B
The deal, which was privately negotiated, expands the buyer's position in the popular Midland Basin by more than a third at a healthy valuation.
Concho Resources (CXO) - Get Concho Resources Inc. Report said after the markets closed Monday that it agreed to buy oil and gas properties in West Texas' Midland Basin from privately held Reliance Energy  for $1.625 billion, expanding its position in the area by more than a third.
The price includes $1.1 billion in cash and 3.96 million shares of Concho's stock valued at around $500 million.
The Midland, Texas-based company plans to fund the cash portion of the deal with proceeds from a $1.178 billion offering of 9 million of its shares led by Credit Suisse, BofA Merrill Lynch and J.P. Morgan. It hopes to close the transaction in October.
The news pushed Concho's stock down 4% in pre-market trading to $131.05 per share.
The properties cover 40,000 net acres in Andrews, Martin and Ector counties and produce 10,000 barrels of oil equivalent per day, boosting its position in the area to 150,000 net acres and production to 30,000 barrels of oil equivalent per day. The company said the assets have minimal leasehold obligations.
Concho said the deal also enhances its drilling inventory with more than 530 long-lateral drilling locations targeting the Middle Spraberry, Lower Spraberry and Wolfcamp B areas and provides development upside across multiple zones.
Concho said it negotiated the acquisition privately with Reliance.
Concho chairman, CEO and president Tim Leach (pictured) said in a statement that the transaction demonstrates the company's commitment to the Midland Basin as a core operating area and highlights its continued efforts to consolidate complementary leasehold.
"In line with the objectives of our southern Delaware Basin acquisition in the first quarter of 2016, these assets not only build scale, but more importantly high-grade our inventory with additional long-lateral locations that compete with the best projects in the Permian Basin," he said. "As we continue to enhance our ability to efficiently allocate capital across our four key assets in the Permian Basin, we are uniquely positioned to deliver attractive returns today and build shareholder value over the long term."
Analysts at Seaport Global Securities say the deal works out to around $30,600 per acre, which is pretty impressive given that the properties are a slight "step-out" from the core-of-the-core of the area. "We'd rather see [the company] focused on ramping production organically from its already sizable Permian asset base," they said.
Stifel analyst Michael Scialla said the purchase price is comparable to recent Midland Basin transactions by SM Energy (SM) - Get SM Energy Company Report , which paid $32,000 per acre for 25,000 net acres in Howard County, Diamondback Energy Inc. (FANG), which paid $28,000 per acre for 12,000 net acres, also in Howard County, and Parsley Energy (PE) - Get Parsley Energy, Inc. Class A Report , which paid $42,000 per acre for 10,000 net acres in Glasscock County.
Reliance, a Midland-based company led by owner Gary McKinney, has sold other assets since the downturn began in mid-2014. Last year it joined with Diamondback and RSP Permian (RSPP) in selling Coronado Midstream Holdings to EnLink Midstream Partners (ENLK) for $600 million. And in May it shed an interest in its Midland Basin pipeline unit Reliance Gathering to Metalmark Capital for $110 million, a source told The Deal.
The production from the acquired properties comes from 326 vertical wells and 44 horizontal wells, only one of which was completed this year, Concho said. The present value of the production at current NYMEX strip pricing is $500 million with the remaining $1.1 billion of the purchase price attributable to 40,000 undeveloped acres.
The properties have estimated proved reserves of 43 million barrels of oil equivalent with proved developed reserves representing about 69% of the total.
Concho said because of the contiguous nature of the assets, two-thirds of the locations are two-mile laterals and the remaining locations are 1.5-mile laterals. The engineered locations are based on eight locations per zone in the Middle Spraberry, Lower Spraberry or Wolfcamp B, with two to three of the zones targeted per drilling spacing unit.
The company said it believes there is substantial development upside from the transaction by applying optimal drilling and completion methods, testing closer well spacing and delineating other zones.
As a result of the acquisition, Concho said it updated its 2016 production outlook to 1% to 3% annual growth. The Company kept its capital expenditure guidance of $1.1 billion to $1.3 billion, excluding acquisitions.
Based on the current commodity price outlook, Concho expects to execute a capital program within cash flow next year and deliver about 20% annual production growth, with oil volume growth exceeding 20%. Its capital program excludes acquisitions and could change depending on commodity prices and industry conditions, it said.
The company also announced it intends to issue a notice to redeem the entire outstanding principal amount of $600 million of its 7% senior notes due January 2021 using cash on hand. It also said that chief accounting officer Brenda Schroer will also become treasurer. She joined Concho in 2013 after working for 14 years at Ernst & Young LLP.
Evercore provided financial advice to Concho with a team that included Shaun Finnie, Lance Dardis, Will Hilz, Matt Loreman, Doug Rogers, David Gomey, Reilly Bliton, Santiago Garavito, Briklynd Briggs, John Johanning, Adam Somberg and E-Fei Wang. Vinson & Elkins LLP offered outside legal counsel, including Bryan Loocke, Matt Strock, Danielle Patterson, Mike LeFevre, Ali Choate, Billy Vigdor, Todd Way, Julia Pashin, Larry Nettles, Sean Becker and Stephen Jacobson.
Reliance didn't use an outside financial adviser. For legal advice it tapped Sidley Austin's Mark Metts, Katy Lukaszewski, Joe Flack III, Angela Herrington, Timothy Devetski, Omair Khan, Kelly Dybala, Benjamin Rosemergy, Karen Kazmerzak, Amanda Norton and Laura Leonard.