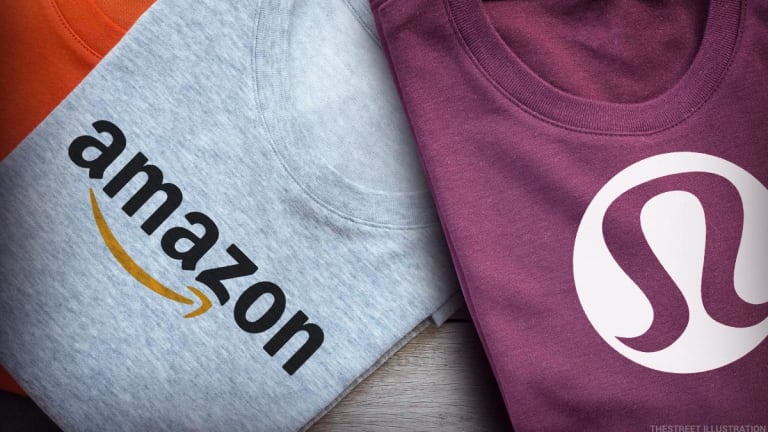 Amazon Could Look to Put These Companies Into Its Shopping Cart in 2019
A distinctive women's apparel maker brand such as Lululemon could interest Amazon, as could gas stations and travel businesses, suggests D.A. Davidson analyst Tom Forte.
A distinctive women's apparel maker brand such as Lululemon could interest Amazon, as could gas stations and travel businesses, suggests D.A. Davidson analyst Tom Forte.
Jeff Bezos has taken a relatively acquisition-light approach to building Amazon.com Inc. (AMZN) - Get Report into an e-commerce, cloud-computing and streaming-video power.
"Going back in time, it is amazing that Amazon got as big as it did without having more material acquisitions," D.A. Davidson analyst Tom Forte said.
But as the recently closed purchase of online pharmacy service PillPack Inc. and the prior acquisitions of Whole Foods Market and gaming video streaming offering Twitch Interactive show, Amazon has sometimes been willing to make acquisitions across a broad spectrum of industries.
Though Forte expects Amazon to maintain its preference for building rather than buying new lines of business, the analyst suggests that the company will still make strategic acquisitions as Bezos looks for ways to expand the company's reach. "The learning from Whole Foods, Twitch and likely for PillPack is that if the company wants to materially accelerate its time to market, it may be more effective for them to pull the trigger faster on deals," he said.
Amazon declined to comment for this story, but Forte sees 10 markets with at least $1 trillion in total global sales where Amazon can grow -- possibly through acquisitions.
The Seattle online giant already has a presence in apparel, business-to-business e-commerce, consumer Internet of Things, groceries, professional services, restaurants (if you count its delivery and meal kit offerings) and physical stores. The purchase of PillPack gives Amazon entree to pharmacies.
Gas stations and travel offer other possibilities, but Amazon has struggled with women's apparel and buying a company like Lululemon Athletica (LULU) - Get Report could make sense.
"It is very important to Amazon that when they acquire a physical retailer, they acquire a physical retailer with a 'clean' store base -- meaning not too many stores in bad malls, not too many stores that are losing money on a cash-flow basis," Forte said. LULU seems to fit that bill.
Other possibilities include clothing retailer Everlane, which sells predominantly online but has stores in San Francisco and New York that offer personalized styling sessions with store "ambassadors."
Eyeglass company Warby Parker could also interest Amazon, Forte suggested. Amazon could expand the stores to a range of medical services akin to Doc-in-a-Box or CVS Health Corp. (CVS) - Get Report locations with a doctor presence.
Forte added that AMZN could also expand into gas stations through a pact with an existing operator. "The partnership could be limited to providing discounts to Prime members and serving as a physical delivery point, the advantage being that it's a commercial address instead of residential, and therefore, it's less expensive," he said.
In travel, Amazon could deploy several business models at once, from an Airbnb-type service that lists hotel rooms or homes to a unit that folds in other services like selling travelers toiletries. "You could go to Amazon, line up your rental and get everything you needed," Forte said. "So when you arrived, you had your towels, your sunscreen -- everything."
One Big Problem
Acquisitions could speed Amazon's entry into new categories, but there's a catch -- it's difficult to find businesses that have profit margins as big as AMZN's Amazon Web Services cloud business.
"Unless they acquire something that advances AWS, it will likely be margin dilutive," Forte said. "Even though [Whole Foods] is one of the highest-margin grocers, it is still dilutive vs. AWS."
One exception could be buying a business that expands Amazon's advertising capabilities.
Amazon and CVS are holdings in Jim Cramer's Action Alerts PLUS member club. Want to be alerted before Jim Cramer buys or sells AMZN and CVS? Learn more now.
(This item has been updated.)