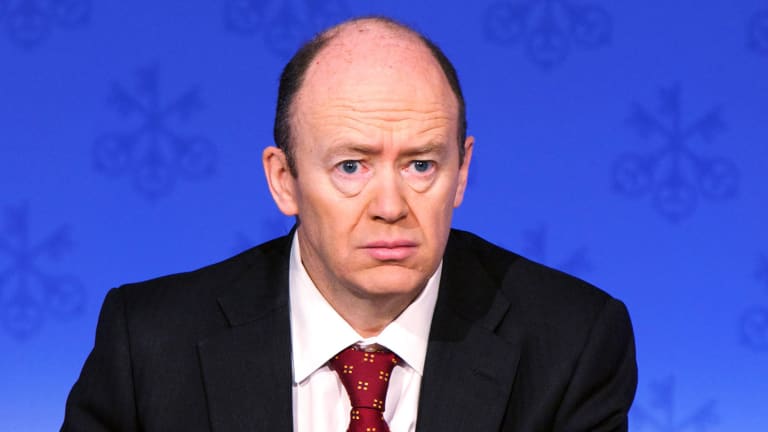 Commerzbank, Deutsche Bank Shares Rise on Report of Potential Merger
Deutsche Bank CEO Cryan says a transaction is 'probably not an option' for now, while stating that European banks must tie up.
Shares in Commerzbank (CRZBY)   and Deutsche Bank (DB) - Get Deutsche Bank AG Report  rose on Wednesday after Manager Magazin reported news of a potential merger of Germany's two leading lenders.
The weekly news publication said Deutsche Bank is "moving towards until now unthinkable options with regards to its difficult situation" as CEO John Cryan, pictured, overhauls the bank.
The publication said Germany's leading lender has attempted to "fathom ....whether a merger with Commerzbank could possibly make sense" and held "theoretical," and "very early stage" considerations about a transaction.
"Whether they will be taken up is unclear. At the same time the idea internally has been given only very restricted chances of being put into action," Manager declared.
Manager reported that an "unofficial" internal debate has broken out at Deutsche Bank about its strategy after weak second-quarter results. Included in the discussions is a debate about whether retail bank Postbank, of which Deutsche Bank is planning to sell part, should instead be reintegrated, as well "even more radical options," including the Commerzbank merger.
Deutsche Bank spokeswoman Monika Schaller declined to comment. But in separate comments made by CEO Cryan at a Handelsblatt European banking summit and first reported on CNBC, the bank's top executive noted that the European banking sector was overbanked, and struggling with thin margins.
"Mergers are necessary to allow European banks to compete internationally," he said.
But he said he thought a tie-up with Commerzbank was "not an option at the moment."
Cryan also said at the Handelsblatt summit that Deutsche Bank would probably not contemplate striking acquisitions in the U.S. or Asia "anytime soon."
Commerzbank CEO Martin Zielke, who spoke directly after Cryan, wouldn't comment on the prospect of a Commerzbank tie-up.
Commerzbank representatives couldn't immediately be reached.
Deutsche Bank shares were recently up 1.8% at €13.11 in Frankfurt, while Commerzbank was recently up 3.6% at €6.29.
Deutsche Bank has a market value of about €17.8 billion ($19.8 billion) and recently dropped out of the Euro Stoxx 50 index, along with Credit Suisse. Before today, Deutsche Bank's share price had more than halved in the past year amid worries about its capital position.
Commerzbank , which is 15% state-owned and led by CEO Martin Zielke, has a market value of €7.6 billion. It is down about 36% in the past year.