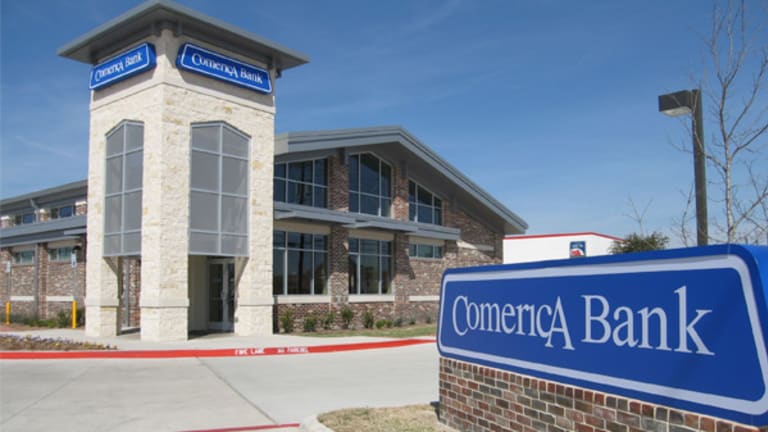 Comerica to Cut 9% of Jobs After Oil Prices, Low Rates Land Double Whammy
Comerica, the Texas lender, drew shareholder ire for its flagging profitability. In response, the bank has unveiled a cost-cutting plan -- but is stopping short of an outright sale.
This article, originally published at 7:30 a.m. on Tuesday, July 19, 2016, has been updated with executive comments and performance data.
Comerica (CMA) - Get Comerica Incorporated Report , the Texas lender squeezed by low interest rates and losses on loans to the beleaguered energy industry, will trim 9% of its workforce under a plan to cut costs.
The job reductions will help save an estimated $160 million by the end of 2018, Comerica said Tuesday in a statement. During the second quarter, earnings slid 23% to $104 million, or 58 cents a share, amid higher reserves for loan defaults. The results included $53 million of severance and other restructuring charges, out of a total of $140 million to $160 million to be taken through 2018. 
The plan doesn't call for an outright sale of the Dallas-based company, a move that's been urged by several of its largest shareholders as a way to cash out on their investments for a quick profit. The stock had gained 4.5% this year, compared with a 10% decline for bank stocks on average, as analyst Mike Mayo of CLSA predicted that the lender was due for big cost cuts, divestitures, major management changes or an outright sale.
"We are doing what is within our control to proactively position ourselves" for a sustained period of low interest rates, Babb told investors on a conference call. "Many of these actions are difficult, particularly for our employees."
The cost-cutting initiative has already begun, according to the statement. At the end of June, Comerica had 8,792 employees, down by 77 from the end of March.
Comerica also will close 40 banking centers, or about 8% of the total network. In addition to the cost cuts, the company plans "revenue enhancements," or new business, resulting in an additional $70 million of pre-tax income by 2018. When combined, the boost to pre-tax income will amount to $230 million.
The cost cuts will equate to about 8% of projected 2017 expenses, estimated Stephens analyst Terry McEvoy, above the 5% to 7% he was expecting the company to announce. 
The cost cuts are "likely enough to appease" restless shareholders, Evercore analyst John Pancari wrote in a report following the announcement. The shares climbed 1.6% today in New York trading.
As shareholder pressure mounted in April, Babb, who has run the company for 14 years and made $6.9 million last year, hired Boston Consulting Group to conduct a review of costs and strategy. Among Mayo's complaints was that management was taking too long to address the possibility that the Federal Reserve might keep interest rates low for a long time -- now a near certainty as fears mount over global economic growth in the wake of Britain's vote to exit the European Union.
Several of Comerica's largest stockholders, including Fiduciary Management and Invesco, were so disenchanted with Comerica's flagging profitability that they traveled to an annual meeting in Dallas to voice their concerns. Also attending were representatives of Hudson Executive Capital, a hedge fund co-founded by former JPMorgan Chase (JPM) - Get JPMorgan Chase & Co. Report executives Doug Braunstein and Jim Woolery.
Babb won reelection to the bank's board of directors with just 86% of votes -- considered a rebuke by many corporate governance advocates, since it's rare for such votes to register approval levels below 90%. During the prior year, Babb and all the other Comerica directors had garnered at least 96% of votes.
At the annual meeting, Babb and Rick Lindner, a former AT&T CFO who serves as the bank's lead independent director, told shareholders that all options would be considered as part of the Boston Consulting Group review, including a sale.
In the ensuing weeks, Mayo theorized that Minneapolis-based U.S. Bancorp (USB) - Get U.S. Bancorp Report could be a potential acquirer starting in 2017, as could Mitsubishi UFJ Financial Group, which owns Union Bank in California. Another analyst, Dick Bove of Rafferty Capital Markets, speculated that the Canadian lender Bank of Montreal (BMO) - Get Bank of Montreal Report might be interested, given its branch network's geographic proximity to Comerica's Michigan operations. Other logical buyers could include PNC (PNC) - Get PNC Financial Services Group, Inc. Report , based in Pittsburgh, and BB&T (BBT) - Get BB&T Corporation Report , based in Winston-Salem, N.C., according to McEvoy at Stephens.
But in June, Babb told investors that executives and the board had mostly ruled out a sale of one of its three main regional divisions -- Texas, California and Michigan -- in favor of a less drastic cost-cutting plan called "Growth in Efficiency and Revenue," or GEAR. The stock slid after the announcement, a reflection of investor disappointment that a quick sale was becoming increasingly unlikely.
Comerica, which specializes in commercial lending, has the misfortune of having a high concentration of loans to energy companies in its home state of Texas at a time when oil prices have tumbled to about $45 a barrel from their 2014 levels of $100-plus.
In the second quarter, Comerica said its criticized loans -- those at risk of going bad -- dropped by 9.6% to $3.55 billion, partly due to this year's climb in oil prices. The improvement helped the lender report core earnings of 74 cents a share, higher than analysts' average estimate of 69 cents, according to Evercore.  
"It has gotten better quicker than we expected," Babb said on the conference call.
Goldman Sachs analysts wrote in a report late last month that the bank is likely to be hit harder than rivals by delays in Fed interest-rate hikes, following the so-called Brexit vote. Earnings per share could fall by 4% versus 2016 estimates and 12% versus 2017 if there are no rate increases this year or next, according to the analysts.
Comerica is especially dependent on rising interest rates to buoy profits, since more than half of its loans carry variable rates.
In Tuesday's release, Babb said that the benefits of the GEAR plan would be independent of any interest-rate increases by the Fed through 2018. 
The stock still trades at 1.1 times equity, a discount to rivals that are closer to 1.3 times, McEvoy estimated. 
"The reason for that discount is that this is simply an announcement," McEvoy said in a phone interview. "The market will be somewhat cautious on revenue enhancements until we get greater clarity on the level of success."