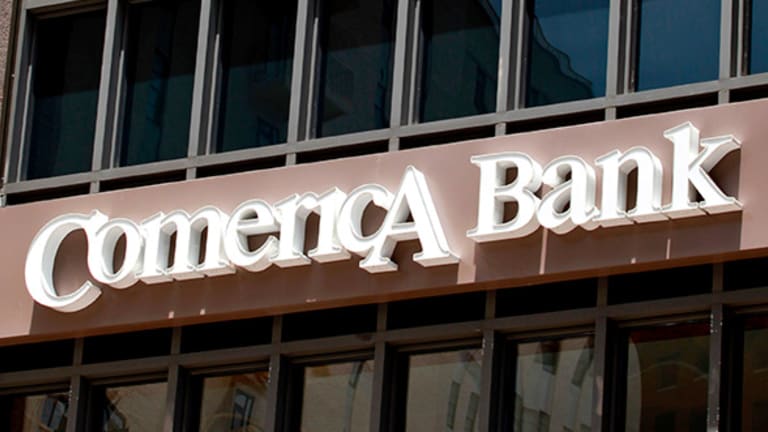 Comerica's Ideal Buyer Would be Bank of Montreal, Analyst Says
As Dallas-based Comerica considers options including cost cuts, new business lines, asset divestitures or a sale of the entire bank, Rafferty analyst Dick Bove says he's found the perfect suitor.
As investors of the Dallas-based lender Comerica (CMA) - Get Comerica Incorporated Report agitate for management changes or a sale, at least one analyst says he's found a logical buyer: Bank of Montreal (BMO) - Get Bank of Montreal Report .
The Canadian bank, which already has operations in Illinois and Wisconsin, could be interested in Comerica's branches in nearby Michigan, according to Dick Bove, an analyst at Rafferty Capital Markets. Comerica, whose headquarters were once in Detroit, is still Michigan's second-largest bank after JPMorgan Chase, according to the Federal Deposit Insurance Corp. The state is also just across the Detroit River from the Canadian province of Ontario, where Bank of Montreal has extensive operations.
"Bank of Montreal's footprint is like a horseshoe around the Great Lakes," Bove said in an interview. And, to look at a map, adding operations in Michigan could turn that horseshoe into a high-scoring ringer for the Canadian company.
Bove's proposal comes amid mounting speculation over the future of Comerica, which has been hit hard by souring energy loans in its home state of Texas while suffering from low interest rates that have compressed margins. Shareholders are so irate over its performance that representatives of the money-management firms Fiduciary Management and Invesco attended Comerica's annual meeting to demand a management shakeup or a quick sale if drastic improvements aren't made quickly.
The investor distress deepened on Tuesday, when Comerica announced that CFO Karen Parkhill had quit to take another job. Her departure came just as the bank embarks on a companywide review of costs and new business opportunities with the help of Boston Consulting Group. Details of that review are expected in July.
Comerica Chairman and Chief Executive Officer Ralph Babb has said that the board of directors would consider all strategic options, including a sale.
The bank's tilt toward commercial borrowers rather than consumers and home loans aligns with Bank of Montreal's focus, according to Bove. Comerica has about $69 billion of total assets, compared with about $500 billion for Bank of Montreal, also known as BMO.
"BMO is the eighth-largest bank in North America and large enough to acquire Comerica," Bove wrote in a report this week. "It is pure speculation on my part that BMO would buy Comerica or that Comerica would want to sell to BMO. However, a deal of this nature around book value would be helpful to both companies."
A Comerica spokesman declined to comment, while BMO press officials didn't respond to a request for comment.
Mike Mayo, an analyst at the brokerage firm CLSA who has lobbied for changes at Comerica, wrote in a March report that Minneapolis-based U.S. Bancorp could also be a potential acquirer, starting in 2017, as could Mitsubishi UFJ Financial Group, which owns Union Bank in California. Comerica's second-largest territory is in California, according to the FDIC, followed by Texas.
It's possible that Comerica already has sounded out potential suitors, only to find little interest, according to Terry McEvoy, an analyst at the brokerage firm Stephens.
For now, U.S. Bancorp is likely sidelined from making acquisitions because of an October 2015 regulatory order related to anti-money-laundering deficiencies, McEvoy said in an interview. The other two logical buyers are PNC (PNC) - Get PNC Financial Services Group, Inc. Report , based in Pittsburgh, and BB&T (BBT) - Get BB&T Corporation Report, based in Winston-Salem, North Carolina, according to McEvoy. Yet both lenders have recently ruled out large acquisitions in the near term.
"I don't want to say there are no strategic buyers on the near-term horizon, but it is very limited," McEvoy said.
A group of Jefferies analysts are equally skeptical about either of the three firms opting to woo Comerica. PNC, in particular, has indicated that it doesn't see much value in bank mergers and could use capital in other ways, analysts Ken Usdin, Joshua Cohen, Amanda Larsen, Makarim Salman, and Mengxi Yu said in a note to clients.
Partly because of its Texas operations, Comerica has been hit hard by rising delinquencies in the oil industry; first-quarter net income tumbled 45% from a year earlier as bad loans more than doubled.
According to Bove, Bank of Montreal is well-equipped to handle such distress.
The match is "an almost perfect fit," Bove wrote. "BMO understands the energy industry, where Comerica now needs assistance."
The Jefferies analysts, meanwhile, believe the most likely acquirer might be MUFG Union Bank, a U.S. subsidiary of the Japanese finance giant Mitsubishi UFG with nearly 400 branches and assets of $115.4 billion.
"Mitsubishi UFG makes sense as part of the 'Could they?' conversation about Comerica," since the company has said it plans meaningful expansion in the U.S. to diversify its geographic earnings mix, Salman said. The Japanese bank giant could surely afford to pay cash for such a deal, he said, without posing any risk to its financial position.
Senior writer Jennifer Tekneci contributed to this article.