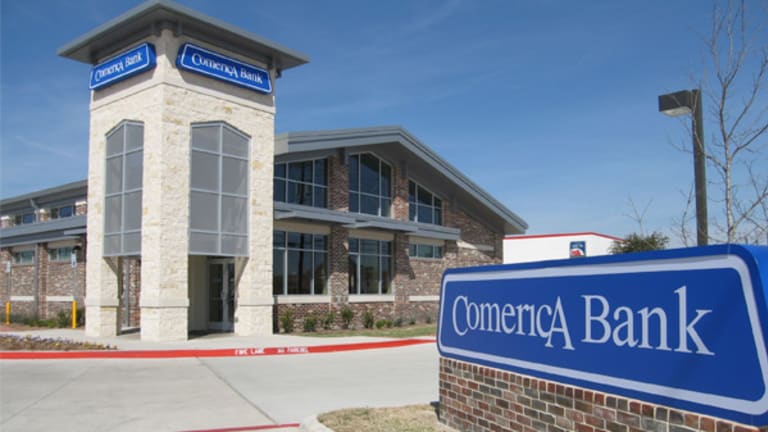 Comerica's Cost-Cutting Plan 'Booed' by Investors Who Wanted a Sale
Comerica, in the midst of a three-month strategic review by Boston Consulting Group, appears to have ruled out the one move investors really wanted -- a sale of the bank.
Comerica (CMA) - Get Comerica Incorporated Report  CEO Ralph Babb's plan to boost profits through cost cuts is disappointing some shareholders who were hoping for a quick sale, as the Dallas-based bank struggles with loans to the beleaguered energy industry.
Since June 1, when Babb disclosed preliminary results of a three-month review of the lender's strategy by Boston Consulting Group, the stock has tumbled 9%, outpacing a broad decline in financial-industry shares. Full results of the review, announced in April, are due out in July.
Already, the bank has ruled out a sale of one of its three main regional divisions -- Texas, California and Michigan -- and will instead focus on an initiative called Growth in Efficiency and Revenue, or GEAR, including plans to "drive efficiency" and "optimize infrastructure," Babb told investors at an industry conference. Deutsche Bank, which hosted the conference, said in a report that management also seemed uninterested in a sale of the whole franchise.
Dick Bove, an analyst at Rafferty Capital Markets, said that in addition to slashing expenses, Comerica needs to upgrade outdated computer systems, a costly undertaking. In a report last week, Bove wrote that he would not buy the stock at the current level.
"Your options are that you could sell the stock now at a premium to the current price, or wait for the next three years while the company spends a huge amount of money to bring the company into the 21st century, with flat-lining earnings," Bove said in an interview. "Which would you choose?"
Comerica has been under intense pressure to make major changes, such as putting the company up for sale or replacing senior management, since some of the biggest shareholders flew to Dallas from New York last month to chastise Babb for what they described as a sub-par performance. Babb got just 86% of votes in his reelection to the board of directors -- a rebuke since it's rare for candidates to register approval levels below 90%.
The bank had been hoping to get a boost from U.S. Federal Reserve interest-rate hikes this year, since more than half of its loans carry variable rates. On Wednesday, the Fed opted to hold off on an increase, and Chair Janet Yellen said the future direction of rates was "uncertain."
"We're talking about the bank that has the most to gain when the Fed raises rates, so when you push that out, it's going to have an effect on Comerica, more so than a few others," said Terry McEvoy, an analyst at the brokerage firm Stephens who rates the stock "equal-weight."
Given the breadth of the review under way, "we plan to provide more information on the actions we are taking to become a stronger, more competitive and more profitable organization on our earnings call scheduled for July 19," a Comerica spokesman said in an e-mailed statement.
According to McEvoy, Comerica's shares also have suffered from a reversal in the price of oil, which had rallied to more than $50 a barrel earlier this month before falling back below $48. Comerica has about $3.1 billion of energy-industry loans, more than half of which are considered weak or high-risk, company disclosures show.
According to Goldman Sachs, the bank's profit is more vulnerable to energy losses than at any of its U.S. peers. Banks across the country were forced to increase their reserves against potential defaults by energy borrowers this year after oil fell to about $26 a barrel from a peak above $107 in mid-2014.
Mike Mayo, an analyst at the brokerage CLSA who has criticized Babb for failing to produce returns above 10% in each of the past 10 years, wrote in a report last week that Babb's decision to rule out a sale of a region merited a "boo," since it was made with more than a month to go in the review.
Potential suitors for Comerica, according to analysts, range from Minneapolis-based U.S. Bancorp (USB) - Get U.S. Bancorp Report  and Pittsburgh-based PNC (PNC) - Get PNC Financial Services Group, Inc. Report  to foreign players like Canada's Bank of Montreal (BMO) - Get Bank of Montreal Report  and Japan's Mitsubishi UFJ Financial Group (MTU) .
The next big announcement from Comerica is likely to be a significant charge related to downsizing staff, Rafferty's Bove said. Earlier this week, the lender announced the retirement of Patrick Faubion, executive vice president for business banking. His duties will be assumed by Comerica President Curtis Farmer.
"There was a window of about four or five months in which Comerica could have been sold, and they didn't get a nibble," Bove said. "Therefore, the company has got to do this internal adjustment. It's going to be costly and take two to three years, and Comerica's stock is not going to do anything while that's happening."