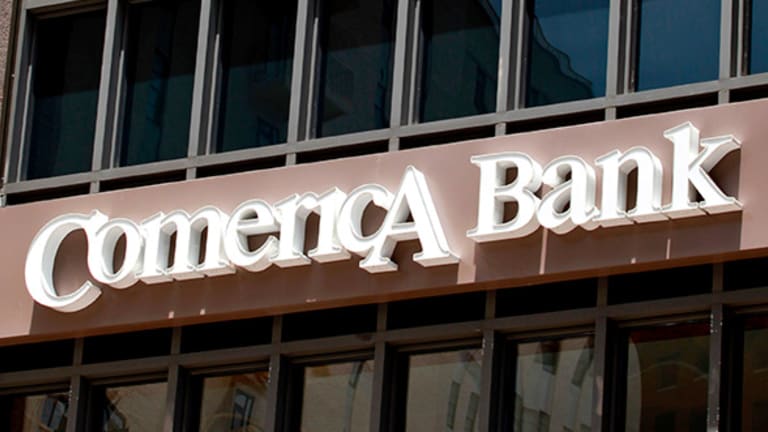 Comerica Distress Mounts as CFO Departs for New Job Amid Strategic Review
CLSA analyst Mike Mayo has mounted a public campaign urging Comerica to pursue strategies from a board shakeup to management changes or a sale of the entire bank.
This article, originally published at 7:09 p.m. on Tuesday, May 3, 2016, has been updated with comment from analysts and market data.
The abrupt departure of Comerica's finance chief for a new job has jolted shareholders already irate over the Dallas-based lender's subpar performance amid a swelling pile of bad energy loans. 
Comerica  (CMA) - Get Comerica Incorporated Report  said late Tuesday that CFO Karen Parkhill was departing "to pursue other opportunities." In a separate statement, pacemaker giant Medtronic  (MDT) - Get Medtronic Plc Report  , whose operational headquarters are in Minneapolis, said she would join as CFO effective June 20. Parkhill was hired by Comerica in 2011 from JPMorgan Chase, where she had worked as an investment banker and CFO of the commercial banking business. 
Her departure comes just weeks after Comerica Chairman and CEO Ralph Babb announced the hiring of Boston Consulting Group to conduct a broad-based review of costs and new business opportunities. Some of the bank's largest shareholders, including Fiduciary Management and Invesco, sent representatives to its annual meeting on April 26, where they urged Babb and other board members to shake up management or sell the company if drastic improvements aren't made quickly. Babb and lead independent director Richard Lindner assured investors that the board was pressing forward with its review as quickly as possible. 
"One of the presumed heads of their so-called major restructuring is gone, right after they assured shareholders there was a sense of urgency," said Mike Mayo, a CLSA analyst who has agitated for change at Comerica. "Karen Parkhill has a sense of urgency -- a sense of urgency to leave." 
Comerica named David E. Duprey, executive vice president and general auditor, to take over as CFO effective immediately. His primary duties will include working with the consultant on the review. A former Ernst & Young partner, he joined Comerica in 2006.
Duprey "will play an important role in driving the future of Comerica and creating value for our shareholders, especially in working with the Boston Consulting Group in its current review of our revenue and expense base," Babb said in Tuesday's statement.
Comerica fell 1.4% to $41.97 on Wednesday afternoon. The stock has declined 13% in the past year, about twice as much as the S&P 500 Financials Index.
Investors have become so disenchanted with the bank's performance that Babb garnered just 86% of votes for reelection to the board at the annual meeting. While a simple majority is needed to win, it's rare for such votes to register approval ratings below 90%. Last year, Babb and the other directors each garnered at least 96% of votes.
The 67-year-old CEO has acknowledged shareholders' concerns, noting that management and the board are already working to cut costs and boost revenue and are open to alternatives such as a sale. Before retaining Boston Consulting, the last time the bank hired a consultant was in the 1990s, and the effort led to job cuts, the CEO has said.
While many investors hope Comerica will sell itself, the roster of potential buyers appears slim. Prior to hiring Boston Consulting Group, Comerica consulted with investment bankers at Sandler O'Neill on a possible sale, only to be told there was little appetite in the current market, Bloomberg News reported last week. 
Parkhill's departure is a further indication that a quick sale is unlikely, since she would have received a $9 million payout under a change of control, according to Terry McEvoy, an analyst at brokerage firm Stephens. 
"If a near-term sale of the Company was on the horizon, we question what person would leave under those financial circumstances," McEvoy wrote Wednesday in a note to clients. 
According to a Medtronic regulatory filing, Parkhill will get a $750,000 salary, a target incentive payout of 110% of her salary and $3 million of long-term incentive payouts. Upon joining, she'll also get a $1 million cash bonus and a "new hire restricted stock unit" worth $4.4 million.
At Comerica, she got salary of $631,923 in 2015, along with stock awards, options and other incentives that brought her total compensation to $1.99 million, according to regulatory filings.