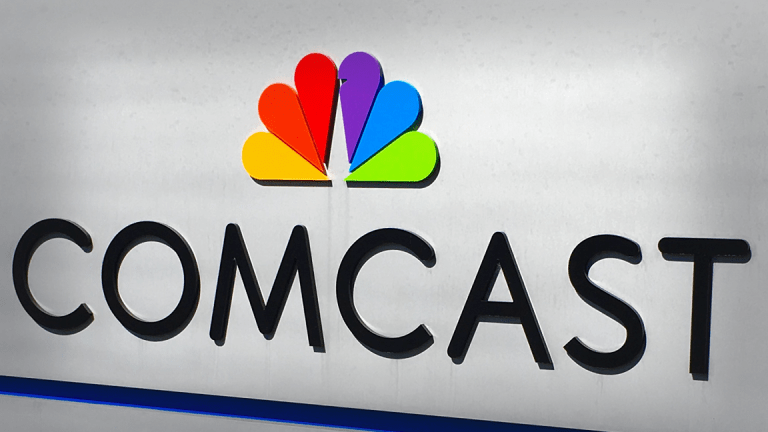 Comcast Stock Has Sure Caught My Attention
There's something special for CMCSA and that will be the integration of Sky PLC
Nice Quarter
Entertainment has been a focus of mine in recent weeks. I remain long the Walt Disney Company (DIS) - Get Free Report . I recently made some dough (though less than I should have) shorting Netflix (NFLX) - Get Free Report into earnings. I also hold a small long position in 21st Century Fox (FOX) - Get Free Report , the B shares. I have largely stayed out of Comcast (CMCSA) - Get Free Report as I was already dealing with a full hand of exposure to the space. Well, that said, Comcast sure caught my attention on Wednesday morning.
Comcast went to the tape with the firm's Q4 2018 results. A two penny beat on non-GAAP EPS, a revenue beat of $300 million on y/y growth of 26.1%. Wait. There's more. The firm increased the quarterly dividend to $0.21 (+2 cents) to bring the forward looking yield up to 2.4%. The largest revenue drivers for the cable business remained Video, and High Speed Internet. Both of those lines came in at or just above expectations. The NBC Universal business surprised fairly significantly to the upside, making up about half of the entire firm's revenue beat. Back to cable. The growth there? Advertising. Sound familiar? Seems to be that's where everyone's growth is of late.
Reason to Believe
All of the above results paint a more or less positive picture for the firm. There is a profound negative. The video business suffered a loss of 29K subscribers. That ends up being more than acceptable. Why? For one, because Wall Street was looking for a loss of roughly 65K. Two, because the high speed internet business added 350K subscribers. Wait, that was just below consensus. Sarge, I need more. Is there more? Cool your jets. Do you think that I would even waste your time if not for something else. Something special.
That something special will be the integration of Sky PLC. Sky is just the UK's version of satellite television you say, akin to AT&T's (T) - Get Free Report DirecTV, or Dish Network (DISH) - Get Free Report , and those services are in deep decline. To that, I say that Sky is more than that. Sky operates satellite TV, as well as streaming services across Ireland, Italy, Germany, Austria, and Spain, as well as the UK, in addition to offering both wireless and fixed line internet access in the UK. The satellite business in the UK, by the way is proving significantly more resilient than it is in the U.S.
Conclusion
Cash on hand remained constant while long-term debt simply exploded. Needed to beat Disney out for the Sky properties. While cash flow is growing it does look like a sizable increase in "Goodwill" was required in order to "balance" the consolidated balance sheet. In addition, Comcast still owns 30% of Hulu, which could be sold to new majority owner Disney, or another Disney competitor if a sudden need for new cash arose. I think this name could be a positive addition to a portfolio, but not as the lead in the space, more as an exposure expander if one thinks that money continues to flee Netflix in the aftermath of that firm's earnings and guidance. Netflix is higher with the market thus far on Wednesday.
Holding the 36.75 Fibonacci level is key to the name's performance. Doing so will draw the share price toward the central trend line of a possible, but still unconvincing looking Pitchfork. If this level is successfully defended once tested from the upside, there is reason to believe that this stock can work it's way toward prices in the mid-$40's (the upper trend line) sometime later this spring, or around Q1 2019 earnings's season.
Comcast Corp.
Target Price: $44 (initiation)
Add: $35
Panic: $32
Once long: April CMCSA $32.50 puts are currently worth roughly 42 cents. That premium will knock that much off of net basis, plus set up the add if the name approaches. Just be alert, volume in this particular put is already 10 times the volume in any other April call of out for CMCSA on Wednesday. Obviously, we are not the only ones who can read a chart.
Comcast is a holding of Action Alerts PLUS, and the AAP team said: "We're encouraged by management's optimism regarding the Sky acquisition and continue to believe that the company's robust cash flow profile will provide management the means to deleverage the balance sheet. As for the U.S. business, the quarter was exactly what we've come to expect from Comcast, strong execution leading to consistent results. We believe management's decision to focus operations around broadband is continuing to be rewarded with higher margins and providing a greater ability to bundle cheaper, a trend we see continuing in coming years as the cord cutting trend remains."
(Comcast and Disney are holdings in Jim Cramer's Action Alerts PLUS member club. Want to be alerted before Jim Cramer buys or sells CMCSA or DIS? Learn more now.)
At the time of publication, Stephen Guilfoyle was Long DIS, FOX equity, Short DIS puts.