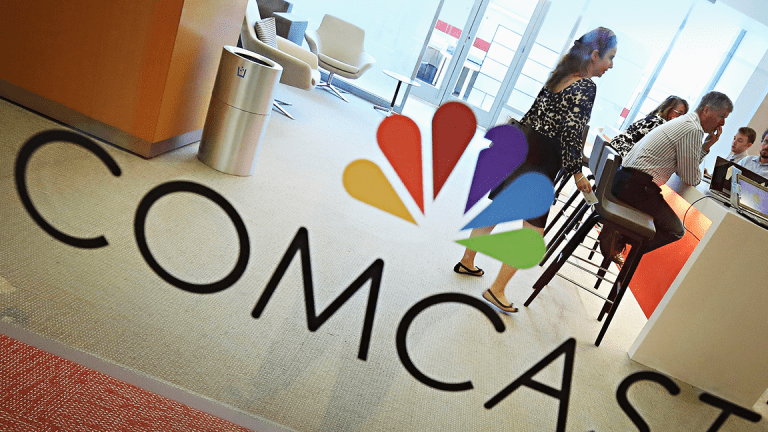 Comcast's Stock Still Has Room to Run
With 5G on the way and data demand rising, Comcast's broadband unit has a tremendous opportunity that markets still don't fully appreciate.
For good reasons, Comcast  (CMCSA) - Get Report is trading at close to 52-week highs ahead of its earnings report due on Thursday. The insatiable demand for broadband is set to drive revenue growth for a while. So, with the stock closing most recently at $42.01 and valued at a forward price-to-earnings ratio of just about 13, investors should still consider buying the stock.
Growth in Broadband
Comcast is benefiting from the growth in Netflix (NFLX) - Get Report , Alphabet's  (GOOGL) - Get Report YouTube and Amazon.com (AMZN) - Get Report . Things are growing so consistently that Comcast's broadband grew for 17 straight quarters in a row. In that time, broadband speed increased from around 15 megabits to one gig. The company's "xFi,"a digital dashboard to manage home Wi-Fi networks, drives data demand further. Customers require better Wi-Fi coverage and control as video services drive Comcast's broadband revenue higher.
Strong 2018 Results
Comcast's 6.5 times EBITDA (earnings before interest, taxes, depreciation, and amortization) growth is its best result in seven years. For 2018, free cash flow topped $12.6 billion. This allowed the company to raise its dividend by 10% for this year. High-speed internet customer count grew by over a million for the thirteenth consecutive year. And revenue from high-speed internet and business services grew 10%.
The 11% year-on-year revenue growth and adjusted EBITDA of 7.9% suggests that Comcast's forward price-to-earnings ratio of 13.3 times is on the low side. If shares dip following its earnings report, value investors could get a better entry price that is buffered by a dividend that yields around 2%.
Manageable Costs
Capital expense growth is modest but adds meaningfully to results. Capital expenditures on the broadband business led to a 100-basis point improvement in margins. Investors may expect such investments adding more meaningfully to results. This is due to an expanding customer relationship bringing in more business. As Comcast drives growth through a larger subscription base, the company will take a bigger market share.
Comcast has a penetration range of around 60% in some markets. If it wins more markets, leverages products like xFi and increases average revenue per user growth by more than 4%, management expects broadband to grow 9%. So the backdrop of higher broadband consumption will require Comcast to take take business from its competitors over the next few years.
Technology Enhancements Through 5G
Comcast will widen its differentiation by offering 5G services. With a more efficient, effective and faster network, it may offer faster broadband speeds for applications in the marketplace. Stock markets already expect more revenue from customers that consume lots of data. On average, customers use 200 gigabytes each month. And they can bet that big-data users will want 5G, while connecting at least 20 or more devices on that network speed.
At the higher tier speed of 5G, customers here will use 650 gigabytes of data, which is 100 times more than that of smartphone consumption.
A $40 Billion Revenue Opportunity?
Comcast's connectivity business already generated over $24 billion in revenue and grew by 10% last year. And management expects $7 billion in additional revenue to come from a new suite of advanced products, as well from its SD-WAN, a software-defined network that gives customers control of their broadband traffic. Comcast is also slated to roll out mobile services to small businesses later this year or early next year.
For the full-year 2018, Comcast added over one million broadband customers. Xfinity Stream had 1.2 million subscriber lines. Consistent network and product differentiation, plus cable revenue growth of 27.7% last year, is expected to add $2.4 billion annually over the next five years, leading to what Comcast says could be annual revenue of $40 billion.
Valuation and Your Takeaway
Twelve analysts covering Comcast stock have an average $45.33 target price, according to
. For investors who prefer to use its
to estimate its fair value, the stock is worth around $64, 29% higher than its recent share price of $42 (according to 
).
Comcast has tremendous value because its growth will continue in the next few years. Secular demand for broadband is driven by continued growth in video content. As customers continue to sign up for Netflix and Amazon Prime services, Comcast will benefit.
Amazon, Comcast and Alphabet are holdings in Jim Cramer'sAction Alerts PLUS Charitable Trust Portfolio. Want to be alerted before Cramer buys or sells these stocks? Learn more now.
The author does not hold a position in any of the aforementioned securities.