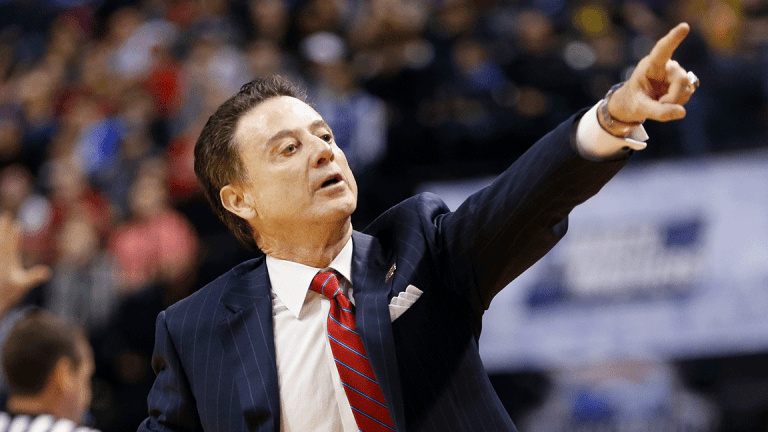 Rick Pitino Might Now Be One of College Basketball's Former Highest Paid Coaches
Rick Pitino will reportedly be fired in the wake of a new FBI investigation. Pitino could lose one sweet annual salary.
The University of Louisville has placed head basketball coach Rick Pitino on unpaid administrative leave after federal investigators revealed yesterday that the school was involved in a student pay-for-play scheme that resulted in 10 arrests from different schools and companies around the country. 
Members of Pitino's staff allegedly funneled as much as $150,000 to a high school recruit in order to convince him to play for the school during the upcoming season.
The NCAA has been routinely criticized for not paying players while simultaneously paying coaches seven-figure annual contracts and hoarding the millions more they get from television deals and merchandising. 
If he is indeed fired, Pitino will relinquish his spot as the country's most well-compensated college basketball coach. 
Here is a list of the top paid college coaches, according to data compiled by USA Today. 
10. Buzz Williams
School: Virginia Tech
Salary: $2,600,000
Max Bonus: $290,000
Total Pay: $2,655,000
9. Scott Drew
School: Baylor 
Salary: $2,813,811
Max Bonus: --
Total Pay: $2,818,811
8. Gregg Marshall
School: Wichita State
Salary: $3,000,000
Max Bonus: $838,000
Total Pay: $3,035,500
7. John Beilein
School: Michigan
Salary: $3,370,000
Max Bonus: $250,000
Total Pay: $3,370,000
6. Bob Huggins
School: West Virginia 
Salary: $3,575,000
Max Bonus: $690,000
Total Pay: $3,590,000
5. Tom Izzo
School: Michigan St.
Salary: $3,582,751
Max Bonus: $350,000
Total Pay: $4,251,751
4. Bill Self
School: Kansas
Salary: $4,752,626
Max Bonus: $525,000
Total Pay: $4,932,626
3. Mike Krzyzewski 
School: Duke
Salary: $5,550,475
Max Bonus: --
Total Pay: $5,550,475
2. John Calipari
School: Kentucky
Salary: $7,140,000
Max Bonus: $50,000
Total Pay: $7,435,376
1. Rick Pitino
School: Louisville
Salary: $5,057,000
Max Bonus: $750,000
Total Pay: $7,769,200