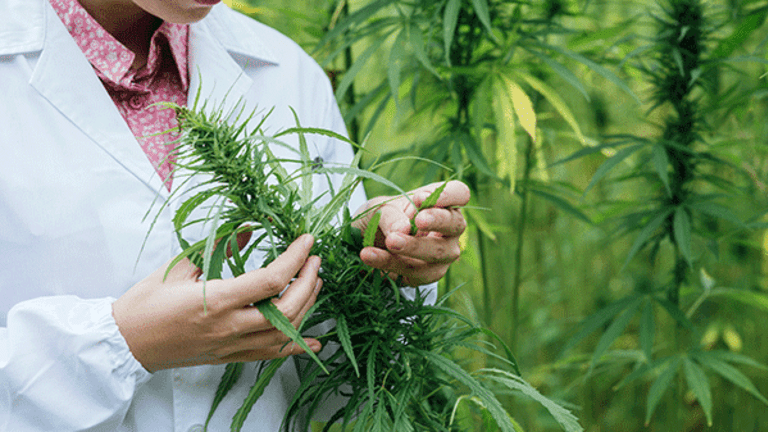 Publish date:
Collect Smokin' Hot Profits From This Marijuana Biotech
This innovative biotech offers investors an intriguing play on the medical marijuana business.
This innovative biotech offers investors an intriguing play on the medical marijuana business.
Without a doubt, medical marijuana is one of the hottest corners of the biotechnology sector for investors. The potential this apparent wonder-herb packs for alleviating symptoms of countless diseases, as well as its curative properties, makes biotech companies developing cannabis-based treatments among the most exciting and potentially lucrative investment opportunities today.
Just take a look at the 1,300%-plus gains GW Pharmaceuticals (GWPH) - Get Report has given its investors in the last five years.
However, the election of Donald Trump and his appointment of the notoriously anti-pot Jeff Sessions as attorney general have frightened away some investors who could be reaping in the profits of the coming Green Wave.
While the majority of Americans now favors the widespread legalization of cannabis, it looks like the federal government's resistance isn't going to change soon (although expected legalization in Canada might change minds in Washington).
Most of the biotechs working in this sphere use synthetic cannabinoids and skirt around the legalities of grown marijuana. This is paying off big-time for GW Pharmaceuticals, as well as other companies like Zynerba Pharmaceuticals (ZYNE) - Get Report and Insys Therapeutics (INSY) . (Controversy erupted this week when Insys received the FDA's blessing for its synthetic THC product after vocally lobbying against the legalization of the actual plant.)
But there's another company in the medical marijuana space worth watching that's on the rise: 22nd Century Group (XXII) - Get Report . This relatively small but well-financed biotech focuses on genetic engineering and plant breeding and is developing a new strain of hemp with zero THC, the main psychoactive compound found in cannabis (and what is keeping pot illegal on a federal basis).
And apart from medical uses, a THC-free plant would have huge ramifications for the industrial hemp industry, which is all but crippled here in the U.S. Hemp is one of the world's most sustainable and practical basic materials, yet has been illegal since 1970.
"We are delighted that our exciting research... has created zero-THC plants and altered levels of cannabinoids suitable for both industrial hemp and medical marijuana," said 22nd Century's vice president for plant biotechnology, Paul Rushton. "We anticipate that our zero-THC hemp plants will form the basis for a new generation of industrial hemp and medical marijuana varieties. These markets are projected to be a multi-billion dollar markets in the near term."
However, 22nd Century also has another exciting innovation up its sleeve, diversified away from the cannabis industry. This should yield the company and its investors sustained profits whenever pot becomes legalized in the U.S.
The biotech firm is creating genetically engineered tobacco plants to have either 97% less nicotine than conventional strains, as well as a strain high in nicotine that allows for the lowest tar-to-nicotine ratio in the cigarette industry.
The low-nicotine variety has proven effective in helping smokers kick the habit and is gaining the support of tobacco scientists worldwide. "The applications for this technology are extraordinary and could generate hundreds of millions of dollars in revenue for our company," the 22nd Century Group has said. "In independent clinical studies, our very low-nicotine tobacco has demonstrated remarkable efficacy as a smoking cessation aid."
Investors should keep an eye on this exciting and smokin' hot stock.
I just sent the cable company a check... but I got an even bigger one back
Writing my monthly check to my cable company used to really burn my biscuits. But that all changed when a construction worker friend clued me in on a virtually unknown Cashback Program that sends me checks every 90 days. Now, I get cash back from my cable company, PLUS I earn money just for using websites like Netflix, Facebook, and Google. Any American citizen can get in on this lucrative opportunity and start getting checks just like me. Click here to get the details on this program.
John Persinos is an analyst at Investing Daily. At the time of publication, he owned none of the stocks mentioned.