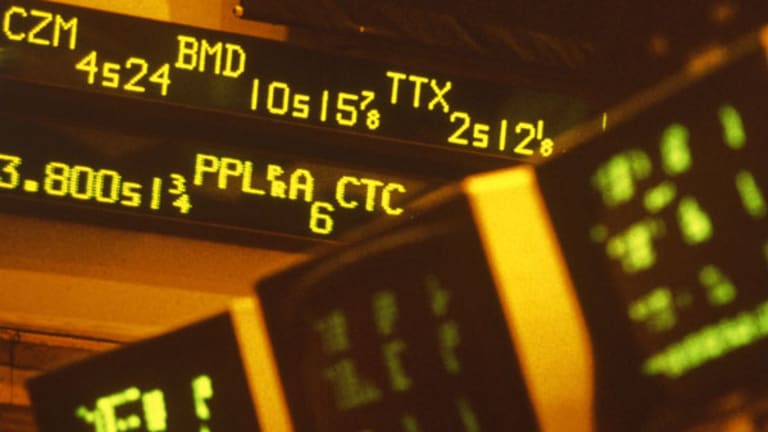 Publish date:
Coffee Stocks May Lose Some Steam This Week
Earnings reports may put a damper on investors' enthusiasm.
Earnings reports may put a damper on investors' enthusiasm.
NEW YORK (TheStreet) -- Coffee stocks are up as coffee prices are down. But earnings could change all that.
Dunkin' Brands
(DNKN) - Get Report
and
Starbucks
(SBUX) - Get Report
report results Thursday. They've been flying high all year, in part due to declining coffee prices. While both companies have impressive growth strategies, the shares are trading at lofty values. That means earnings will haver to impress investors for them to rise higher.
So far this earnings season, a number of stocks that had solid earnings results traded down on the day of the report --
JPMorgan
(JPM) - Get Report
and
American Express
(AXP) - Get Report
come to mind. Management teams have been conservative on earnings guidance. If those two companies follow suit and don't raise guidance, especially given wider margins (less of a benefit to Dunkin's franchise model; see discussion below), there could be a pullback in the shares.
12 Highest-Rated Consumer Stocks Picked by S&P >>
The one thing coffee stocks have going for them is a reduction in coffee bean prices, which some believe hasn't fully been reflected in analysts' estimates. Prices on the "C" market for Arabica coffee has moved significantly below $2 on economic concerns and a strong 2012 Brazilian crop. Coffee "C" prices are down 37% from last year at this time, and down 19% from the start of the year.
According to Andy Barish, an equity analyst at
Jefferies
(JEF) - Get Report
, the cost of coffee for specialty coffee companies represents about 20% of sales. That should benefit the cost of goods sold, but not until 2013. Most coffee companies lock in coffee prices ahead of time -- Starbucks had prices through March 2013 locked in at the end of January. While earnings guidance for 2013 isn't expected to be provided tomorrow, commentary on bean prices probably will be.
Starbucks' stock has pulled back -- it's down 6% since reaching an all-time high April 13. Expectations are for the company to report second-quarter earnings per share of $0.39, an increase of about 15% from a year earlier. Brian Sozzi, chief equities analyst at NBG Productions, says when it comes to buying the stock ahead of earnings on weakness,
he would approach with caution
. "The Street is very bullish with their FY12 earnings estimates (already set above management's guidance) ... I just could envision a 'sell the news' event if Starbucks beats."
Key to the report will be what management says about fiscal 2012 guidance. Last quarter, management tightened the range for earnings, but didn't raise it. Another focus for investors will be the ramping up of new consumer product goods (CPG) initiatives, including the recent launch of Starbucks Refreshers energy drinks. An update on the planned launch of the single-serve Verismo machines along with any financial impact from these new initiatives will be closely watched.
10 Stocks That Could Rise in Market Decline >>
Dunkin' Brands is expecting robust earnings growth this quarter, with the
Bloomberg
consensus estimate for the first quarter at $0.23, a 64% increase over last year. The biggest growth driver has been store growth -- expected to be about 3% to 5% in the U.S. (not including the Baskin Robbins brand) and 5.5% to 7% internationally annually. While the company did tweak international growth plans down moderately last quarter, better visibility on the long-term plan internationally is expected to emerge this year.
On the topic of coffee bean costs, Dunkin' won't benefit from the reduction, as Starbucks and others will, because their model is nearly 100% franchised. The cost benefit will go to the franchisee and help improve their individual cash flow, potentially opening up the opportunity for them to increase investment in existing and new locations. Dunkin' has benefited from the success of its K-cup launch in August and has seen its weaker Baskin Robbins business begin to stabilize. Those trends are expected to continue in this earnings report.
The stock has traded sideways into earnings, but John Ivankoe, an equities analyst at
JPMorgan
, recommends buying the shares more aggressively only at lower prices.
Enron 10 Years After -- From Bad to Worse >>
Dunkin' and Starbucks will set the stage for earnings from other coffee companies including
Peet's Coffee
(PEET)
,
Green Mountain
(GMCR)
and
Caribou Coffee
(CBOU)
, all of which will report earnings next week. The quarter is expected to be impacted by coffee bean prices that were locked in last year at higher rates, making this a tough quarter to swallow for specialty coffee companies. Guidance will be the focus and any commentary on commodity cost relief for next year.
--
Written by Lindsey Bell in
New York.
>To follow the writer on Twitter, go to
Lindsey Bell
.