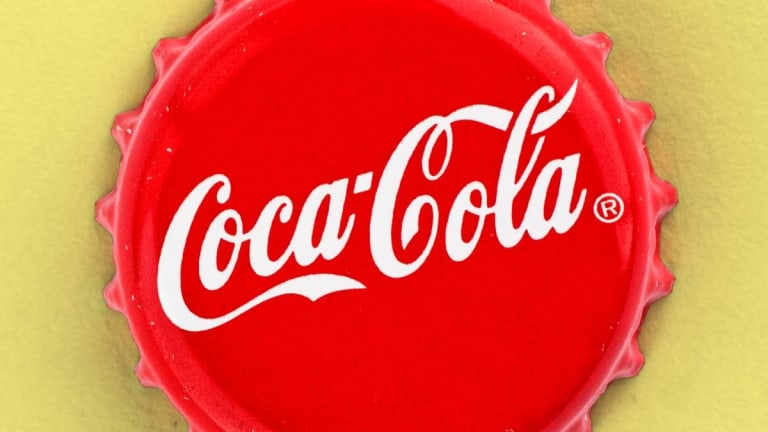 Coca-Cola Shares Edge Higher After Solid Q2, Full-Year Guidance Boost
Was it the fizz in Coca-Cola Zero Sugar, that delivered strong quarterly sales?
Was it the fizz in Coca-Cola Zero Sugar, that delivered strong quarterly sales?
The Coca-Cola Company (KO) reported second-quarter earnings that narrowly topped Wall Street's expectations Wednesday as the iconic drinks maker said demand for its Zero Sugar brand helped produce stronger-than-expected sales.
Coke reported revenues for the three months ending in June of $8.9 billion, ahead of the consensus forecast of $8.54 billion but down 8% from the same period last year. Comparable earnings were tabbed at 61 cents a share, the company said, just ahead of the Street's 60 cent per share estimate. Coca-Cola also updated its full-year guidance to reflect at least 4% growth in organic revenues and at least 9% growth in comparable currency neutral operating income (adjusted for structural items and accounting changes), both on a non-GAAP basis.
"We're encouraged with our performance year-to-date as we continue our evolution as a consumer-centric, total beverage company," said CEO James Quincey. "We have the right strategies in place and remain focused on achieving our full-year guidance."
Coca-Cola shares were marked 0.73% higher in pre-market trading Wednesday, indicating an opening bell price of $45.59 each a move that would trim the stock's modest year-to-date decline to around 1% and value the Atlanta, Ga.-based group at around $192.5 billion. 
Shares closed Wednesday at $46.09, up nearly 2%.
In a note published Wednesday, Wells Fargo's Bonnie Herzog wrote that the bank was encouraged by the "robust organic sales growth driven by a balance of volumes and price and mix and strong performance in China and India, and core operating margin expansion reflecting benefits of [the company's] strategy."
Headwinds, according to Herzog, are softness in two areas: juice, dairy and plant growth and muted expansion in tea and coffee.
Evercore ISI's Robert Ottenstein wrote in a recent note that KO is "poised for multi-year outperformance" and predicted that the overall organic top-line would accelerate from 3% growth in 2017 to 4% in 2018.
Among the other highlights of the quarter were:
Year-to-date cash from operations was $2.6 billion, down 22%. KO said it was largely due to the effects of more than $600 million from the year-over-year increase in tax payments in addition to the impact of the refranchising of North American bottling territories, partially offset by cash generation in the underlying business. Year-to-date free cash flow (non-GAAP) was $2.0 billion, down 20%.
Net revenues fell 8% to $8.9 billion, due to a 15% headwind from the refranchising of company-owned bottling operations. Organic revenues (non-GAAP) was up 5%, driven by concentrated sales growth of more than 2% and a price and mix growth of more than 2%.
Here's how the different regions fared on price and mix growth: Europe, Middle East and Africa, up 4%; Latin America, up 12%, driven by strong performance in Mexico, Brazil and the South Latin business unit; North America, down 3%, as low single-digit pricing was offset by 1 point from increased freight costs; Asia Pacific was flat.