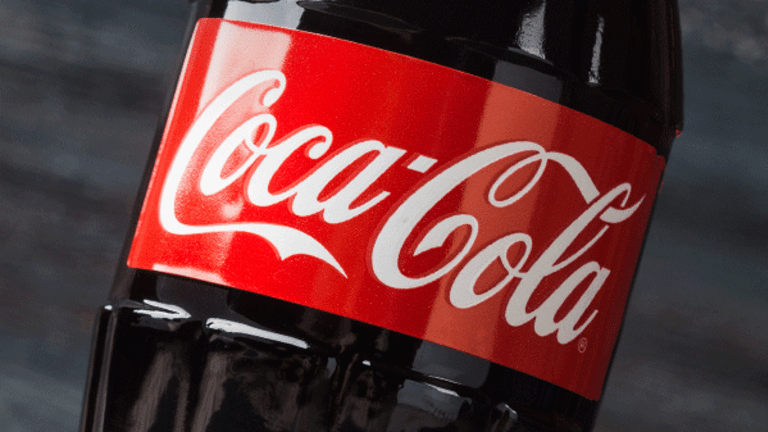 Time Is Catching Up With Coca-Cola
The time may not be right to buy Coca-Cola shares.
Time is catching up with Coca-Cola (KO) - Get Coca-Cola Company Report .
For far too long, the soda giant has watched its core products lose favor while continuing to drag its feet when it comes to cost-cutting and revamping its business. What's an investor to do?
The iconic soda company just released its latest batch of quarterly results, and the news was bad. Revenues dropped yet again, by some 5.9%. And volume for its core soda portfolio dropped about 2%. Profits were also under pressure.
But it gets worse.
Coca-Cola stated that it doesn't foresee a profit improvement in 2017. The company expects earnings to decline 1% to 4%. And some analysts think that might even be too optimistic.
Now, with its core portfolio of products in decline, Coca-Cola risks becoming what the Boston Consulting Group categorizes as a "market dog," with a lower market share and a lower growth rate. Coca-Cola needs to affect a major change and reduce its costs enough to buy time for it to further shift its product offerings.
Right now, the company's cost of goods sold is running at some 40% of revenues. But Coke's marketing and administration costs nearly equal its operating costs, and they have been rising even as revenues have been falling.
Slicing marketing for Coke soda and cutting personnel would free up cash for a further push into bottled water products, juices and perhaps even snacks.
A good model for cost control and focusing on emerging consumer trends is Nestle (NSRGY) - Get NSRGY Report , which has walked right by Coca-Cola to control 11 of the biggest bottled water brands, including Acqua Panna, Arrowhead, Deer Park, Perrier, Poland Spring, Pellegrino, and others.
Until Coke could prove its willing to enact aggressive chance, it may be better to avoid the stock despite a healthy dividend yield of more than 3.5%. 
As I've just explained, Coca-Cola needs to ramp up reforms to deliver better returns for shareholders. But if you're looking for other growth opportunities, we've found a genius trader who turned $50,000 into $5 million by using his proprietary trading method. For a limited time, he's guaranteeing you $67,548 per year in profitable trades if you follow his simple step-by-step process. Click here now for details.
The author is an independent contributor who at the time of publication owned none of the stocks mentioned.