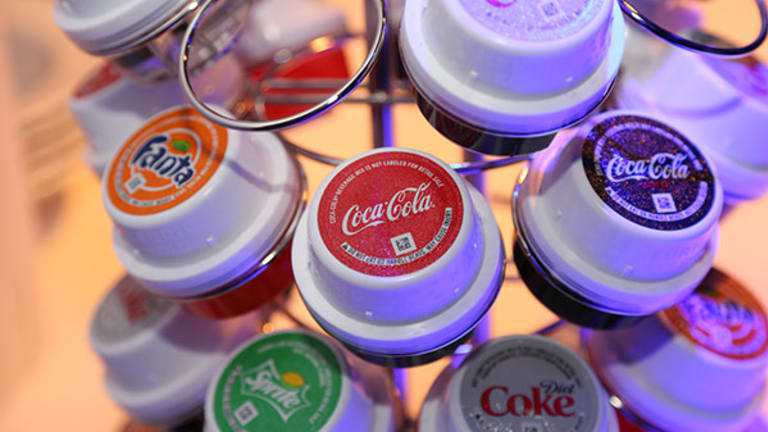 Coca-Cola Bets You'll Want to Make Its Soda at Home -- and Pay for the Privilege
Coca-Cola's new Kold machine, created in partnership with Keurig, allows people to make Coke at home. The product's high price tag is only one obstacle, however.
NEW YORK (TheStreet) -- Hoping to add a caffeine-like jolt to its profits, beverage giant Coca-Cola (KO) - Get Report is offering calorie-cutters the ability to make  eight-ounce glasses of cold Coke-brand soda in the comfort of their own homes.
But consumers will have to pay a hefty premium for the luxury. Coca-Cola and partner Keurig Green Mountain's (GMCR)  "Kold" machine, which is available starting today at major retailers such as Wal-Mart (WMT) - Get Report and Target (TGT) - Get Report , costs $369.99, almost five times the price of the competing devices from Sodasteam (SODA) - Get Report .
The main difference between the two machines is that the Sodastream uses CO2 canisters to supply the carbonation, whereas Keurig has developed individual pods, the top half of which contain carbon dioxide beads. A four-pack of pods, each of which produces one eight-ounce soft drink, will cost $4.99, or about $1.25 per pod. By contrast, a 12-pack of Diet Coke currently sells for $5.08 on Walmart.com -- about 42 cents per 12-ounce can.
The price may pose a major hurdle for Coca-Cola and Keurig in getting enough machines into homes to recoup the significant investments they've already made in product design and marketing. Keurig alone is spending $100 million this year to manufacture the machines and pods, and it plans a similar amount of spending for 2016. 
At an event held in New York City Monday evening, Coca-Cola and Keurig debuted the counter-top gadget that allows people for the first time to make a glass of trademark Coke themselves. Flavors from Coke available at launch include regular Coca-Cola, Diet Coke, Sprite, and Fanta.
According to a Coke spokesman at the event, which was attended by TheStreet, the company will also be debuting Vitaminwater and energy drinks in the not-too-distant future. Other flavors include craft sodas using real cane sugar created by Keurig under the brand name Red Barn, a sports drink called Flyte (also developed by Keurig) and Canada Dry (made by Dr. Pepper Snapple (DPS) ). 


One pod costs about $1.25 and makes an eight-ounce beverage.
Coca-Cola owns a 16% stake in Keurig. In February 2014, the companies signed a 10-year agreement to bring Coca-Cola's portfolio of drinks exclusively to the Kold machine. 
"We are seeing customers focus on portion control," explained Deryk van Rensburg, President Coca-Cola/Keurig Ventures when asked by TheStreet why Coke is getting into at-home soda making. Coke continues to have success in selling 7.5 oz. "mini" cans of soda that allow consumers to indulge but not destroy their diet, so the venture into pods to produce eight-ounce glasses of soda is a logical next step.
Similar to mini cans, Keurig's Kold machine represents another way for beverage titan Coke to profitably get its product into the mouths of consumers that are watching calories and sugar intake.
"I think it's broadly all about creating incremental consumption occasions," said Coca-Cola chairman and CEO Muhtar Kent at a Feb 20. industry conference.
One 8 oz. serving of regular Coca-Cola made with the Kold contains 100 calories and 28 grams of sugar. A 12oz can of regular Coca-Cola will set a person back 140 calories and the ingestion of 39 grams of sugar.


The Kold machine launches with a host of well-known flavors from Coca-Cola.
The arrival of the machine could add fuel to a soda business for Coke that is already benefiting from portion control efforts by the company. Overall volume in Coke's sparkling category, which includes sales of soda, increased 1% during the second quarter, marking a turn from the 1% drop realized in the first quarter.
Sales of mini cans increased by a mid-teens percentage, Coke execs said on a Jul. 22 earnings call. Organic revenue growth, which strips out the effects of currency, rose 4%, compared to analyst expectations of about 3%. Adjusted earnings came in 3 cents ahead of estimates of 63 cents a share.
Shares of Coca-Cola have recently outperformed the broader market in the past six months amid signs its efforts to cut costs and turn around flagging soda sales are taking hold. Over the last 6 months, the stock has declined 2.4%, compared to a 9.8% drop in the S&P 500 and 10.9% plunge for the Dow Jones Industrial Average.
But Coke and Keurig will confront several hurdles in driving sales of the Kold machine. The first, and most obvious, is the hefty price tag that will likely prevent widespread adoption by consumers in the early going. Consumers may have a tough time reconciling why they need another appliance for the kitchen counter when purchasing a can of Coke for under a $1 from a vending machine or at a Burger King is both easy and cost effective.  
Keurig has been fending off analysts posing this question. "If there's 20 million plus households with Keurig coffee machines already out there, people who know and love Keurig, who know the benefit of using a Keurig, they may want that applied to cold beverages," said Keurig Green Mountain president and CEO Brian Kelley to an analyst criticizing the product on an Aug. 5 earnings call.  


TheStreet sampled all of the new Kold pods. Some work on refining flavors needs to be done.
Another big issue will be convincing loyal Coke drinkers that what comes out of the expensive pods is the same product they know and love. Based on taste tests conducted by TheStreet at the event, Coke will have some work to do in this department. Coke plans to hold demonstrations of the machine at major retailers.
The craft sodas we sampled came out sweet, relatively tasty, and cold, although not as cold as a can from the fridge or poured over a glass of ice. The same could be said for the Fanta, Sprite and Canada Dry pods. Where the machine came up short, however, was on reproducing the iconic Coke flavors.
Coke Zero, a calorie-free soda marketed as tasting more like regular Coke rather than Diet Coke, had the common bitter aftertaste associated with aspartame-sweetened Diet Coke. And regular Coke lacked both the unique smell of Coke and the beverage's distinctive sweetness. While the carbonation was solid, the taste may have been dissimilar enough that loyal drinkers of the brand would notice and balk, especially given how much they're being asked to pay for it.
Further, it took about 90 seconds to make each drink, which would seem like an eternity for consumers used to quickly grabbing a can of Coke and popping it open.