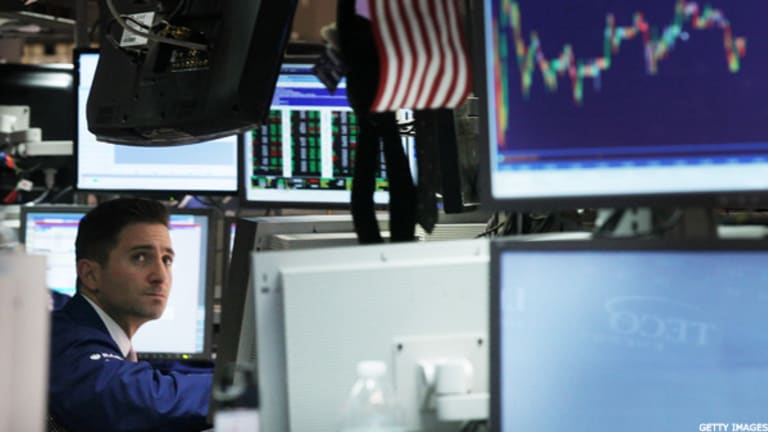 CMG, NFLX, AVGO: Jim Cramer's Views
Cramer shares his views on appreciating the real. Salesforce.com, Netflix and Broadcom are among the stocks discussed.
Jim Cramer shares his views every day on RealMoney.Click here for a real-time look at his insights and musings.
Cramer: Growth Money Seeks out the Action
Posted at 12:09 p.m. EDT on Thursday, Aug. 25, 2016

Tough for this market to stay down. Why? It's not just the Fed. I think there are people who want to get in. They use weakness in the general market that's caused by sector weakness to plow into the stocks of unaffected companies.
For example, while the drug stocks are being hit, that growth money is going back to the tech growers, particularly the cloud growers like Workday (WDAY) - Get Workday, Inc. (WDAY) Report after that good quarter, Salesforce.com (CRM) - Get salesforce.com, inc. Report and companies like Broadcom (AVGO) - Get Broadcom Inc. Report , a rubric for the faster-growing semis. A simple Netflix (NFLX) - Get Netflix, Inc. (NFLX) Report upgrade resonates far more than it should because money wants in.
We do a survey here and online about whether people are seeing bigger lines at Chipotle (CMG) - Get Chipotle Mexican Grill, Inc. Report and enough say yes to move the needle in a difficult group.
These are all signs that money wants in and that money's rotating to where that day's action is. It's healthy. Surprisingly healthy, for sure.
At the time of publication, Jim Cramer's charitable trust Action Alerts PLUS held no positions in stocks mentioned.
Cramer: After Fed Fake-Out, Let's Appreciate What's Real
Posted at 12:33 p.m. EDT on Wednesday, Aug. 26, 2016

OK, that's more like it. Whoever didn't read Janet Yellen to mean "rate hike back on the table in September" is now selling and the first feint was a total fake-out. That's what happens. You can't have everything up. That made no sense.
But should everything be down? That's equally as wrong. However, it is Friday. We were conditioned last year to say that once we started going down on a Friday, there was no recovering. Let Stanley Fischer's comments that imply no one and done -- he is the heavy here -- reverberate. What's your hurry? If you miss this move, so be it.
But let's look at the landscape. That dollar move down had to be phony with a rate hike in front of us. Interest rates going down was equally phony.
A fake-out of this magnitude breeds a real selloff as people who bought sell and then people who wish they had sold into the rally are happy to sell down here.
It's playing out much more on plan than when we had the opening, where everything was rosy.
Just wait until everything's overdone.
But, seriously, how could anyone be surprised other than the jokers who bought everything at the beginning of the day?
I think Fischer was wrong to tell Steve Liesman from CNBC that we should be prepared for more hikes because what happened to data dependency?
But he perceives that as his job. So we suffer, let it come down, and then look at the landscape. Unfortunate for the bulls, for certain.
Action Alerts PLUS, which Cramer co-manages as a charitable trust, has no positions in the stocks mentioned.
At the time of publication, Jim Cramer's charitable trust Action Alerts PLUS held no positions in stocks mentioned.