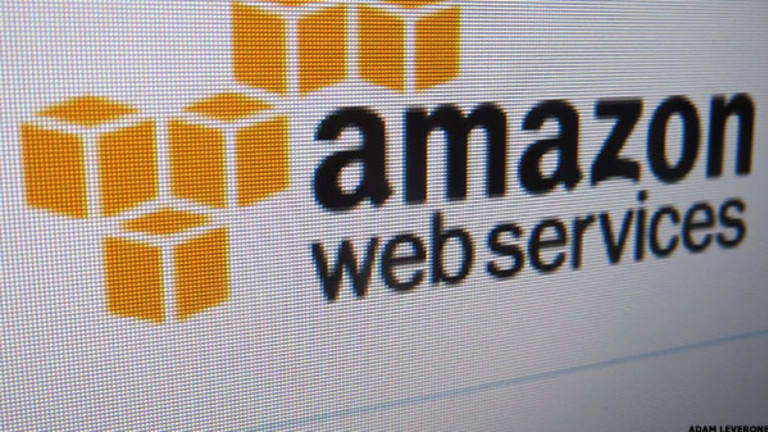 Cloud Services Growth To Propel Amazon Growth Even Higher
There seems to be no limit to Amazon's ascent, and its dominance in cloud services will lift it even higher.
Amazon (AMZN) - Get Report has had one of the most storied rises in Wall Street history over the past two decades as the company has staked its claim as the most consistent retail industry disrupter. But that success hasn't caused Amazon to rest on its laurels, and the company's cloud services business looks like it will be the growth driver to take the company into the next stratosphere.
For the just concluded quarter, analysts are expecting Amazon to report earnings of $1.11 per share on revenue of $29.55 billion when it reports after the closing bell Thursday.
Amazon Web Services is far and away the leader in the rapidly expanding cloud services market. Spending on cloud infrastructure as a service (IaaS) is expected to reach $38 billion this year and grow to $173 billion in a decade. Combined, the software as a service (SaaS) and platform as a service (PaaS) portions of the cloud are expected to be $12 billion this year and $55 billion in 2016, according to Statista.
Amazon -- a key holding of the Growth Seeker portfolio -- has benefited immensely from its early entry into cloud computing, as it has successfully garnered the largest market share in the space. Amazon accounts for about 31% of the cloud services industry, well ahead of its nearest competitors. The next three biggest cloud players -- Microsoft (MSFT) - Get Report , IBM (IBM) - Get Report and Alphabet (GOOGL) - Get Report -- combined account for only 22% of the market. The fact that Amazon is primarily a retail company and not a traditional tech company like its competitors makes its dominance of the space even more impressive.
"There are hundreds of lessons that we've learned about building and operating services that need to be secure, reliable, scalable, with predictable performance at the lowest possible cost," Amazon CTO Werner Vogels wrote in a blog post earlier this year celebrating the service's 10 year anniversary. "With over a million active customers per month, who in turn may serve hundreds of millions of their own customers, there is no lack of opportunities to gain more experience and perhaps no better environment for continuous improvement in the way we serve our customers."
Retail is a notoriously thin-margin business, and while Amazon has done extremely well with its online retail business, the company's future growth resides in the cloud.
Amazon Web Service accounted for 56% of Amazon's total operating income in the previous quarter, even though the $2.6 billion in revenue it generated in the period -- a 64% year over year increase -- only accounted for 9% of Amazon's total revenue. Operating income for AWS itself tripled year over year to $604 million.
While AWS grew 70% in fiscal 2015, most analysts don't expect Amazon to be able to keep up that pace. Raymond James expects a 60% gain in revenue in the second quarter, while Deutsche Bank is forecasting a 53% year over year improvement.
Part of the reason for the slowdown is that it's tough for a business that will soon cross $10 billion in annual sales to keep growing at such a torrid pace. However, another reason is that Amazon's competitors are also benefiting from the expanding cloud services pie.
Microsoft, for example, reported a 102% revenue increase in its cloud service product, Azure, helping lead the legacy tech company to a strong earnings beat last week. "The Microsoft Cloud is seeing significant customer momentum and we're well-positioned to reach new opportunities in the year ahead," CEO Satya Nadella said in the company's earnings release.
So, as Amazon continues to expand its cloud services, it is certain to see competition from tech companies who will also be relying on the cloud to drive growth. So far Amazon has held its own, and it isn't showing any signs of relenting its impressive market share lead.