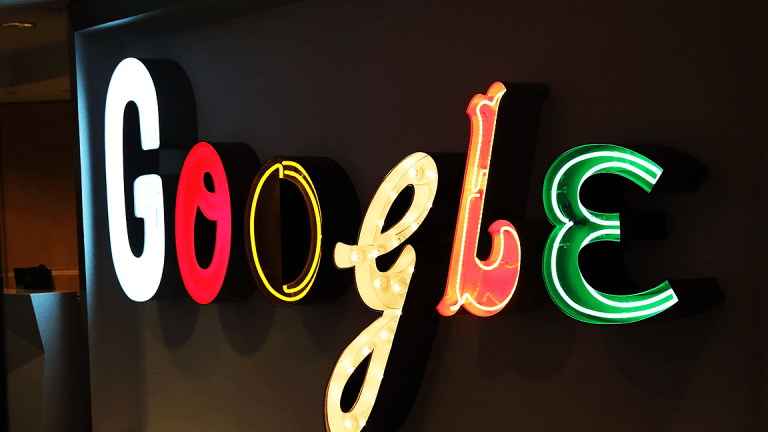 Why Google, Facebook and Other Tech Giants' Capital Spending Is Going Sky High
The skyrocketing spending on data centers has a lot to do with short-term needs as well as long-term opportunities. Chip and hardware suppliers can't complain.
As one tech giant after another significantly hikes its capital spending on cloud data centers and the hardware going inside of them, it's worth asking how much of this spending growth isn't just a product of companies choosing to invest for the long haul, but also because they need to spend a lot more on capex due to recent trends.
It's also worth asking how much all this spending is giving tech giants major long-term competitive advantages against smaller peers that can't afford to match it.
Alphabet/Google (GOOGL) offered the latest evidence that cloud capex is on a sharp upswing when it reported on Monday that its Q1 capex totaled $7.3 billion. Though about half of this figure covers the purchase of facilities rather than cloud infrastructure investments, it still suggests data center spending rose sharply relative to Q1 2017, when Google's total capex (facilities purchases included) amounted to just $2.5 billion.
Facebook (FB) , meanwhile, has guided for its capex to more than double in 2018 to a range of $14 billion to $15 billion. And Amazon.com (AMZN)  is coming off a 2017 during which its purchases of property and equipment related to capital leases (much of it related to data centers) rose 69% to $9.6 billion. Amazon also grew its direct capex, much of which is related to warehouse investments, by 53% to $12 billion.
Earlier this year, Bank of America estimated that between them, Google, Facebook, Amazon, Microsoft (MSFT) , Alibaba (BABA) , Baidu  (BIDU) and Tencent would grow their capex by 30% in 2018 to $74.1 billion. Google, it should be noted, just spent much more on capex in Q1 than the $3.4 billion BofA expected it to spend.
Notably, when asked on Google's earnings call about its Q1 cloud capex, CFO Ruth Porat downplayed the notion that the spending was a one-off event. "[O]n machines, the biggest contributor [to spending growth] is the demand that we're seeing," she insisted. "[I]n particular, it's the expanding application of machine learning efforts across Alphabet, plus the requirements for cloud and Search and YouTube. And then, secondarily, the increased cost of newer technologies. CPUs, memory, network."
Porat's comments about machine learning investments especially warrant attention. There's clearly an arms race among tech giants to hoard AI research talent that remains in limited supply. And as Nvidia's (NVDA) recent earnings reports make clear, investments in the hardware needed for the processing-intensive task of training deep learning algorithms have also taken off.
Nvidia's flagship Tesla V100 server GPUs, widely used for training work, go for close to $10,000 apiece. And the systems containing them also often feature healthy amounts of DRAM and flash memory. Though some of this spending is directed towards long-term AI work, a lot of it also appears to be going towards existing services (voice assistants, search, photo apps and services, content recommendations, etc.), with tech giants feeling the need to invest heavily in using AI to improve these services, lest rivals gain an edge.
In addition, spending on hardware used for inference -- the task of running trained AI algorithms against real-world data and content -- appears to be growing rapidly. Though inference is much less computationally demanding than training, processing needs tend to be significant when tens or hundreds of millions of consumers are relying on an AI-powered service. Nvidia has argued that over the long run, the inference market is as large of an opportunity for it as the training market.
Video growth is another reason why the cloud giants have been seeing accelerating capex growth. In early 2017, Google's YouTube disclosed that its video viewing had risen 10-fold since 2012 to over 1 billion hours per day (it's presumably even higher now). Facebook has also seen tremendous video growth, with the rollout of live-streaming services on both Facebook proper and Instagram adding to its infrastructure needs.
As Porat alluded in her remarks, higher memory prices are also causing upward pressure for capex. DRAM prices have more than doubled since the fall of 2016, and while flash memory prices have recently begun sliding, they rose meaningfully last year. That's a positive for a company like Micron (MU) , but not so much for its cloud clients.
And with regards to capital-intensity -- the amount a company spends on capex relative to its revenue -- it's worth noting that much of the user growth that companies like Google and Facebook have seen for popular services has come from emerging markets that deliver much less revenue per user than the U.S. and Western Europe. So whereas Facebook had a Q4 average revenue per user (ARPU) of $26.76 in North America and $8.86 in Western Europe, its ARPUs for the Asia-Pac and "Rest of World" regions were just $2.54 and $1.86, respectively. The latter two regions accounted for over 90% of its Q4 monthly active user (MAU) growth.
Nonetheless, the fact that cloud giants can afford to make such huge capital investments without flinching are putting them on even stronger competitive footing relative to smaller rivals. Just ask Snap (SNAP) , which has suggested it's not trying to expand for now in emerging markets that are tough to monetize, due to the infrastructure costs associated with supporting all the video that additional users would upload and share. Facebook's Instagram and WhatsApp, both of which now have over 300 million daily users for their Snapchat Stories clones, don't have any such hang-ups.
Likewise, the massive sums that cloud giants are spending on both AI hardware and talent, together with the huge quantities of user data they have for feeding their training systems, make it tough for smaller rivals to launch competing services. And the giant data center build-outs being carried out by public cloud service giants Amazon, Microsoft and Google make it tough for smaller rivals such as Oracle (ORCL) and CenturyLink (CTL)  -- rivals that are also generally at a disadvantage in terms of the number of features they provide -- to keep pace.
Either way, the hardware and chip suppliers acting as arms merchants to the cloud giants are the biggest winners in the near-term. For companies such as Intel
(INTC)
and Broadcom
(AVGO)
, whose PC and/or smartphone chip sales have come under pressure, the cloud has become quite the safe haven.
Jim Cramer and the AAP team hold positions in Alphabet, Facebook, Amazon, Microsoft, Nvidia and Broadcom for their Action Alerts PLUS Charitable Trust Portfolio. Want to be alerted before Cramer buys or sells GOOGL, FB, AMZN, MSFT, NVDA and AVGO? Learn more now.