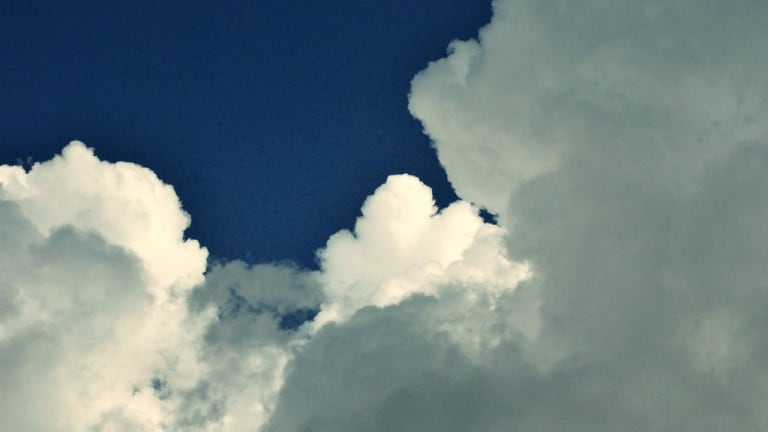 Cloud Computing Is a War, So Invest in the Arms Dealers
The cloud model of technology solutions has been growing at an astonishing pace. Investing in these companies is the surest way to profit from that growth.
NEW YORK (TheStreet) -- As an investor, how do you take advantage of the massive and inevitable disruption that cloud computing is causing across the world of business? Simple: You invest in the "arms dealers" in the space, the companies providing the underlying infrastructure and technology.
These companies include the likes of Amazon (AMZN) , VMware (VMW) , Citrix Systems (CTXS) , and they are poised to grow and profit no matter who wins the battles among other kinds of cloud-computing companies.
The cloud model of technology solutions has been growing at an astonishing pace, and projections show even faster growth.
A report last year by Market Research Media estimated the global cloud-computing market would grow at a 30% compound annual growth rate over five years, to reach $270 billion in 2020.
Cloud computing is compelling for both software vendors and their customers. In the old model, every customer essentially had their own copy of the software product the vendor built. A vendor may have tens of thousands or even millions of customers. Whenever there was a serious bug in the software, the vendor had to make sure all the customers individually had the latest software.
If you had 10,000 customers, then you had 10,000 separate installs and updates. With the cloud model, there is only one copy of the software. Vendors have to fix a bug only once, and all 10,000 customers immediately reap the benefits.
Vendors would be foolish to continue with the old model, and they are switching at such a rapid pace that installs of software using the old model have started dropping.
The Sand Hill Group found that more than 25% of software companies didn't plan to deploy software in an on-premises model at all in 2015.
Cloud computing also offers a number of significant benefits to customers. Customers have to pay less upfront as a capital expense and instead pay it over time on a subscription basis. It is essentially leasing instead of buying, and it's a lot more appealing for the customers when they start thinking about their cash flow.
There are many other benefits as well.
Cloud computing has started to get subdivided by the type of service being provided and where in the value chain it falls.
Subcategories include software-as-a-service, platform-as-a-service and infrastructure-as-a-service. PaaS is predicted to have some of the largest growth. PaaS is becoming the new technology layer on which new applications will be built and presents the largest challenge so far to Microsoft's (MSFT) Windows operating system. PaaS can completely bypass the need for an operating system and provide a lot more than an operating system can.
SaaS applications are what most software customers will see affecting their life. A good example of an SaaS application is Concur, a very successful Travel & Expense application that was acquired by SAP (SAP) last year.
The poster child for cloud computing has been Salesforce.com (CRM) . Most recently, the company's market cap reached $50 billion, and it was approached for an acquisition by Microsoft. Microsoft reportedly backed off after getting an asking price of $70 billion.
Salesforce.com has shown very clearly how a PaaS platform can work, by building an incredibly successful customer relationship management application on top of it. The company acts as both a PaaS and SaaS firm.
The SaaS CRM application completely disrupted and seized market leadership from Siebel, the creator of the entire CRM business solution category and now a part of Oracle (ORCL) . Salesforce.com seems to have barely tapped the market, and its prices are set high to skim the cream of the enormous demand. SugarCRM is another cloud competitor of Salesforce.com, with an open-source model that's seeing a seeing a lot of success abroad.
These offerings are further supported by many categories of business such as data centers, power systems, backup systems, cooling systems, blade servers, storage networks, parallel processing technologies and virtual machines.
According to research firm IDC, the number of internal data centers will peak in 2016. At the same time, retail colocation services, in which companies provide fully-equipped data centers for rent to retail clients, are increasing, and growth in spending is increasing in this category.
The companies that provide these types of services are the arms dealers of this industry and will succeed and survive regardless of which SaaS solution providers make it.
VMware has achieved much success as a provider of virtualization systems that allow multiple operating systems to run on the same computer hardware. Meanwhile, Nutanix, a start-up, has innovated by creating what it calls "invisible infrastructure." It combines computing, storage and virtualization into one package for clients.
Microsoft is very much in the game with its Azure IaaS platform offerings. But there are also unexpected players in this industry, such as Amazon with its Amazon Web Services IaaS platform.
Citrix Systems is another giant in the field of cloud computing and has created a complete open-source IaaS platform. Joyent is having much success with its public cloud infrastructure offerings, and large companies such as LinkedIn (LNKD) have been among its customers.  
One telecommunications company that is fully committed to the cloud early and is growing rapidly is CenturyLink (CTL) . CenturyLink acquiredSavvis years ago, merging its hosting and networking assets with Savvis' cloud solutions, co-location and managed services products to provide a compelling offering.
From an investor perspective, getting a stake in the underlying arms-dealer type firms may be less risky in the long run while still allowing investors to profit from the larger cloud-computing trend.
This article is commentary by an independent contributor. At the time of publication, the author held positions in CRM and AMZN.