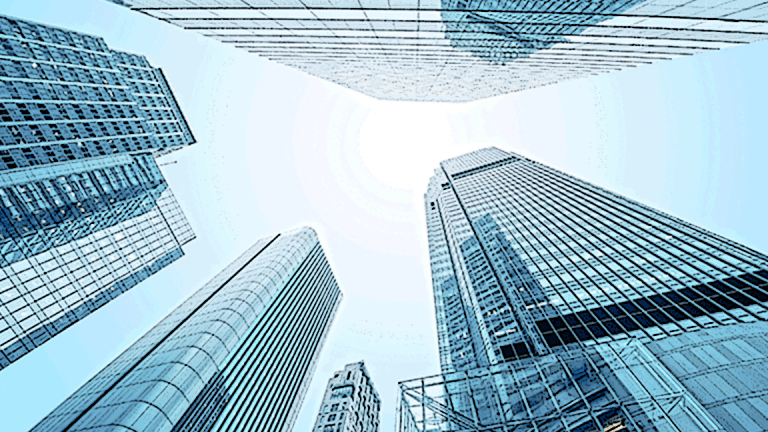 Closed-End Real Estate Funds Are Performing Well
Booming property prices are driving gains in funds specializing in real estate plays.
The real estate market is booming, with record prices being paid for everything from modest single-family homes to trophy office towers.
Not surprisingly, closed-end funds that focus on real estate have been posting good numbers so far in 2018, even as other CEFs struggle amid rising rates.
CEFs focusing on real estate saw a 1.5% increase in net asset value in June, behind only closed-end utility and growth funds, according to a survey by Tom Roseen, head of research services at Thomson Reuters Lipper.
For the second quarter, that number was 4.7%, rising to 5.3% over the past year, the survey finds.
Some closed-end funds have done even better. Resource Real Estate Diversified Income's eight funds saw gains in net asset value in the second quarter ranging from 6.4 to 6.8%. RMR Real Estate Income Fund saw 5.2% growth in the second quarter, while the four Total Income + Real Estate funds are averaging a 5.3%.
Yet even as investors in real estate CEFs bank their returns, the savviest are keeping one eye on the business horizon for the next downturn.
Unlike utilities or infrastructure, where demand isn't completely tied to the business cycle, real estate is very much a cyclical market, with big booms and big busts.
"How long will we have this glut of demand and long will it continue, and, if it turns, how quickly will it go south?" are some of the questions investors are asking, Roseen says.
REIT Boost
For now, though, closed-end real estate funds are on a roll. And they have Real Estate Investment Trusts, or REITs, to thank for the recent spate of good returns.
REITS, which include some of the biggest players in the real estate business, like Boston Properties, Equity Residential, and Simon Property Group, have been on a tear the last four months after a sluggish start to the year.
REITs posted their fourth monthly gain in June, with a total return of 4.2%, according to the National Association of Real Estate Investment Trusts. After a rocky January and February, REITs have posted a cumulative return of 14.6% through June, beating out the S&P 500's much smaller 6.2% gain.
REITs that own hotels, student housing, prisons and self-storage complexes posted double-digit gains in June - corrections REITs topped 16%.
Direct Investments
Yet it's not just all about the REITs, with managers of closed-end real estate funds also boosting returns by investing directly in real estate, whether its healthcare facilities or office towers.
And the structure of closed-end funds provides managers with the kind of stable capital they need to take on riskier investments, such as directly putting money into buildings and projects.
Closed-end funds issue shares during an IPO. The number of shares remains fixed and does not expand or contract based on market activity like it does with an ETF.
The fixed number of shares means closed-end fund managers don't have to fear a big outflow if they start buying shares in a high-reward but high-risk sector. Shares can change hands in daily trading but the overall number stays the same.
"They can go into deals that some fund families would not be able to do that on the open end side," Roseen says.
Unlike open-end funds, which dominate the market, or ETFs, for that matter, managers of closed-end real estate funds can also use leverage to buy more shares and pump more money into everything from office buildings to self-storage facilities, boosting returns.
Potential Bargains
Closed-end real estate funds are also selling at an attractive discount to net asset value.
That means their share prices are lower than the value of the portfolio of assets in the fund.
There are a couple factors that help create discounts in both closed-end real estate funds and in the closed-end fund world as well.
After a closed-end fund issues shares through an IPO, the number of shares remains fixed and does not expand or contract based on market activity like it does with an ETF.
This fixed-share structure means the price of a closed-end fund trades at each day on various exchanges and the net asset value of its underlying portfolio typically float independently of each other.
And while this can sometimes result in closed-end share prices that trade at a premium, or higher than their net asset value, or NAV, more frequently it results in a discount situation.
For closed-end real estate funds, the average discount is 8.37% and the median discount is 7.89%, Roseen says.
Taking that average number, that means you can buy a dollar's worth of REIT shares and real estate for a little under 92 cents.
Risks to Mind
While all this may sound intriguing, there are some real risks to keep in mind.
Real estate busts can be as spectacular as real estate booms. Just recall the plunge the real estate market took amid the Great Recession, with record numbers of foreclosures, and not just of single-family homes.
A number of prominent office towers were also taken back by their lenders or auctioned off. Boston's marquee Hancock tower smashed local records when it sold for $1.2 billion in 2007 to a New York investment group, only to be turned over two years later to a group of lenders for $665 million.
And money sunk into real estate can be tough to unwind, especially when prices are falling.
"People want to buy these illiquid assets and trade them on a daily basis, but the real world doesn't work like that," Nuttall says.